The Minnesota Wild are in a three-way dogfight for the Central Division title with the Dallas Stars and Colorado Avalanche. They have managed to collect points in 15 of their last 16 games, despite key injuries, which has helped rocket them into the conversation of the best in the West. Known this season as one of the top defensive-minded teams, the Wild have become accustomed to winning low-scoring games with most of their offense running through Kirill Kaprizov. 
With their star injured, the team seems to have got the memo, with 24 goals in their last five games and five players producing at least a point per game. Among these players are a few who are set to be free agents at the end of the season and have apparently decided to take this opportunity to prove their worth to the team.
Related: Wild's David Spacek Looking Like Another Late-Round Steal
---
Latest News & Highlights
---
Everyone knows the Wild won't have much cap space next season due to the Zach Parise and Ryan Suter buyout penalties, so every player on the roster has to be worth their new contract. Here's a look at those players fighting for an extension for next season.
Brandon Duhaime – Wild's Style Personified
The 25-year-old Brandon Duhaime personifies most of what the Wild preach as their brand of hockey. He is tough, he is determined, he will fight, and he has been developing an offensive touch with a rocket of a shot that he showed off against the Washington Capitals on Mar.19 in his first game back from injury. Injuries, however, have been a problem, as he has only been available for 40 games this season.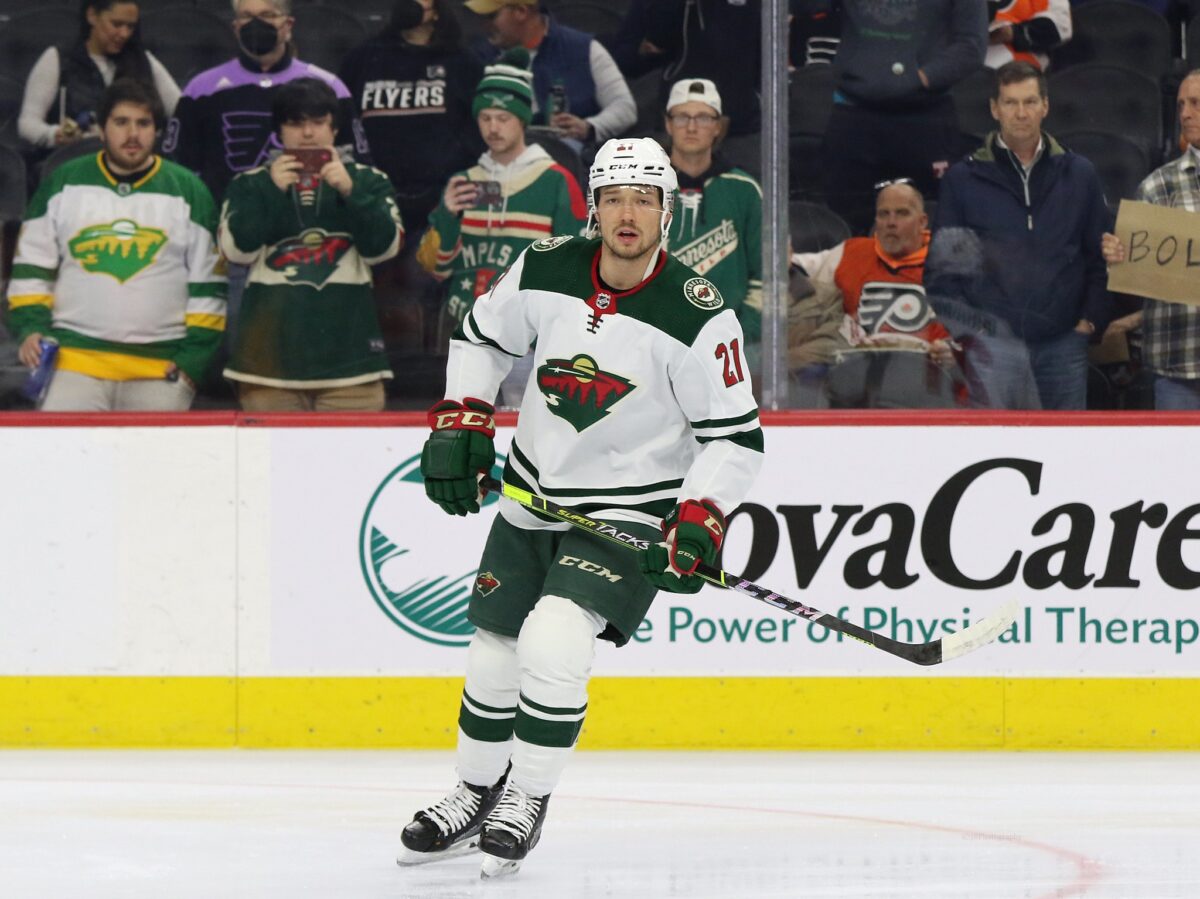 Duhaime's league-minimum contract is a steal for the type of player he is, and the organization loves having him in their middle-six. This feels like a situation where as long as he wants to stay, he probably will be. If he can stay healthy next season and get on a line with good chemistry, Duhaime could easily score 30-35 points while also being a defensive and physical force. That would be well worth a contract worth the low to mid $1 million range.
---
---
Sam Steel – First Liner to Press Box
It's been a rollercoaster season for the 25-year-old center. After working his way through the lineup early on, he found himself as the number one center between Kaprizov and Mats Zuccarello. For a chunk of games, he produced fairly well, but after Ryan Hartman was given his old job back, Steel was on the bench as a healthy scratch. He was recently reintroduced to his role on the top line, this time as a winger, but after two games, he was dropped to the third line as rookie Sammy Walker took his spot.
Steel has played in 57 of the Wild's 68 games, and has hit career-highs in goals (8), assists (17), and points (25). That's not bad at all for someone making a paltry $825 000. The issue with Steel is that his game is designed for a top-six role, but his level of skill and production are not enough to warrant playing him there. The Wild's prospect pool is also bursting at the seams, so I don't think we'll see Steel return next season.
Mason Shaw – Farm Boy Tough
This 24-year-old, drafted in the fourth round of 2017, doesn't understand giving up. After struggling through multiple serious knee injuries during his development, he has found a permanent spot on the roster this season, even if that means being a healthy scratch. He is only listed at 5-foot-9, but he plays with a ferocity that is unmatched by anyone else on the team. On every shift, Shaw is battling on the boards, pushing the other team's buttons or laying the body on someone that towers over him.
His six goals and nine assists in 54 games are not that impressive, but three of those points have come in the last three games, along with a 66.63 expected goals-for percentage (xGF%), which is good for fourth on the team. Coming in at the league minimum of $750 000, Shaw provides that scrappy attitude that the Wild love. If he is willing to re-sign without much of a raise and is alright with being the 13th forward, he should be offered an extension. 
Filip Gustavsson – Surprise Vezina Contender
Let's not beat around the bush here. Gustavsson is not going anywhere. The 24-year-old was swapped for Cam Talbot and has been the Wild's best surprise this season, with 17 wins, a 2.08 goals-against average, and a .929 save percentage while easily being a top-three goaltender in the league. He has earned a new contract, and it won't be at the same $787,500 he is making now. Even with such little cap flexibility, goaltending is not the area to try to save on. Pay the man.
Calen Addison – Talent Without Trust
Drafted in 2018 by the Pittsburgh Penguins, Calen Addison came to the Wild as part of the return for Jason Zucker. He is a prototypical offensive defenseman; he will never be the best defender on the roster – in fact, he can be the worst – but he knows how to push the offense, especially on the power play. In his first full season in Minnesota, he has 28 points in 59 games – fantastic numbers for a rookie, but he has been benched multiple times for his poor defensive play.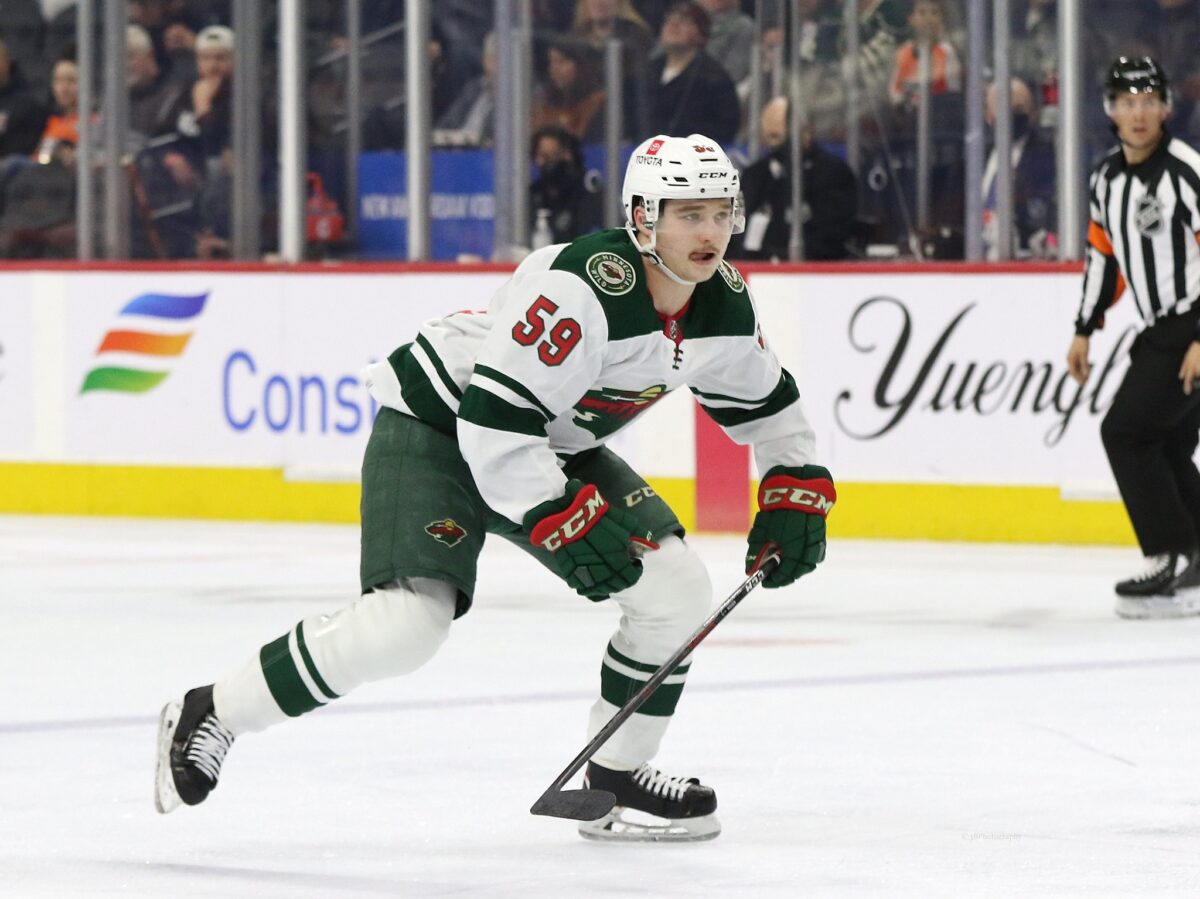 Addison makes $795,000, but his next contract will be significantly higher. He is good at what he does, and he knows it, but the Wild don't seem to agree with the way he plays, given the number of games he's been scratched. The two parties have a strained relationship, so there is a real possibility he is traded before next season, despite being the second-highest-scoring defenseman on the roster this season. Still, I hope to see Addison back next season.
Wild Decisions Likely Pushed Past Playoffs
The Wild have a lot of decisions to make, with 12 players (five restricted and seven unrestricted) in need of new contracts. Those decisions will likely be made after the playoffs, not only to avoid any distractions as they fight for the top of the Central but also to get a good look at some of their more recent pick-ups, like Marcus Johansson and Oskar Sundquist. Also, a deep postseason run could help convince some players to return on team-friendly deals.