The Minnesota Wild took a big risk this offseason when Cam Talbot was traded in a one-for-one deal with the Ottawa Senators in exchange for rookie netminder Filip Gustavsson. A few months in the making, the trade in question essentially started with another move that sent a second-round pick to the Chicago Blackhawks at the 2022 NHL Trade Deadline for future Hall-of-Famer Marc-Andre Fleury.
The tandem established between Fleury and Talbot produced excellent results, but ultimately the Wild failed to make it past the first round of the playoffs. The Wild's general manager Bill Guerin managed to re-sign Fleury in the offseason to a two-year deal with an average annual value (AAV) of $3.5 million, seemingly securing a strong pair of goalies for the Wild for the upcoming season. Yet some doubts about their ability to form chemistry caused Guerin to move Talbot.
Initial Win Went to the Senators
The trade was immediately considered a win for the Senators by most as they received a veteran netminder with a solid career in exchange for a struggling rookie with little experience and no guarantee he would ever become more than that. 
In Talbot, the Senators got a 35-year-old with 10 seasons of NHL experience in the final year of a three-year deal worth $3.67 million AAV. Over his 418 games played Talbot had a 2.63 goals-against average (GAA) and a .915 save percentage (SV%), including 82 games with the Wild in the previous two seasons. He also carried 33 games of playoff experience, and while the Wild made the playoffs with him in net two seasons in a row, both ended up as first-round exits.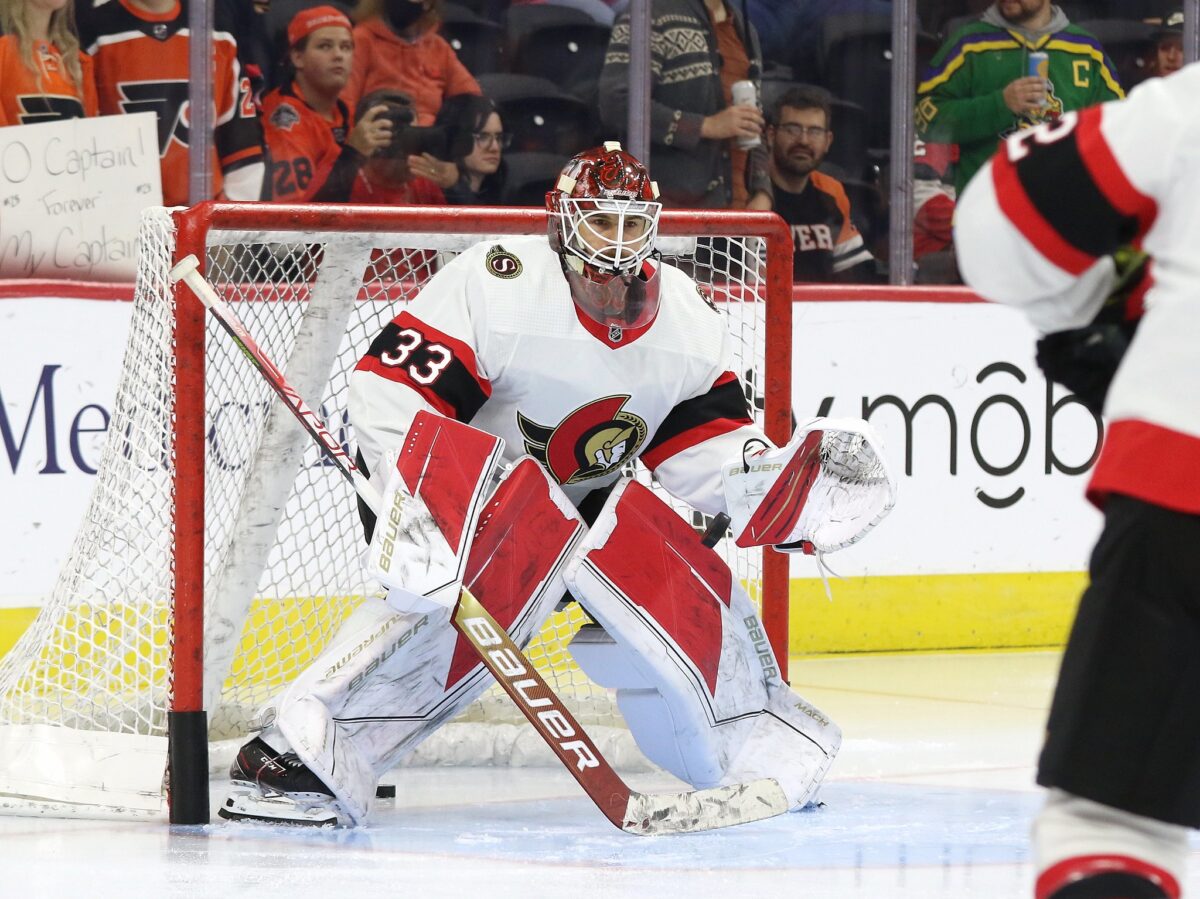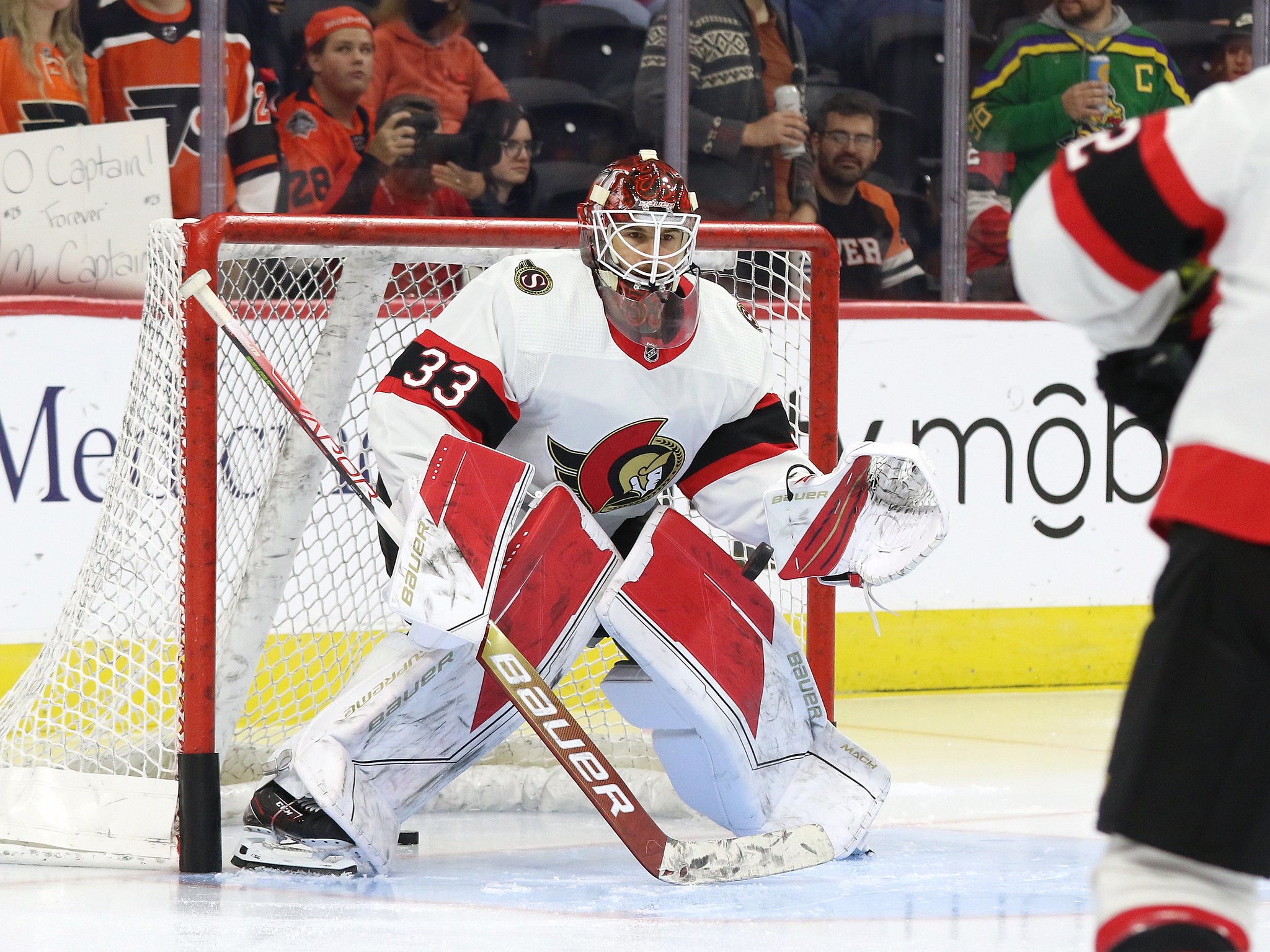 On the other end of the deal, the Wild got a 24-year-old with just 27 total games of experience, coming off a season where he lost 12 of the 18 games he played, producing a disappointing 3.55 GAA and .892 SV%. Drafted in the second round of the 2016 Entry Draft by the Pittsburgh Penguins, Gustavsson was once a fairly highly-rated goaltending prospect that was just not producing in the Senators' system.
Talbot Injuries Realize Concerns
One of the biggest, if not the biggest, concerns for the Wild heading into the season with a Fleury / Talbot tandem is that both of their goaltenders would be over the age of 35. While neither is showing their age per se, the proclivity for injuries is definitely higher with both spending time on injured reserve already this season.
Related: Wild By the Numbers: Midseason Report
---
Latest News & Highlights
---
While Fleury was only out for eight days in November, Talbot was unavailable for the entire month of October due to an injury and is once again out for multiple weeks after another one on Jan. 25 against the New York Islanders. If the Wild had stuck with their original plan of keeping Fleury and Talbot there is a very real chance they would have been without both of their starting goaltenders at some point this season, forcing them to rely on depth netminders like Zane MacIntyre or rush prospect Jesper Wallstedt.
Gustavsson's Game Gives Wild the Edge
Whether it was the change in scenery, having Fleury as a mentor, or just something he had all along, Gustavsson's play for the majority of this season has been so good he has gone from being a questionable backup to a future starter. A slow start, followed by some games against some easier teams gave him the confidence boost he needed to re-ignite his game. So far in 19 games played he has 11 wins with a 2.26 GAA (second best in the NHL) and a .922 SV% (.001 behind second best in the NHL). While his style is completely different from Fleury's, both goaltenders have been performing well enough that the Wild can choose either one on any given night and have a good chance at a win.
On top of being very effective in net, Gustavsson's contract also created some much-needed cap space for the Wild this season as they navigate the Zach Parise and Ryan Suter buyouts. In the second year of a two-year deal worth just $787,500, Gustavsson gifted the Wild an extra $2.88 million in space which could be vital as they near the March 3 trade deadline. He will also be a restricted free agent (RFA) at the end of this season instead of an unrestricted free agent (UFA) like Talbot, meaning the Wild will still have some control over his rights at the end of the season while they (hopefully) work out his next contract.
Wild Getting Better Return
In every one-for-one trade there is always the notion that one team has to be the winner and the other is therefore the loser, especially when it comes to goalies, but in reality, it usually bounces back and forth somewhere in the middle for both teams. It was not a bad trade for the Senators, as they turned a struggling goalie prospect into a veteran starter that could potentially be traded to bring in some future assets, or signed to an extension if they decide to keep him around. 
On the other side the Wild are currently looking like they have the better return as they took a pretty big gamble on a young goalie, and in doing so increased their available cap space, maintained a strong tandem in net, and look like they could have found a partner for their expected starter of the future in Wallstedt. Their ability to hold on to Gustavsson now that he is playing so well will be vital in solidifying this trade as a win for the Wild.
---
---