Welcome to the New Jersey Devils 3 Up, 3 Down for the 2022-23 season. Moving forward, this will be a monthly column chronicling the highs and lows from the previous month of action.
Your favorite New Jersey Devils players are currently soaking up the sun as they continue to enjoy their well-deserved break. The first 49 games of the 2022-23 season are in the books and head coach Lindy Ruff's team has put together a surprising and impressive record of 32-13-4.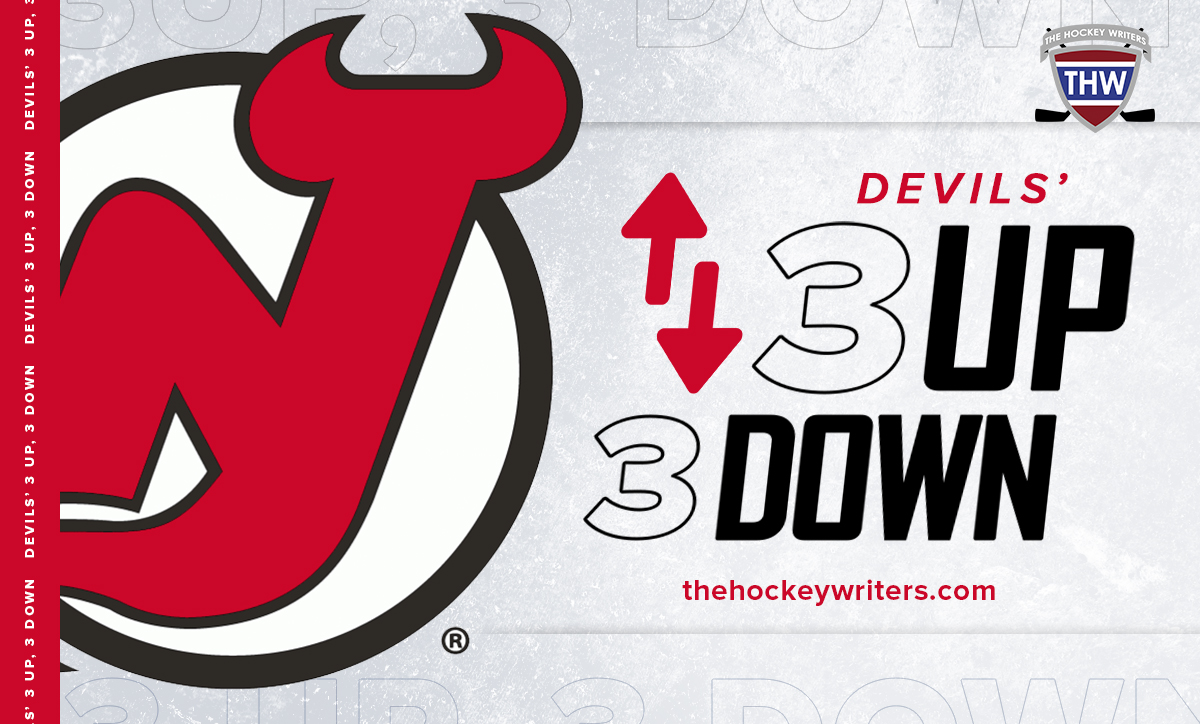 Here's a look at some of the good and bad from the past month for the Devils.
Plus 1: The Play of Jack Hughes
What else can be said about Jack Hughes' electrifying performance to start the 2023 calendar year?
On Feb. 1 it was announced that Hughes was named the NHL's First Star for January. The 21-year-old collected 23 points (13 goals, 10 assists) in 13 games. He earned nine multi-point games and two game-winning goals. He entered the break riding an eight-game point streak earning seven goals and eight assists. His 33 goals have him ranked fourth in the league, eight behind Connor McDavid.
For the second consecutive year, Hughes will represent the Devils in NHL All-Star Weekend taking place Feb. 3 – 4 at FLA Live Arena, Sunrise, FL.
Minus 1: The Play of Miles Wood
Throughout a season fans will find instances where a player will go through a cold spell. For January that forward was Miles Wood who appeared in 13 games scoring one goal and adding two assists for three points. His lone goal came in the team's final game of the month against the Dallas Stars, which snapped a 19-game drought.
Many fans were questioning why Wood was not scratched for lack of production, especially when Ruff explained his reasoning for benching Fabian Zetterlund. Prior to the break, Ryan Novozinsky of NJ.com asked the head coach why Wood has remained in the lineup.
Related: 4 Fun Facts About Devils' Miles Wood
---
Latest News & Highlights
---
"Just the belief that we need the size, we need the speed," Ruff said. "I know he's struggled, but I've tried to remain a believer that he's the type of guy that can muscle his way through… These last two months are going to get harder. So I'm trying to believe in him, give him his opportunity to find his footing and get back to playing really good hockey for us." (from '8 random Devils thoughts amid All-Star break | Timo Meier trade idea, Devils players react to looming trade deadline, Lindy Ruff on Miles Wood's struggles, more', NJ.com, 02/01/23).
Plus 2: The Devils January Record of 9-2-2
The Devils' season went a bit off the rails in December, but the club got back on track in January finishing the month with a record of 9-2-2. The team rediscovered its scoring touch netting at least three goals in 12 of their 13 games. New Jersey earned 20 points, which was tied with the Carolina Hurricanes. Their .769 points percentage was also the best in the league.
However, it was not all rainbows and butterflies, which leads me to my next point.
Minus 2: Late Month Struggles
The All-Star Break could not have come at a better time for New Jersey. Of their last six contests, five of them went to either overtime or a shootout. Even though the team had a successful month, Ruff made it known he was not satisfied with his team's play versus the Seattle Kraken on Jan. 19.
"We're not happy with the way we're playing," he said. "Lost too many battles and gave up too many situations that were preventable."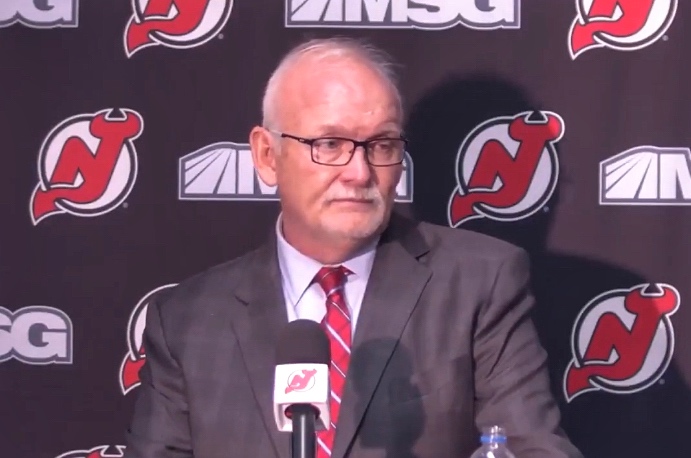 A few nights later they suffered their third road loss of the season to the Nashville Predators. The team's defense struggled and they gave up multiple odd-man rushes and breakaway opportunities. After the game, Nico Hischier told the media they didn't deserve to win that game. Even though the Devils struggled at times, it was not overly reflected in the standings as they wrapped up the month 8-1-1 in their last 10 outings.
Plus 3: Vitek Vanecek's Perfect Performance
At this point in the season, it is safe to say that Vitek Vanecek has emerged as the team's bonafide starter in the net. The 6-foot-2 goaltender has been perfect dating back to his Dec. 30 victory over the Pittsburgh Penguins. Vanecek won all eight games he started last month making on average 31 saves per game. His 2.29 goals-against average is fourth-best in the league behind Linus Ullmark, Jake Oettinger, and Filip Gustavsson.
After his victory over the Dallas Stars, the netminder was asked how proud he was of his game and his career-high nine-game winning streak.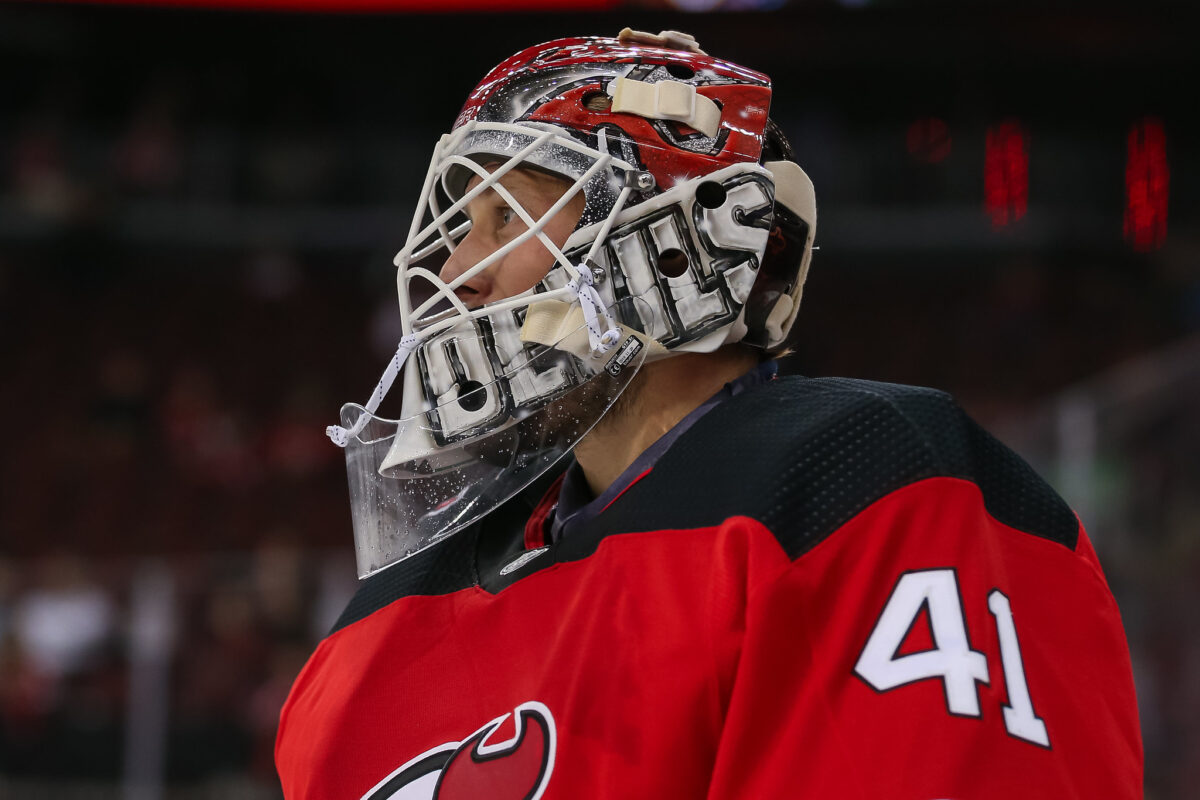 "I'm really proud of the Vitek," he said, referring to himself. "I hope that he keeps going and the team does the same thing like they're doing."
Per Devils PR, Vanecek joins three-time Stanley Cup champion and Hall-of-Famer Martin Brodeur as the only
netminder in franchise history to earn a winning streak of nine games or more in a single season.
Minus 3: Kevin Bahl and Nikita Okhotiuk Not Quite Ready?
At 22 years old both Kevin Bahl and Nikita Okhotiuk are still developing and learning how to become full-time blueliners in the NHL. Part of that includes the peaks and valleys that every young player goes through as they transition from the American Hockey League (AHL) to NHL.
Bahl appeared in six games in January while Okhotiuk played in seven. They each had their own struggles, showing a possible hole in the Devils' lineup if they have additional injuries to their defensive core. John Marino has been practicing with the team in a non-contact jersey, and even though there is no official timetable fans are expecting him to return sooner rather than later. How ready the Devils' depth defensemen are is something to keep an eye on as the team prepares for the second half of the 2022-23 season.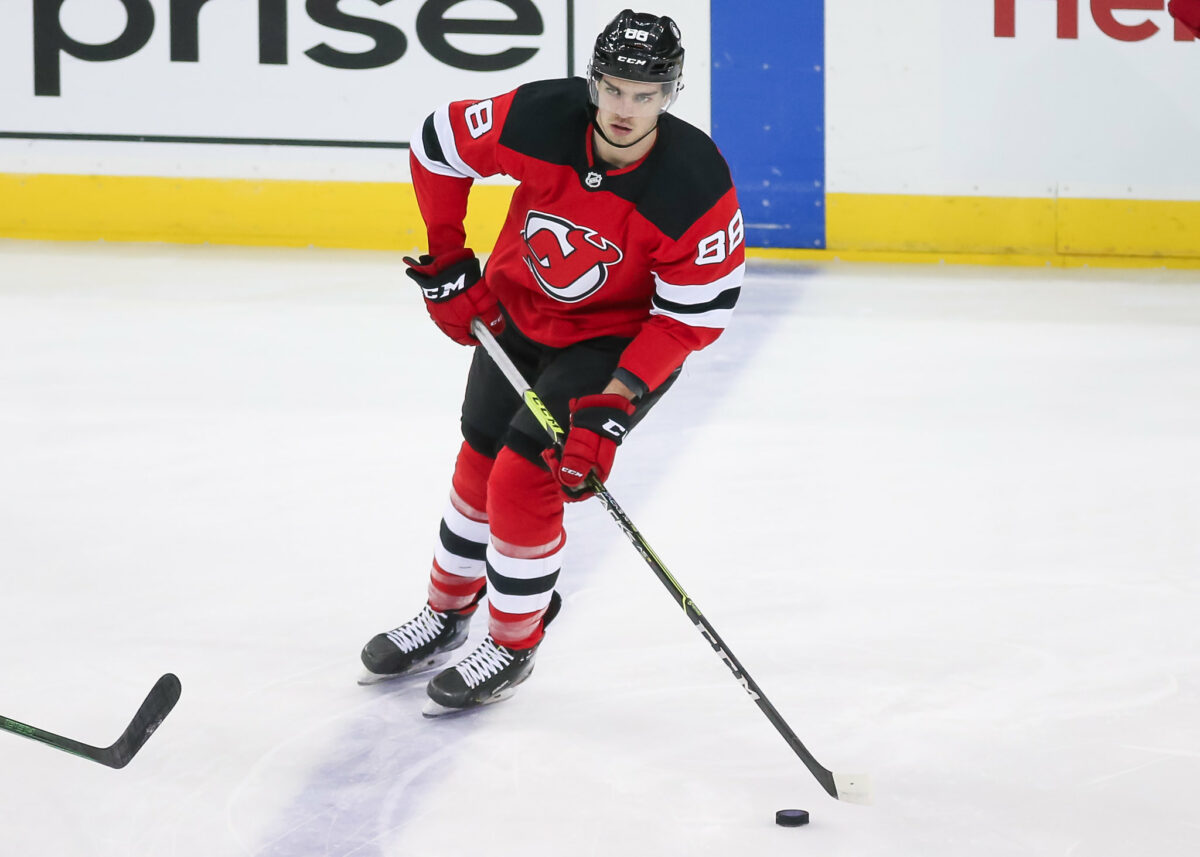 That does it for this edition of the Devils' 3 Up, 3 Down. The guys will wrap up their respective vacations and return to New Jersey to prepare for their Feb. 6 matchup when they host the Vancouver Canucks at Prudential Center. For the first time in years, the Devils will return from the All-Star Break as a top-five team in the league behind the Boston Bruins and Carolina Hurricanes. The race to the postseason is on for Hischier and his team.
---
---