Not many had hope for the Minnesota Wild's goaltending this season being it was in the hands of a 38-year-old very seasoned goaltender and a 24-year-old inexperienced goaltender. However, that older goaltender was also future Hall of Famer Marc-André Fleury who had proven to still be capable in the net. But when the season started, it seemed like he was ready for early retirement following some hard-hitting losses. It also didn't help that their backup goaltender Filip Gustavsson struggled to begin the season and they didn't have a strong third netminder to fall back on at the time.
Jumping to where the Wild currently sit in the season, they recently hit a small rough patch in their losses to the Carolina Hurricanes and the Florida Panthers, on Jan. 19 and 21. Those losses can mostly be blamed on turnovers but also due to some goaltending mishaps. Both Fleury and Gustavsson struggled to stop multiple goals in their respective losses but prior to those issues they had been playing outstanding, a clear contrast from where they started back in Oct. 2022.
Wild's Fleury Proving Himself
As any NHL player gets older, especially in the mid to late 30s, their ability to play the game at a high level goes under scrutiny. That scrutiny gets even more intense when the player is a goaltender due to the physical difficulty that position entails, and that makes it perfectly reasonable for Wild fans to have questioned the re-signing of Fleury despite his previous accomplishments. However, following the dismal start to the season, he worked hard to prove he is still that winning goaltender from seasons past.
Related: Wild's Goaltender Rotation Changes with Gustavsson Acquisition
---
Latest News & Highlights
---
In his first month of the season, Fleury played in seven games and had a record of 4-1-1, but while he had a winning record he had a disappointing save percentage (SV%) of .880 and a goals-against average (GAA) of 3.69. He also had 24 goals against that sat in the top five in the NHL for most goals allowed in that time frame with the top being the Anaheim Ducks' John Gibson who allowed 30 goals in eight games. Fleury was getting wins but allowing way too many goals, which made it difficult for the Wild's offense to outscore their opposition.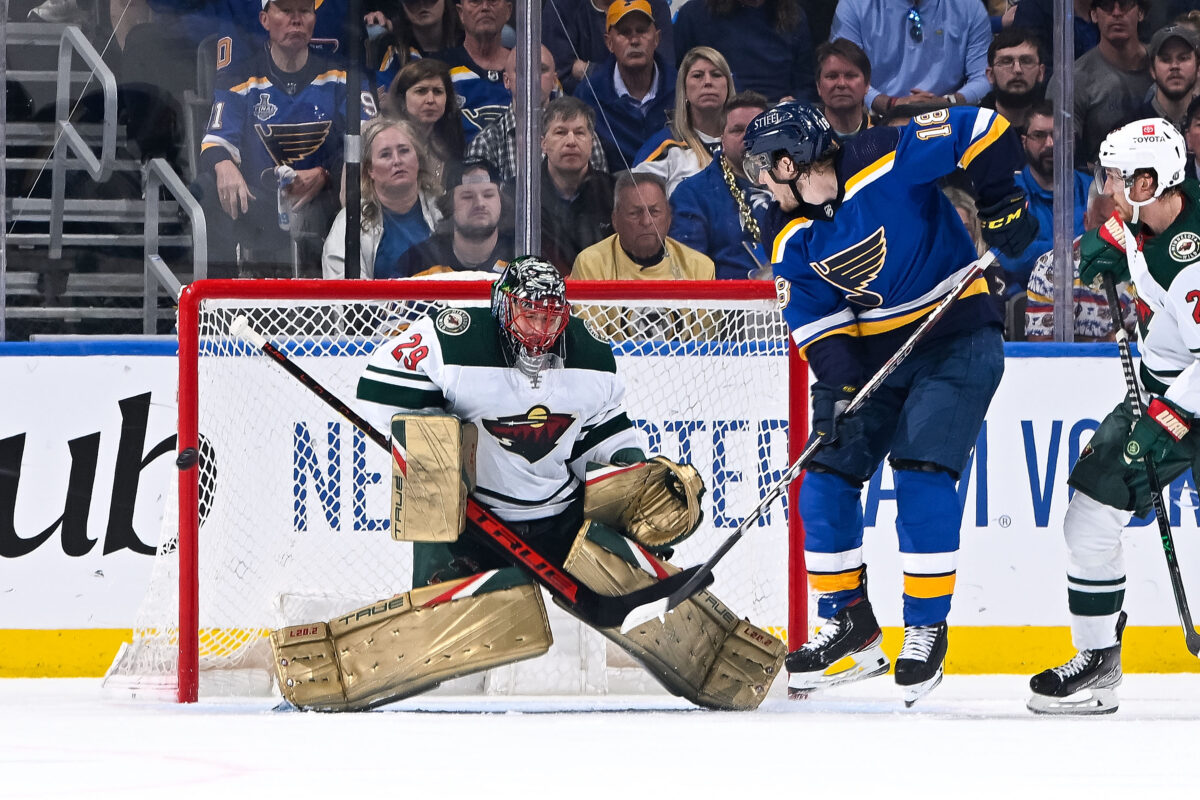 Fleury clearly pushed himself to improve after that first month – since then he's played in 21 games, 20 of which he started. In the one game he didn't start, he came in relief of Gustavsson who left sick in the final minutes. Of those 20 other games, Fleury had a record of 10-8-2 but the most noticeable difference was his .909 (SV%) and 2.70 (GAA). He improved both stats which included dropping nearly a goal off his goals against, but even more impressive was his 54 total goals allowed.
Fleury only allowed 30 more goals in 21 games and that dropped him into a tie for 29th in the league compared to Gibson who has continued to allow a lot of goals, with 60 more for an overall total of 90. Whatever Fleury did to improve his game the Wild should be thankful because thanks to him, they won some big games over the Edmonton Oilers, Seattle Kraken, and the Dallas Stars, and hopefully, his strong play will continue.
Wild's Gustavsson Shows Improvement
It's safe to say the Wild's biggest question mark in regards to goaltending wasn't Fleury's abilities but his backup Gustavsson's and how good he truly was despite minimal experience. Prior to Gustavsson's current stint with the Wild, he played two partial seasons with the Ottawa Senators, the first was nine games and the second was 18 games for a total of just 27 games played. While that barely disqualified him from still being a rookie in the NHL, it wasn't enough to be considered veteran status either.
Gustavsson only played in three games during the first month of this season for the Wild and all three were losses, but two were to very strong teams in the Colorado Avalanche and the Los Angeles Kings while the third was against the Detroit Red Wings. In those three games, he had a .878 SV% and a 3.93 GAA and he allowed 10 goals in that time frame.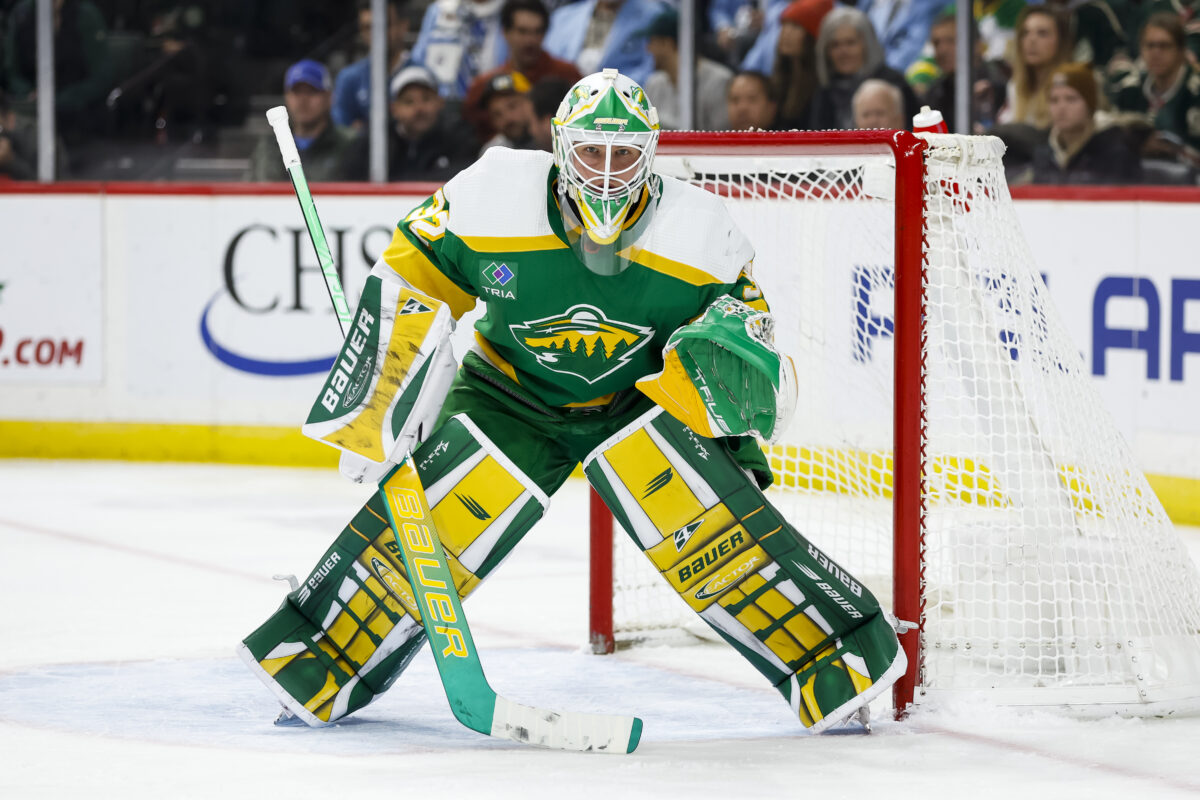 In the time since that first month, Gustavsson has shown he's more than just a young goaltender with little experience. He's played in 16 games and has a record of 11-4-1 with one game not being finished due to an illness. His SV% jumped from .878 to a shocking .930 SV% and his GAA dropped from 3.93 to 2.00.
Gustavsson has clearly gotten better with the more games he's played and some of his big wins have come against the New York Islanders, Washington Capitals, and the Wild's first meeting against the Carolina Hurricanes back in Nov. 2022. He's earned enough trust with his recent play that he's been put in a 50/50 split with Fleury and it's been working so far. His current stats would've earned him a starting spot as well if Fleury wasn't equally successful.
Wild's Next Few Months
Until recently the Wild's losses had nothing to do with the play of their goaltenders, and despite the recent losses, their struggles have only been partially due to goaltender problems. It appears the more games both of these goaltenders play the better they get and their current 50/50 rotation has been a big help to their performance, especially Fleury's.
As an older goaltender, the added rest has been a benefit to Fleury and it's something he was hoping for before this season started when Cam Talbot was still in the picture. Hopefully, the added rest will continue and prove that these past two losses were just minor slip-ups for both goaltenders. Fleury and Gustavsson will be relied on a lot until the season ends and hopefully, they can continue to step up and provide wins for their team.
Mariah Stark (Holland) is a contributing Minnesota Wild writer for THW. She's been covering the Wild at THW since October of 2020 and specializes in game takeaways and weekly check-ins. She is always looking for different angles to cover the Wild and dig deeper into the stories surrounding the team to help fans connect on a more personal level and to keep an eye on the latest follow her on Twitter @MariahEStark.