Marc-Andre Fleury has been one of the best goaltenders in the entire National Hockey League since he was drafted first overall in 2003. While his save percentage (SV%) of 0.913 across his entire career may not jump off the page, his legacy will last a lifetime as a winner on and off the ice.
Statistically One of the Best Goaltenders in the League
Fleury has a better career SV% than Hall of Famers Martin Brodeur, Patrick Roy, and Terry Sawchuk. While this can be attributed to the fact that fewer goals per game are scored against NHL goalies in this era of the game, he continued to put up excellent numbers on a team that people thought was going to have issues defensively in the Vegas Golden Knights.
Fleury does lead active NHL goaltenders in one statistic, which is career shutouts. With 64 of them, he is currently tied with Henrik Lundqvist (who is out for the remainder of this season after having open heart surgery). With plenty of hockey left to be played in his career, he should be able to take the lead in this category very soon. Of the goaltenders above him on the all-time list of most shutouts by an NHL goaltender, all of them are in the Hall of Fame aside from Roberto Luongo who is not eligible to be inducted yet, and Lorne Chabot, who played nearly a century ago, when shutouts were much more common.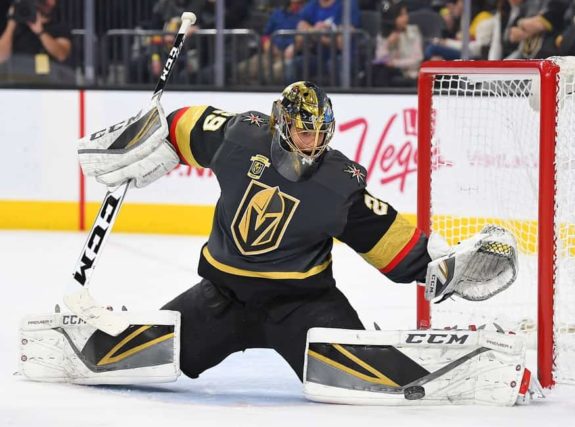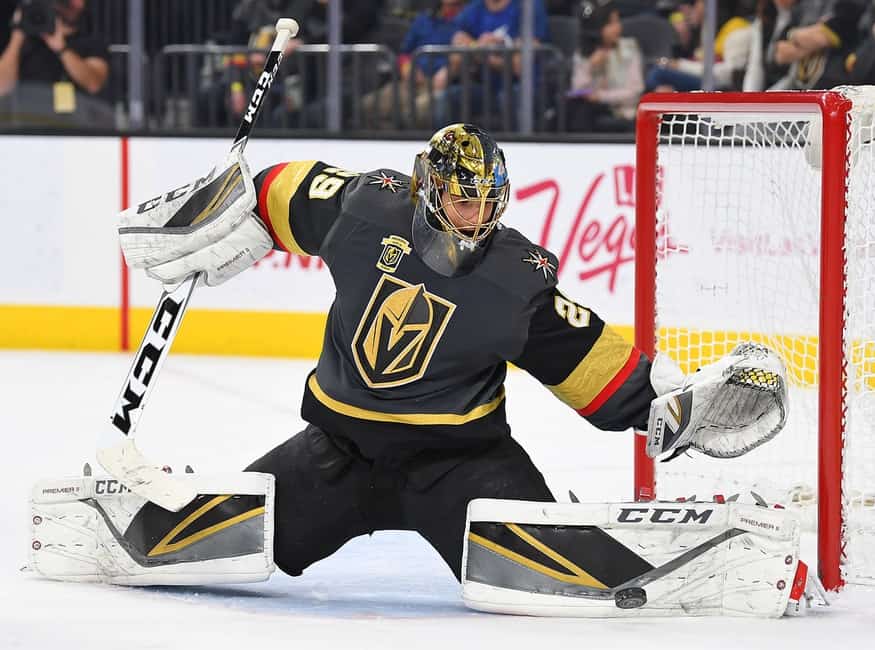 While Fleury had a career SV% of 0.913, if one were to eliminate his rookie and sophomore seasons in the league (which he completed at an age when most goaltenders would have been in the junior leagues) his career SV% increases to 0.915, which would keep him at pace with current NHL stars Braden Holtby and Seymon Varlamov. Both of these goaltenders are considered very streaky, which speaks to the level of consistency that Fleury has brought to the table in his many seasons in the league.
This season, Fleury has been far and away the best goaltender. Of goaltenders who have played at least 10 games thus far, he sports the best SV% at 0.942. He has only allowed 17 goals in his 11 games played so far as well, which is especially impressive considering the other players who have allowed 17 goals are backup goaltenders who have only played six and seven games, respectively. The next player who has played at least 11 games this season is Kaapo Kahkonen, who has allowed 25 goals.
Is This Enough for Him to Qualify?
While Fleury has not experienced the highest Vezina-caliber seasons of many of the other goaltenders in the league, he has been a consistent force in the league. He has not posted a losing record since the 2005-06 NHL season, which no other active goaltender in the league has been able to accomplish. Furthermore, Fleury should be remembered for leading the Golden Knights to their first ever Stanley Cup Final in its first ever NHL season. There are not many goaltenders who would have been able to succeed on brand new teams like this one, and Fleury helped set an NHL record by helping lead his team to the highest-ever win percentage by an expansion team.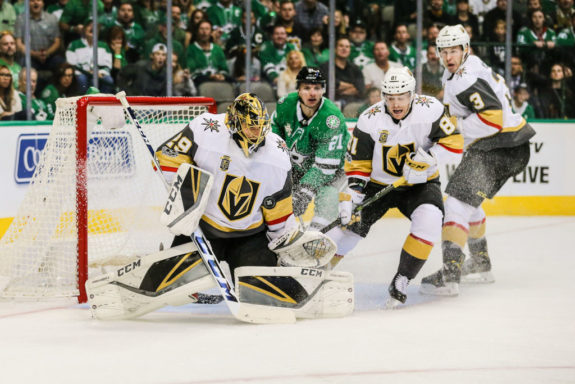 In most NHL player's careers, they might win a single Stanley Cup. With 30 other teams competing with the same goal in mind, it is nearly impossible to win more than one Stanley Cup in a career these days. However, Fleury has received three Stanley Cup rings in his career thus far. While he was not at the helm of the playoff run for two of those championships, he was an integral part of their regular-season success those seasons, which set his Pittsburgh Penguins up for a strong playoff showing.
Fleury Knows How to Win
Fleury has had his name etched onto the Stanley Cup on three different occasions. This is a very impressive feat for any player, and ultimately is an achievement that many superstar NHL goaltenders have yet to achieve. While he may have been playing the backup to Matt Murray during the 2016 (and 2017) Playoffs, during the regular season he backstopped the team to an impressive 35-17-6 record while he was in net. He was one of the most valuable players on the ice during the magical run to the Stanley Cup Final during the inaugural Golden Knights season as well, and he was able to keep his team in a playoffs that they were not even supposed to be in.
In 17 NHL seasons thus far, Fleury has posted a winning record in 15 of them. Comparatively, Carey Price, long considered to be one of the best goaltenders in the league, has posted a winning record in only 10 of his 14 seasons in the league. While every goaltender goes through struggles and injuries, it seems like Marc Andre Fleury has always been an extremely consistent presence in the league.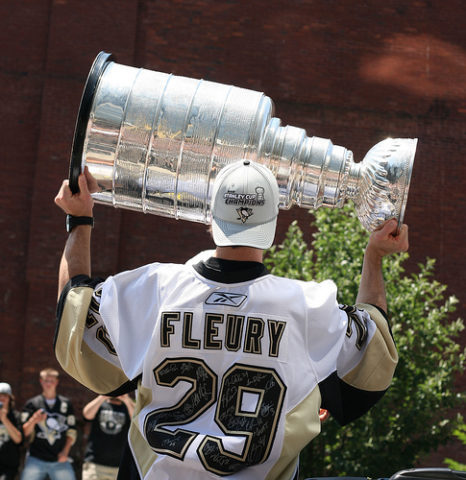 With 474 wins in his 17 seasons, Fleury has the fifth most wins by a goaltender in NHL history. By the end of this season, he has a realistic chance to pass Ed Belfour and Luongo to take over as the netminder with the third most wins in NHL history. Even if he does not hit that mark this season, he is almost guaranteed to reach that milestone next season.
As one of the only Stanley Cup winners on the Golden Knights, he has had to step up and be a leader for the young talent who were joining this brand new team. His experience showed in his first season in Vegas, as he was able to be one of the primary stars on the team, which he had never done because Sidney Crosby and Evgeni Malkin were the big names on the Penguins rosters. This new role worked out well for him, as he was able to backstop the team to a Stanley Cup Final appearance.
An Impressive Career Rejuvenation
Fleury has had an impressive career rejuvenation, the likes of which had never been seen in the NHL before. Being on the Golden Knights has allowed him to blossom into a prominent player in the league and appear in the NHL All-Star Game in each of his seasons with the team, and has also recently been named one of the NHL's stars of the week. With the Penguins, the spotlight almost always belonged to Sidney Crosby and Evgeni Malkin, which led to him becoming underrated as a goaltender.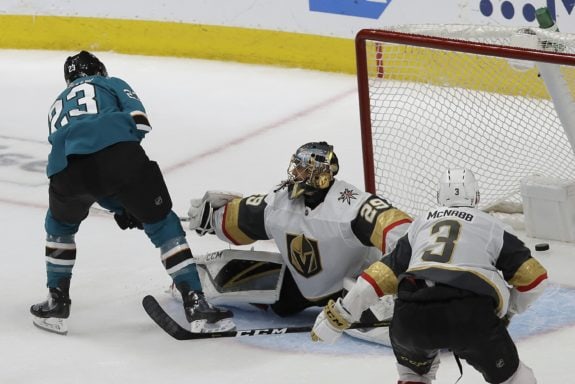 Fleury proved he still had something left in the tank when he was able to backstop the Golden Knights to a Stanley Cup Final appearance. The Golden Knights were the first team to accomplish this feat since the St. Louis Blues in the 1967-1968 NHL season (and even then, the Blues' path to the Stanley Cup Final was in the West Division, which was entirely made up of expansion teams that season) and it would not have been possible without the heroics of Fleury in the playoffs.
Unfortunately, this season's All-Star Game has been postponed, but if there are still going to be All-Star nominations, Fleury has definitely made his mark this season. While originally the plan may have been that he would be sharing the net with Robin Lehner, Lehner has had some early season struggles, so Fleury has taken the reins back and is currently sporting a very high 0.942 SV% and a 1.55 goals against average. These are league-leading numbers (for goalies who played starting minutes thus far), and hopefully he can sustain them throughout the season and the playoffs.
Across his career, Fleury has made a case for himself being not only one of the top goaltenders in the league, but one who is worthy of the highest honor in hockey, which is being inducted into the Hockey Hall of Fame. He has proven himself as a leader and as a winner. With three Stanley Cup rings, as well as helping lead a brand new expansion team to the Stanley Cup Final, Fleury deserves a place in the Hall of Fame.
---
---
Hello, my name is Benjamin Zelniker and I am currently a student at Concordia University looking to make an impact in the sports blogging and writing world. I cover the Vegas Golden Knights at The Hockey Writers!