Born on Jan. 5, 1994, in Charlestown, Massachusetts, Matt Grzelcyk had early ties to the Boston Bruins through his father, John Grzelcyk, who works at TD Garden and formerly the old Boston Garden. Matt's mother, Kathleen Grzelcyk, did an interview over the phone to provide some details about her son's beginnings in hockey and his progression to eventually being selected by the Bruins in the 2012 NHL Entry Draft. Kathleen, a long-time secretary at a local school, is now enjoying her retirement and was a pleasure to speak to while gathering information for this article.
Starting Out Young
According to Kathleen, Grzelcyk began skating as a two-year-old and received plenty of help from his three older siblings. He has two older brothers, John and Andrew, along with an older sister named Julie. The youngster learned to skate by pushing crates around on the ice. His father coached the hockey team at Belmont Hill School, a private boys' school located in the suburb just outside of Boston, and often times he would join the older kids during practices.
Although Grzelcyk also played lacrosse growing up, hockey was always his first choice when it came to sports. Kathleen said that during the summer months, he was always on rollerblades. "He rollerbladed constantly as a kid. When they weren't playing hockey, they were rollerblading, always rollerblading." That paid huge dividends for Grzelcyk, as his skating ability would be relied on heavily as he progressed through the ranks.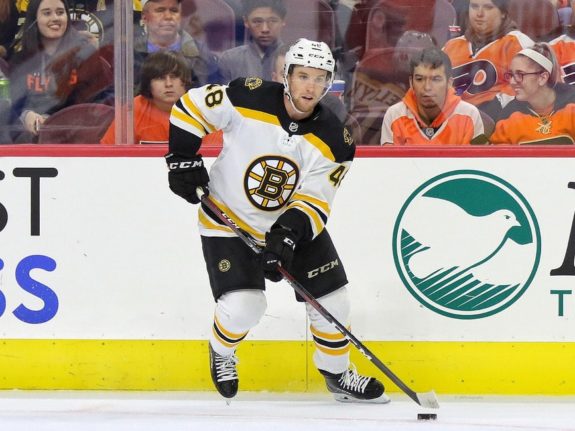 His favourite player growing up was Detroit Red Wings Hall of Fame defenceman, Nick Lidstrom. "I watched a lot of Bryan Rafalski growing up because I was a smaller guy, but my idol was always Nick Lidstrom. It's pretty easy guy to model yourself both on the ice and off the ice." Grzelcyk said after being drafted by the Bruins. He also really looked up to Ray Bourque. When asked if Matt had any lasting memories or interactions with the Bruins through John's job at the Garden, she said, "He would go when the Bruins were out on the road and skate at the Garden. He also met Ray Bourque there, he (Bourque) is a family friend." He would also take in a game now and then when the opportunity presented itself.
Grzelcyk's Minor Hockey Days
Grzelyck was also good friends with current New York Rangers forward Jimmy Vesey, and the two of them would later on be selected in the same round of the 2012 NHL Entry Draft. Many years earlier, however, the two future NHLers played on the same minor hockey team, the Middlesex Islanders. In 2007 Grzelcyk played in the Quebec PeeWee Invitational Hockey Tournament, and although his team lost out to a team from Syracuse, Kathleen recalls the time as being a great experience for him. "He loved the tournament, and it was an unbelievable experience for him. Great competition, great experience". It was the Quebec PeeWee Invitational where Grzelcyk first played against some of the top competition in North America in his age group.
---
Latest News & Highlights
---
In 2009-10 he played for Belmont Hill, the same school where he practiced with the older kids. In 31 games, he had two goals and 18 assists. Following his time there, he headed to Michigan and joined the US National Development team. That, his mom says, was a turning point for his career as he played with the top talent in the country. When asked at what age it became apparent that Matt might have a chance to make the NHL, she replied, "It was really a dream, but something Matt didn't know he would be able to accomplish due to his size, but with his skating ability, he was always such a smart player, the National Development team was a turning point and then going to play for Boston University was the best decision he ever made."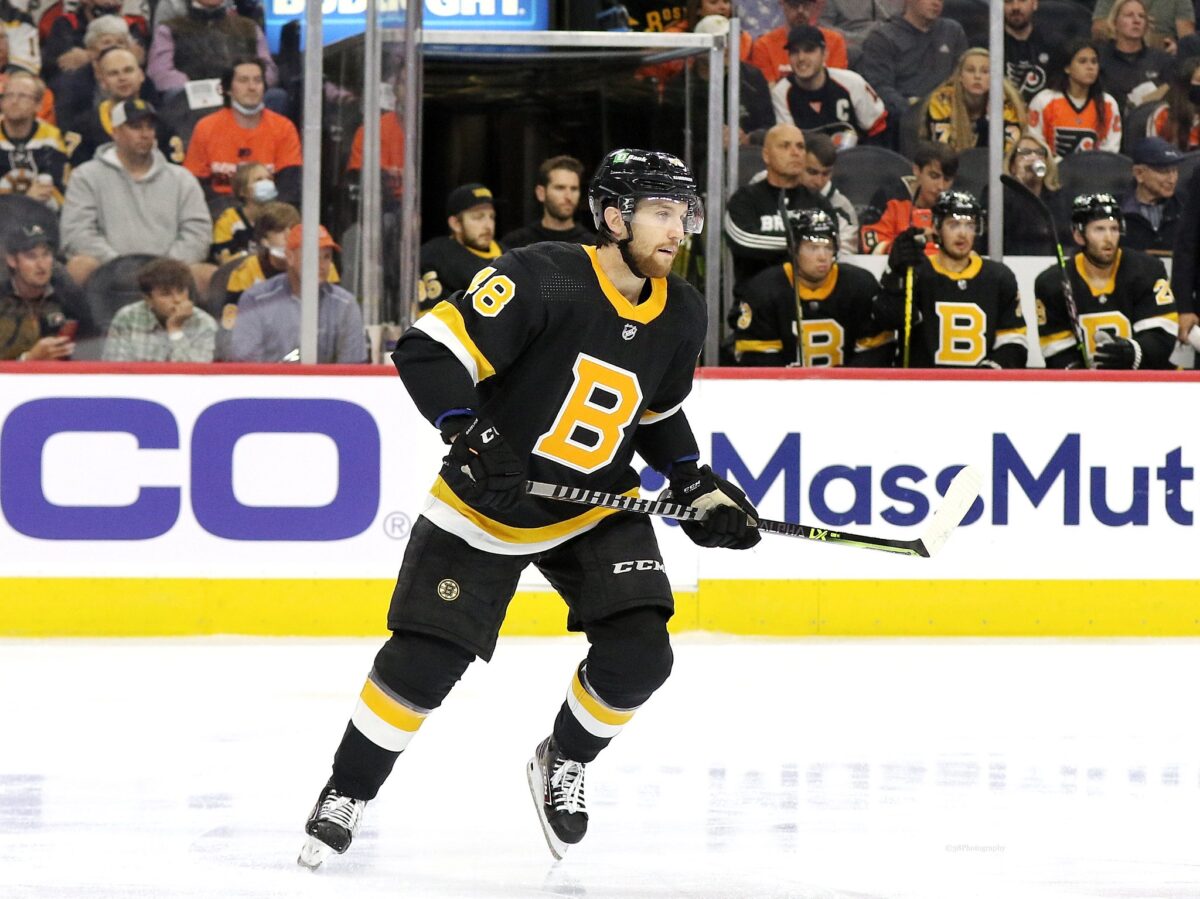 During his time in the USNTDP, Grzelcyk played with several other current NHL players, such as J.T. Miller, Seth Jones, Frank Vatrano, Jacob Trouba, John Gibson, Cole Bardreau, Jake McCabe, Brady Skjei, Ryan Hartman, and Travis Boyd. He played two seasons in the program, and in 2010-11, scored two goals and 18 assists in 55 games with the USA U17 team. He followed that up in 2011-12 with three goals and 20 assists for the USA U18 team. He also played on Team USA in the U18 World Junior Championship, where he won a gold medal with the national team.
Grzelcyk's Draft Experience
After his season with the U18 National Team, Grzelcyk was drawing some attention from NHL teams ahead of the 2012 NHL Entry Draft held in Pittsburgh. According to Kathleen, he had a meeting prior to the draft with Bruins president of hockey operations, Cam Neely, at his office at TD Garden. Although he had met with him, the Grzelcyks were still unsure where or if Matt would be drafted. Nonetheless, the family made the trip to the draft as Matt also wanted to be there to support his teammate Jacob Trouba, who was projected to be drafted in the first round. Trouba was eventually selected by the Winnipeg Jets, ninth overall. He also was extremely happy to see his childhood friend Jimmy Vesey drafted in the third round, 66th overall, by the Nashville Predators.
Related: Diving Deep: Looking At Bruins' Linus Ullmark's Path To Stardom
Not long after the Predators selected Vesey, the Grzelcyk family was absolutely shocked when the Bruins announced they were drafting Matt with their third-round pick, 85th overall. Kathleen said, "It was absolutely unbelievable when the Bruins called Matt's name, and the family got to meet Cam Neely, and we met PK Subbans brother, Malcolm, who was also selected by the Bruins. Just an unforgettable, fantastic day."
Although he had been drafted by the Bruins, it was imperative to his mother that Grzelcyk finish his schooling as he had thoughts about leaving Boston University to pursue his professional hockey career.
Boston University
After his successful time with the USNTDP, Grzelcyk committed to playing for the Boston University Terriers, where he went on to continue his development while studying business and communications. His mom says he will be finishing his degree this summer. The defenceman played four seasons with the Terriers, where the Bruins were able to keep an eye on their prospect's development. In his freshman year, he was named to the Hockey East All-Freshman team and scored three goals and 20 assists for 23 points in 38 games. During the 2013-14 season, he was named an assistant captain for Team USA at the U20 World Junior Championship.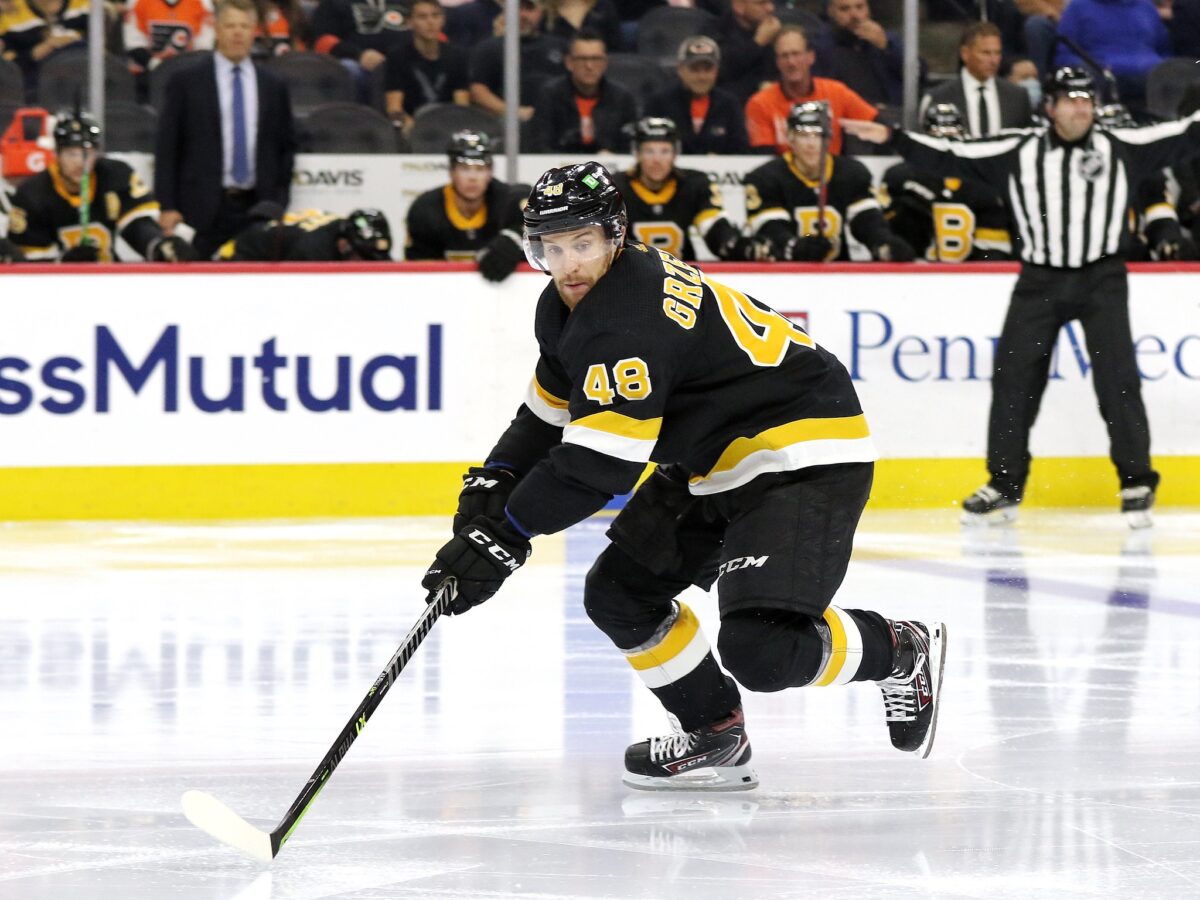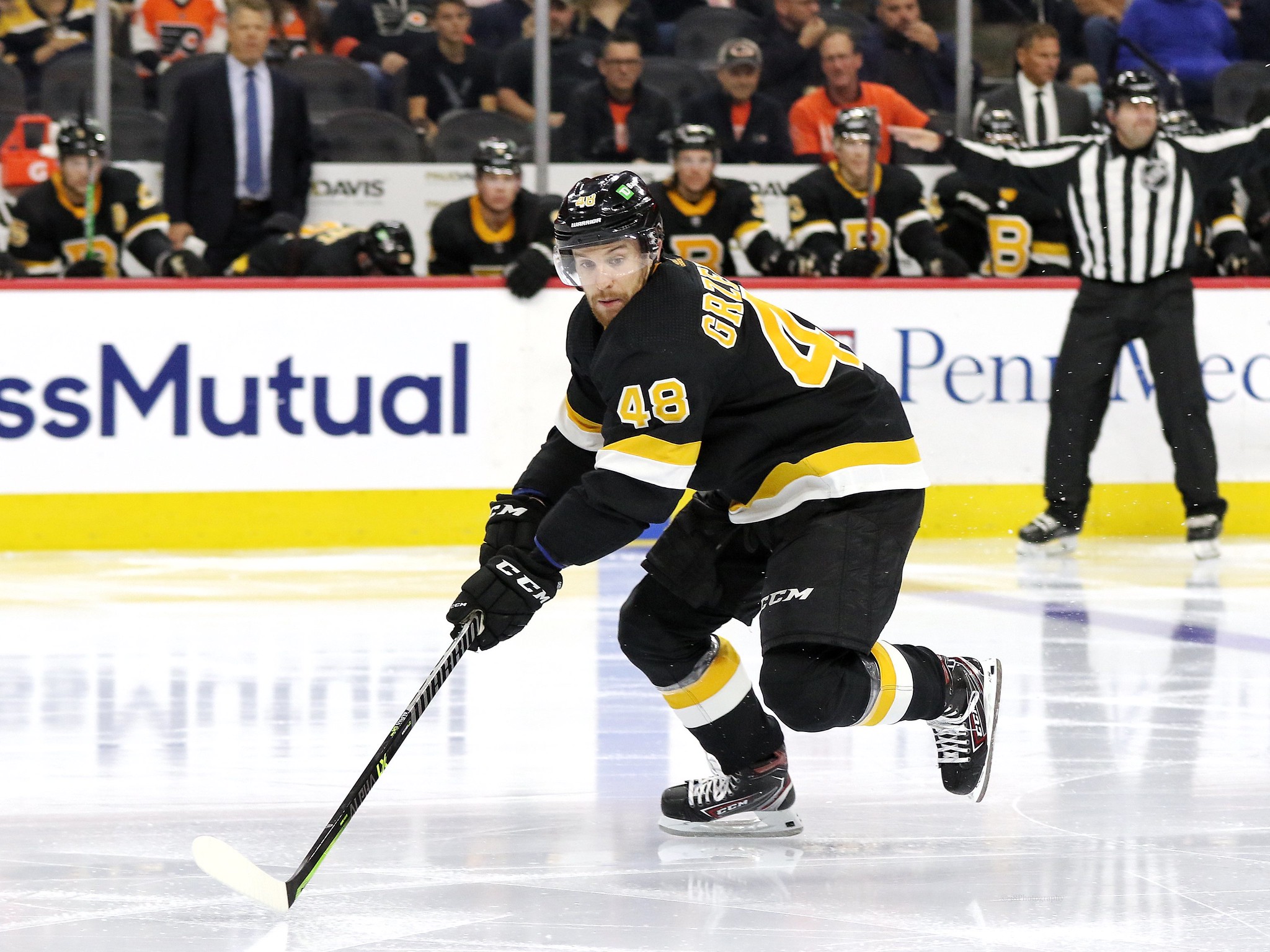 The Beanpot is a prestigious tournament played between Boston University, Boston College, Harvard University, and Northeastern University. It has been held annually in Boston every year since its first rendition in December 1952. While taking part in the 63rd annual Beanpot, Grzelcyk scored one of his most memorable goals. In the Final, against Northeastern, he scored 51 seconds into overtime to crown the Terriers as Beanpot champions. Just this past January, both Matt and his father, John, were inducted into the Beanpot Hall of Fame, which was a very special honour, according to Kathleen. "Totally shocked it was a great day for the family, John was totally shocked, and it was a very special honour for the two of them."
Grzelcyk was named captain of the Terriers for his final two seasons. They made it to the Frozen Four Finals in 2015, where they narrowly lost by a score of 4-3 to Providence. He also picked up his offensive production in 2014-15, scoring ten goals and 28 assists for 38 points in 41 games. Overall, he played in 125 games with the Terriers, scoring 26 goals and 69 assists for 95 points. He also formed some great friendships while playing university hockey, as he first met current Bruins teammate Charlie McAvoy there. His mom says, "The two have become like brothers and live across the street from one another in Boston, where they pretty much do everything together, they are just inseparable."
Becoming A Bruin
Growing up in the Charlestown neighbourhood, playing for the Bruins was always a dream for Grzelcyk. That dream became a reality on Dec. 14, 2016, as he made his NHL debut against the Pittsburgh Penguins. Ironically enough, in November 2017, his first NHL goal came against the Penguins as well. It was a goal his mother remembers fondly. "I was there, it was the day after Thanksgiving. It was unbelievable. It was a tough season for Matt, getting called up and sent down to Providence and called up again. His father was there, we were all there, pretty exciting day."
Grzelcyk split his first two professional seasons between the NHL and American Hockey League (AHL) before becoming a mainstay on Boston's blue line during the 2018-19 season. Playing largely alongside his former BU teammate, McAvoy, the two form one of the best defensive pairings in the league. The two close friends also both had their off-season shoulder surgeries at the same time, which was helpful as they were able to go through all the stages of rehab together.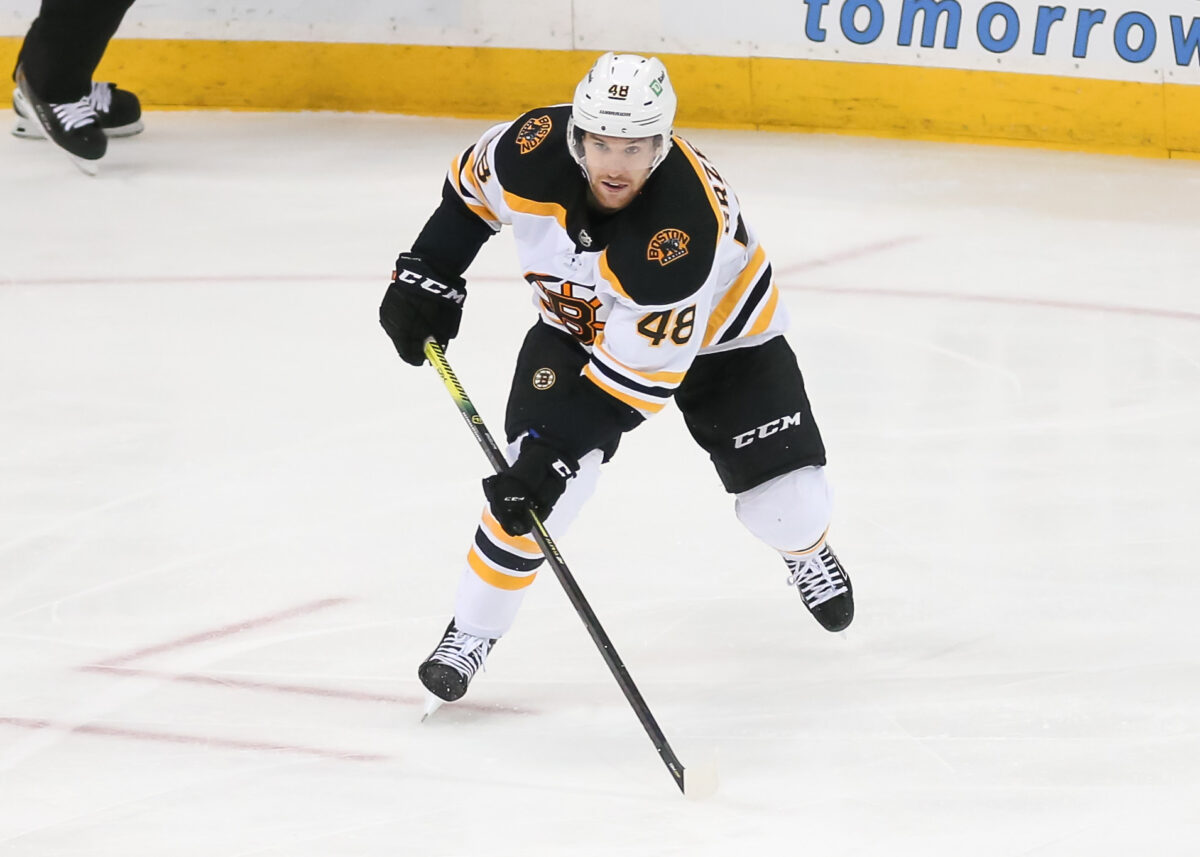 During his first full season in Boston, the Bruins went on a remarkable playoff run, going the distance in the Stanley Cup Final against the St Louis Blues. Unfortunately, Grzelcyk sustained an injury on a hit from Oskar Sundqvist in Game 2 of the Final. He ended up chipping in four goals and four assists in 20 playoff games.
On Oct. 19, 2020, the Bruins signed Grzelcyk to a four-year, $14.75 million contract carrying an average annual value of $3.6 million. He was ecstatic that they were able to avoid an arbitration hearing scheduled on the following day.
"Being from here and having the opportunity to play for the Bruins means so much to me. It wasn't more about wanting to bet on myself and try to get the most money possible. I think that I really wanted to, if possible, be locked up for as long as I could, and this is the place that I want to be and the opportunity I want to have." Grzelcyk said shortly after signing the contract.
During the 2020-21 season, Grzelcyk looked poised to break out as one of the Bruins' top offensive defencemen with five goals and 15 assists for 20 points in just 37 games played. While he has yet to replicate the offensive production from that season, he remains invaluable to the Bruins with his skating and ability to drive play from the defensive zone with his puck-moving skills.
Grzelcyk Posting Career-Highs Offensively This Season
This season, the smooth-skating Grzelcyk is on pace to set new career highs offensively, as he currently has four goals and 19 assists for 23 points in 59 games played. His previous career high in points was set last season when he notched four goals and 20 assists for 24 points in 73 games.
Back in October, he was able to return to the lineup much earlier than anticipated following his off-season shoulder surgery. His mom says he played 60 games last season with a broken shoulder. When asked about the Bruins' incredible season, she said, "With the injuries, we didn't know what to expect, so many people thought it was going to be a tough start. Lindholm and Clifton really stepped up with Matt and Charlie injured".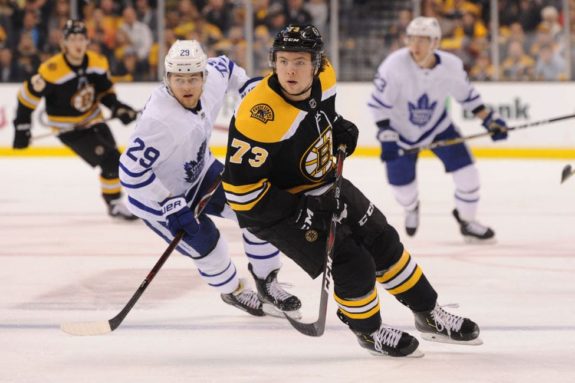 Matt also shared his thoughts on the Bruins' latest trade acquisitions with his mother. "The team is so special, and the locker room they have is unbelievable. He told me that all of the new players have fit in seamlessly with the group." She went on to add, "Can you find a better captain than Patrice Bergeron? He is so amazing, such a good person, everything you hear about him is true, he is unbelievable."
While watching her son fulfill his dream of playing in the NHL has been amazing, seeing him suit up for the hometown Bruins has made it even more enjoyable for the Grzelcyk family. Time will tell if the hometown kid can help the Bruins bring more joy to the city by winning their first Stanley Cup championship since the magical 2010-11 season.