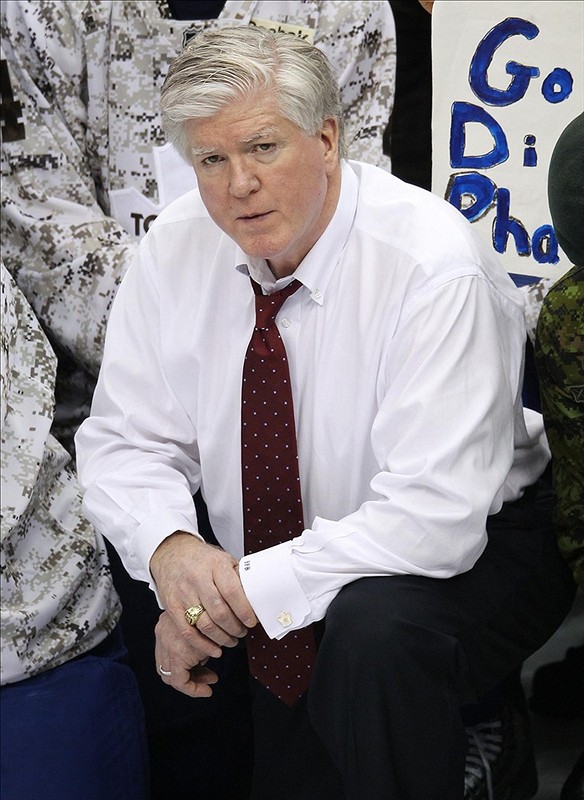 Trading can be like a poker game. No matter how good your hand is you never know what the other player has up his sleeve. To draw a direct analogy, most general managers know what they have in their own players, but no matter what a rival GM is willing to give up in return for one of your assets, you really never know what you are getting in return.
When Toronto Maple Leafs president and general manager Brian Burke shipped veteran defenseman Francois Beauchemin to the Anaheim Ducks in return for Joffrey Lupul, Jake Gardiner and a conditional fourth round draft pick in the 2013 NHL Entry Draft most fans felt it was a good deal, but were also quick to point out that is could be a risky venture for the Maple Leafs.
Lupul had a long history of injuries and a big contract, while Gardiner, whom Burke drafted 17th overall in the 2008 NHL Entry Draft when he was the GM in Anaheim, was a virtual unknown to many.
Of course, looking back on the deal Burke completely hosed Anaheim Ducks GM Bob Murray in this deal, as Gardiner is looking like a sure-fire NHL star, while Lupul developed immediate chemistry with Phil Kessel, culminating in a 25 goal/67 point season in 2011-12.
Meanwhile, Beauchemin registered an eight goal/22 point season for the Ducks in 2011-12 to go along with a paltry minus-14 rating.
NHL general managers do not have crystal balls with which to look into the future, which is why every deal is a risky venture. In this case Burke easily won the deal, but it could have gone the other way, especially if Lupul turned out to be damaged goods, as many expected him to be.
Many fans of the Blue and White are steaming mad over an off-season of little movement by Burke which, in the minds of many, has done little to improve the team's ability to make a push for the playoffs next season.
Sure, Burke managed to add a top-six forward in the form of James van Riemsdyk, but the cost was high as Burke shipped steady defender Luke Schenn to the Philadelphia Flyers.
To be fair, both JVR and Schenn have much to prove. Both players addressed organizational needs, but there are no guarantees that JVR will develop into that scoring threat Burke believes he has added to the team, while Schenn may never be much more than a bottom pairing defenseman.
Should JVR fail to develop and Schenn blossoms in Philly, fans will be quick to criticize Burke. That said, if JVR has a significant impact in Toronto and Schenn fails to impress Burke will be applauded for his genius. Let's face it, when a GM makes a trade he has gone "all-in", and you never know how those hands are going to turn out.
Looking at Burke's current roster it is safe to say that few players would be untouchable, although an argument could be that Kessel, Lupul and Captain Dion Phaneuf must be retained.
When we dig deeper into the current roster a number of players emerge as potential trade bait. Of course, the CBA agreement will have a lot to say about just how active NHL general managers will be in the trade department as recent proposals would call for a significant reduction in the salary cap.
On the one side, a reduction in the salary cap could make several top-tier players available as NHL general managers fumble around trying to reduce payroll. On the other hand, should the salary cap remain the same big money contracts will be almost impossible to move as many teams are looking to reduce costs.
According to capgeek.com, the Maple Leafs currently have a total of $62,873,333 dedicated to 21 players for the 2012-13 season with two restricted free agents left to sign in defenseman Cody Franson and goaltender Ben Scrivens. Both Franson and Scrivens will likely be re-signed, as Burke would benefit from adding some depth to both positions.
Should the cap limit get reduced, Burke will have to cut salary, unless of course the new CBA allows for an adjustment period next season.
When you consider which players might be attractive to rival general managers few players jump off the page. At a cap hit of $4.75 million, underachieving forward Tim Connolly will be all but impossible to trade, as will defenseman Mike Komisarek who carries a hefty $4.5 million cap hit.
Complicating matters is the fact that both Connolly (who has one year left on his deal) and Komisarek (who has two years left on his deal) have modified no-trade clauses, making them even tougher to deal. Both players are underachieving, both players have little upside left.
Forwards Phil Kessel, Joffrey Lupul, Clarke MacArthur and Mikhail Grabovski also have some form of modified no-trade clauses as does veteran defenseman John-Michael Liles.
In the case of Kessel, Grabovski and Lupul you would think Burke would like to hold onto these players, but MacArthur could likely be had, for the right price.
Trouble is, MacArthur is not about to bring you a big return. More likely, a draft pick or mid-tier prospect would be sent to Toronto in any deal for MacArthur, which may mean Burke sticks with him rather than settle for an unflattering return.
As for Grabovski, Burke just signed him to a multi-year deal over the summer—he's not going anywhere.
Lupul developed incredible chemistry with Kessel last season and with this dynamic duo set to take the NHL by storm again in 2012-13 there is little sense in breaking them up.
A few weeks ago I speculated that Kessel could eventually leave the Maple Leafs, but there is no way Burke would ever get the kind of return that he gave up to the Boston Bruins (two first round draft choices and a second rounder) in order to bring Kessel to Toronto.
Nikolai Kulemin (who signed a two-year deal this summer) could emerge as trade fodder, but with Kulemin coming off a career-worst season having gone from a 30 goal scorer in 2010-11 to a seven goal scorer in 2011-12, his value would be negligent as well.
Could Burke move JVR? Sure, but until he gets a good look at him don't expect Burke to move his newest asset.
If Burke is to orchestrate a deal he will probably have to part with one of his youngsters which means the likes of Tyler Bozak, Matt Frattin, Carl Gunnarsson or Jake Gardiner would be on the move. In the case of Gardiner Burke will not bite on a deal unless he is completely overwhelmed with an offer he cannot refuse, which is not likely.
Frattin is a player that a lot of rival general managers would like to add to their roster. He is skilled, a hard worker, has decent size and has a measure of upside to his game. Frattin might just be the one player that Burke could get good value for, maybe even that coveted starting goaltender?
With Burke assembling a decent amount of forward depth Bozak could be had, but what value would he bring in return? Gunnarsson (who is signed to a cap-friendly $1,325,000 deal could also be had, but he still has plenty of upside, so don't expect Burke to pull the trigger unless he gets fair value in return.
Trading the likes of David Steckel, Korbinian Holzer or Mike Brown would bring little more than a mid-tier draft back in return, so there is no point in making those moves.
From my seat, Burke has little in the way of assets to trade, unless he wants to ship out some of his prospects, which goes against everything he has accomplished by holding onto his draft picks.
Does Burke have any players worth trading? Sorry Leaf fans, it appears as if he is stuck with what he has…
Until next time,
Peace!