By David Dickenson
Goaltenders are one of the most important positions available in fantasy hockey. Partially because of the sheer number of categories for goaltender statistics pools often incorporate and more so that there are so few good goaltenders in today's NHL.
When I was a much younger man, there were guys like Mike Liut, Bob Essensa, Darren Puppa and Sean Burke, all of whom were very fundamentally good keepers in their own rights, but were low on the goaltender totem pole since they were on poor NHL teams at the time. Today's NHL is not so lucky, where most fantasy owners would be lucky to grab one of the top 5 keepers in the game since there's a giant drop-off after them.
With that being said, there are still valuable keepers out there to grab, but you have to be able to follow the trends and read between the lines in order to flush them out and look like a genius in your pool, while all your friends shoot you the stink eye looking up from beneath you.
Defensive style of play = inflated stats
One of the first factors to consider when choosing a goaltender is the type of system and game style each team plays.
Some may think of this is a moot point, but it's actually a very important thing to know since it will help unearth the kind of statistics you will be getting from each goaltender and you'll be able to pick out guys who will put up statistics above what their real world skill indicates.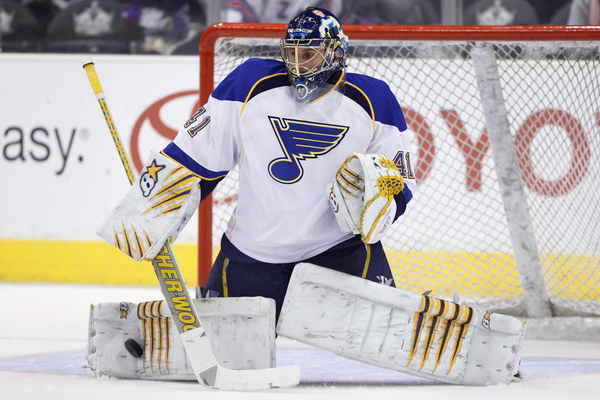 One good example of this is the St. Louis Blues goaltending tandem of Jaroslav Halak and Brian Elliott. Halak is the starter here, but there is a good chance it will be more of a platoon situation since the Blues indicated last season they liked both keepers and would ride the hot hand. That information should downgrade both goaltenders in your consideration, but what's possibly more important to know is the fact their coach Ken Hitchcock runs one of the most stingy defensive styles in the NHL and with that the goaltenders will receive a ton of support, which should greatly inflate their statistics. They may not get the most saves every game, but they'll have low goals against averages, a slightly increased chance of a shutout and a pretty solid win total; especially considering there is a lot of skill on the team.
Wide open to be a bust
While Halak and Elliott may see inflated stats from their situations, there's other goaltenders, which may suffer from the more wide-open systems and scoring philosophies their teams play. Columbus' newly acquired Sergei Bobrovsky and holdover Steve Mason should be good examples of this. Previously the Blue Jackets played a defensive style of game which helped their keepers out, but now with new coach Todd Richards the more wide-open style of game will make them more exciting to watch and have more scoring, but also leaves more openings for other teams as well to pounce as their defensive players will be inclined to join the rush and leave open ice for their opponents. While Columbus should be starting to show signs of improvement, these keepers are a risky pick in any pool since they will likely be more exposed by offensively skilled opponents; though also prone to maybe steal some save categories, since they'll receive more shots on goal as well.
The Wild Card
The wild cards of these scenarios are teams like the Tampa Bay Lightning, who have a tendency to slip into the dreaded neutral-zone trap philosophy.
On first thought, you think this will be a beneficial thing since inherently this is a defensive style of play designed to slow the game and prevent the other team from scoring… however, this can also backfire on you quite easily as the team keeps a fore-check in the neutral zone especially in the early going of games to try to take advantage of their offensive skill to get an early lead, but also leaves their team vulnerable to odd man rushes and strikes from quick first passes.
A guy like Anders Lindback, who is young, athletic and very fundamentally sound looks like a very enticing package to any fantasy GM trying to round out his roster, especially giving the expectation for Tampa to show a major improvement from last season, however it's important to remember the number of 6-5 games they were in last season isn't going to do anything for your goaltender statistics in a hockey pool.
For more fantasy hockey tips be sure to check out the 200-plus-page FHC Hockey Pool Playbook, which can be purchased at www.fantasyhockeycoach.com.

We offer fantasy hockey advice by combining statistics, current factors and our own hockey knowledge. Our Fantasy Hockey Playbook and guides are your best resource to dominate your fantasy league. The 'Head Coach' section will offer you fantasy advice. For the latest fantasy impact of transactions check out the 'War Room' and find out the latest injuries in the 'Trainer's Room'. The 'Goalie Coach' will list the potential starters for each NHL game and the 'Video Room' will show highlights. For prospect details go to the 'Scouting Dept' and click on 'Stats' for a statistical impact on your fantasy roster. Count on Fantasy Hockey Coach to give you the edge!