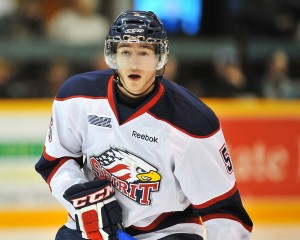 This is Part 4 of a 4 Part Series.
Part 1: Barrie Colts, Belleville Bulls, Brampton Battalion, Erie Otters & Guelph Storm
Part 2: Kingston Frontenacs, Kitchener Rangers, London Knights, Mississauga Steelheads, Niagara Ice Dogs
Part 3: Oshawa Generals, Ottawa 67's, Owen Sound Attack, Peterborough Petes, Plymouth Whalers
Part 4: Saginaw Spirit, Sarnia Sting, Sault Ste. Marie Greyhounds, Sudbury Wolves, Windsor Spitfires
The Saginaw Spirit were the surprise of the 2012 OHL playoffs, upsetting the heavily-favoured Sarnia Sting despite the youth they had on their roster. They went from being one of the worst teams in the league to one of the better teams after hiring Greg Gilbert as their head coach last year, something that resulted in Gilbert being named the OHL's coach of the year. This season, they are hoping to have even more success, especially since the core of the roster from last year will be returning. The team is, however, losing some key contributors, including Brandon Saad, Josh Shalla, Michael Fine and Vadim Khlopotov. That being said, they will benefit from the returns of Garret Ross, Carlos Amestoy and Vincent Trocheck, all of whom were key down the stretch for Saginaw. Several young forwards, including Justin Kea, Terry Trafford, Sam Povorozniouk, Nick Moutrey and David Perklin (whom they acquired from Ottawa) will also be able to play in big roles for the Spirit; so can first-round draft pick Jeremiah Addison.
On the defence, returns of Brandon Archibald, Steven Strong and Grant Webermin can surely help a youthful blueline that includes Ramon Lopez, Jacob Ringuette and Brandon Prophet. The goaltending for the Saginaw Spirit is going to be young but it is going to be very solid. Jake Paterson, whose stellar play in parts of the last two seasons, especially last year when he replaced Tadeáš Galanský as the #1 goaltender, found himself staying in Michigan as he was chosen by the Detroit Red Wings at the 2012 NHL Entry Draft. The handsome Mississauga native will now be a teacher to Russian rookie import Nikita Serebryakov, who was an absolutely dynamic talent at the World Under-17 Hockey Challenge. As a late 1995-born netminder, Serebryakov will have to wait until the 2014 NHL Entry Draft and the Spirit are willing to be patient with their new import goalie, hoping not to make the same mistakes with him as they did with Galanský.
*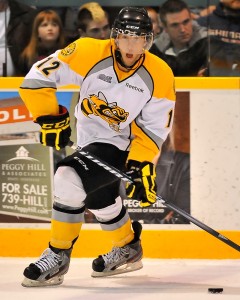 The Sarnia Sting are going to be a team on the rise this coming OHL season. They will have to balance players who will be on the cusp of graduation with the youthfulness of those just coming into the league. Their forward corps has been decimated by graduation, with the likes of Nail Yakupov, Brett Thompson, Tyler J. Brown, Ryan Spooner and Ludvig Rensfeldt all leaving. Alex Galchenyuk could return this season which could actually do more good than harm since the third overall pick in the 2012 NHL Entry Draft missed such a significant portion of last year's campaign. Sarnia will benefit from the return of Charles Sarault, who became one of the better scorers in the OHL after recording an 87-point season, leading the OHL with 67 assists; this came after two years in Kingston where he had 63 points combined in three years with the Frontenacs. He also brought leadership to the team, something that he will be called upon to do again in 2012-13 with the help of fellow forwards Nickolas Latta, Domenic Alberga, Craig Hottot and Reid Boucher, the latter being a draft pick of the New Jersey Devils. Younger players expected to have bigger roles this year include Justice Dundas, Daniel Nikandrov, Jordan Addesi and, hopefully, Russian import forward Nikolai Goldobin.
On the defence, the key core of the blueline remains intact with Adrian Robertson being the only graduate. Captain Nathan Chiarlitti, however, has been traded to Owen Sound, so the core of the defence will be Phoenix Coyotes prospect Connor Murphy, Jack Kuzmyk, Alex Basso and rising star Anthony DeAngelo, who is not eligible to be drafted until the 2014 NHL Entry Draft. This veteran defence will surely help a rather young goaltending tandem in Sarnia this season. With Brandon Hope traded, JP Anderson could secure the #1 job (unless the San Jose Sharks have other plans) and he will be backed up by Brodie Barrick. If, for some reason, Anderson cannot return, the team also has Gunner Rivers in their system, playing in the Central Tier 1 Junior Hockey League.
*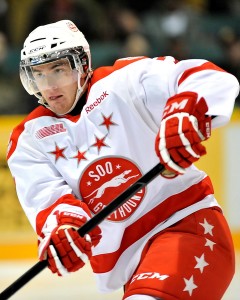 The Sault Ste. Marie Greyhounds have missed the playoffs in each of the last two OHL seasons so, this year, they are hoping to buck that trend. The offseason has been one of several moves that the Greyhounds are hoping will help their team succeed this season, something that many believed that the acquisition of Jack Campbell would do for them last year. The team's forward corps has lost captain Carson Dubchak and German import David Elsner to graduation so the majority of the veteran leadership will fall into the laps of overagers David Quesnele and Brandon Alderson. Brett Findlay is now in Peterborough so the team could benefit from leadership anywhere they can get it from. 1993-born NHL drafted forwards Nick Cousins, Andrew Fritsch, David Broll and Michael Schumacher — picked by Philadelphia, Phoenix, Toronto and Los Angeles, respectively — can also help in that regard. Schumacher can also assist in bringing significant size to the team yet again as the Swedish native (yes, he's Swedish unlike the German race car driver of the same name) stands 6'5″ and is a towering presence on the ice. Younger forwards such as Dylan Staples, Mark Petaccio, Alexander Morgan, Mitchell Dempsey, Jared McCann and Nick Halagian will also be able to provide significant offence.
The defence is going to be very young this year, too, with Detroit Red Wings prospect Ryan Sproul (who led all OHL defencemen with 23 goals last year) and Kings draft pick Colin Miller will surely help a blueline devoid of Joe Rogalski and Mike Schwindt due to graduation and Gianluca Curcuruto due to a trade. Alex Gudbranson was brought in from Kingston to provide stability and leadership, helping with the cultivation of Darnell Nurse and Kevin Spinozzi. With Campbell gone, the new #1 goalie in Sault Ste. Marie will be Matthew Murray, who has become one of the more reliable goaltenders in the OHL, warranting his selection in the 2012 NHL Entry Draft by the Pittsburgh Penguins. Murray's backup will be Justin Nichols, a 2013 NHL Draft-eligible goaltender who played last season at Salisbury Preparatory School in Connecticut.
*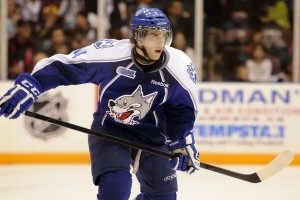 The Sudbury Wolves are hoping that their recent gold medal at the World Junior Club Cup in Omsk, Russia, is going to be the start of a successful 2012-13 OHL season. The team knows that they are going to lose some key players up front, including 2012 OHL leading scorer Michael Sgarbossa, Russian import forward Andrey Kuchin, co-captains Josh McFadden and Michael MacDonald, and their #1 goalie from last season, Johan Mattsson. Out of the players coming back, it is amazing to think that none of the players on the team were chosen at the 2012 NHL Entry Draft this past summer, including their three eligible forwards — Mathew Campagna, Nathan Pancel and Samuel Schutt — who all played well enough to warrant being selected. Perhaps an even stronger season from each one could have them all drafted in 2013. Speaking of 2013 NHL Entry Draft hopefuls, forward Brody Silk is hoping to build upon a solid year last season, one that had him miss several games due to a lengthy suspension for a sucker punch to the face of Ryan Strome in a game against Niagara. Second-year forward Nicholas Baptiste, Toronto Maple Leafs draft pick Joshua Leivo and overager Michael Kantor, who was the World Junior Club Cup MVP, can also provide significant offensive contribution; as well, the team can rely on Jacob Harris, Danny Desrochers and Frankie Vilardi. One player expected to be another major force offensively is rookie import Dominik Kahun, a small Czech-born German forward who had 69-point, 126-point and 206-point seasons in the Schüler-Bundesliga between 2008 and 2011.
On defence, the Wolves will benefit from the returns of two NHL draft picks, Justin Sefton (San Jose) and Frankie Corrado (Vancouver), as well as MacKenzie Braid and overager Charlie Dodero. The Wolves' first-round pick in the 2012 OHL Priority Selection, Conor Cummins, is expected to be a key fixture on the blueline; as will be 1995-born rookie Evan de Haan, the younger brother of Calvin de Haan. Many NHL teams will also be looking this year at Jeff Corbett, a late 1994-born defenceman eligible for the 2013 NHL Entry Draft. In goal, the Wolves have lost Mattsson to graduation but they will have Joel Vienneau returning. In addition, the Wolves will also have John Chartrand to contend for the #1 job and rookie Taylor Dupuis will be looking for net time, too.
THW Says: "Fresh of a Junior Club World Cup championship in Russia, the Wolves look to continue their winning ways as they head into the upcoming OHL season. The team will be likely relying on veteran netminder Joel Vienneau to keep them in a lot of games this year, but they should be able to snag the fifth or sixth playoff spot in the Eastern Conference. Josh Leivo and Michael Kantor were very strong in the final of the JCWC, and Sudbury fans will be hoping they can bring some momentum back to North American ice."
*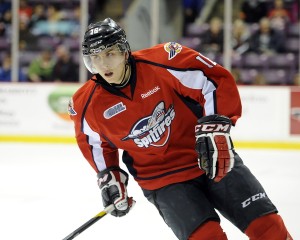 The Windsor Spitfires are going to be a considerably young team this year but they are going to be one filled with optimism. Despite the fact that they may see some of their future plans compromised with the recent sanctions that saw many of their draft picks taken away, the team still has a key core born between 1993 and 1996 who could surely do well in the next few seasons. It is the group born in 1994 that could be the most incredible in the league and that will surely make head coach Bob Boughner, general manager Warren Rychel and the fans happy. Up front, Kerby Rychel is one player surely expected to have a strong campaign. The late 1994-born forward is one of the highest ranked OHL prospects for the 2013 NHL Entry Draft and he has been delivering ever since being acquired by the Spitfires a year and a half ago. Many of Windsor's other 1994-born forwards are going to have the opportunity to shine after being chosen in the 2012 NHL Entry Draft. Florida native Brady Vail, a draft pick of the Montreal Canadiens, is expected to keep improving after a 520% increase in point production from his rookie OHL season to last year. New Jersey Devils prospect Ben Johnson and Colorado Avalanche prospect Michael Clarke will also be key fixtures on the offence. They, as well as Brendan McCann, Jordan Maletta and Chris Marchese, could be key cogs, as well, especially now with Alexander Khokhlachev leaving to return home to Russia. That being said, another Russian import, Vladimir Ionin, will surely help out as the 2013 NHL Entry Draft hopeful is anticipating a big season after losing all of the 2011-12 campaign with injury. Overage forward Nick Czinder, who found himself having an incredibly offensive outburst of a year last season, could benefit from having a new Russian on the team, especially with the chemistry he built last season with Khokhlachev. No player on the Spits forward unit is more eagerly anticipated than Joshua Ho-Sang. The rookie, whose superlative talents have been well-known for several years now, could surely come in and be an impact player right away.
On the defence, Windsor is going to benefit from signing Patrick Sieloff, a Calgary Flames draft pick whose rights they acquired from Sault Ste. Marie in the deal that sent Jack Campbell to the Greyhounds. He will help bring a significant leadership to an otherwise young blueline, assisted by Los Angeles Kings prospect Nick Ebert and overager Saverio Posa, the only member of the Spitfires remaining from their first Memorial Cup championship in 2009. Adam Bateman is hoping for a big year this campaign, especially with his high ranking for the 2013 NHL Entry Draft. Rookies Patrick Sanvido and Graeme Brown are also hoping to be stalwarts on the back end. In goal, the Spitfires are losing John Cullen but they are welcoming back Jaroslav Pavelka, who played extremely well for them after being acquired from Niagara; the Czech native has secured the #1 job and the organization has high hopes for him, especially since it was his play that garnered them a playoff berth last year. Rookies Jordan Dekort and Dalen Kuchmey are expected to battle it out for the backup position with Dekort appearing in three games last season.
**
I would like to say a big thank you to David O'Connor for providing me with the "THW Says" quotes used in this article. I really appreciate it!!