The Ontario Hockey League season is upon us and with the NHL Lockout looming ever so likely, hockey fans should begin to familiarize themselves with this equally entertaining hockey league . Over the past week, I have traveled the rural and city roads of Southwestern Ontario attending the training camps of the Sarnia Sting, London Knights and Windsor Spitfires.  Throw in a few minor midget games on the scouting docket as well and it is safe to say my hockey itch has been scratched.
The OHL training camps represent new opportunity for hopeful major junior players as they embark on their hockey careers. Hockey players of all sorts convene to compete in practices and on-ice scrimmages hoping to leave enough of an impression for management to award them more opportunity throughout camp. Top OHL-drafted prospects, veteran junior players and even walk-on hopefuls all share a common goal of cracking that elusive opening day roster.
After taking in hours of hockey over the past days, two realizations have become quite apparent. First, competition is fierce. Secondly, there is no shortage of talent in the Ontario Hockey League as many gifted players are left on the outside looking in – not because of their shortcomings but for a lack of opportunity.
Heading into the 2012-13 OHL Season, I share with you a few names to watch as potential breakout candidates from the Sarnia, London and Windsor franchises.
Davis Brown, LW (Sarnia Sting)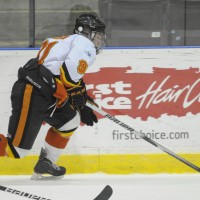 Sarnia fans are undoubtedly disappointed that winger Nail Yakupov won't be rejoining the team this season after being selected first overall to the NHL by the Edmonton Oilers but opportunity knocks for another dazzling sniper in Davis Brown. For London native Davis Brown, scoring goals is the only thing he knows how to do. As a member of the Elgin-Middlesex Chiefs, Brown led all OHL draft eligible players with 71 goals in 113 points during his minor midget playing days. Selected 54th overall in the 2011 OHL Priority Selection Draft by Sarnia, Davis Brown joined the Strathroy Jr. B Rockets last season and quickly notched a team leading 45 goals and 81 points (49 games) en route to being named Rookie of the Year. Brown was a standout at the Sting's 2012-13 training camp as he formed instant chemistry with last year's team scoring leader Charlie Sarault. Sarnia will be in search of players to replace the departing goal scoring ability of Yakupov and Davis Brown is a prime candidate.
Scouting Analysis: Brown is a strong skater with good mobility who searches for loose pucks with great tenacity. He's got one of the best shot releases at the OHL level and is deadly accurate. He is a sniper by the truest definition and thrives with the puck on his stick. Davis Brown has the potential to become one of the OHL's most lethal scoring threats.
Anthony DeAngelo, D (Sarnia Sting)
Drafted in the second round in 2011 (26th overall), Anthony DeAngelo is proving to be a huge steal for Sarnia. In his rookie campaign, DeAngelo showed tremendous progression as the season unfolded. The slick skating New Jersey native shows remarkable patience with the puck as he dangles opponents with his elusive puck skills. Anthony thrives on the powerplay and Sarnia will rely heavily on his offensive instincts as he makes a case to become an OHL star. DeAngelo is not eligible for the NHL draft until 2014 and early indications have shown he owns first round potential.
Scouting Analysis: DeAngelo is a swift skater with exceptional four-way mobility that allows him to open up time and space for himself and teammates. He owns an underrated accurate point shot and is especially talented at sending creative passes to open teammates. His on-ice vision, elite puck skills and elusive skating ability makes him an instant threat with puck possession.
Bryan Moore, C (Sarnia Sting)
One of the new faces at Sting camp this season was Bryan Moore, selected in the 6th round of the 2010 OHL Priority Selection Draft. Last season, Bryan Moore skated for the USHL's Sioux Falls Stampede where he put up 17 points in 43 games in his sophomore campaign. The former 3rd overall selection of the USHL (2010) opted to come to Sarnia for some new challenges and he was impressive during their camp earning one of the few coveted roster spots.
Scouting Analysis: Moore is a strong skater that gets to top speed very quickly and shows good puck control in full flight. He shows good patience in puck control and a willingness to drive the net on the attack. Moore displays strong compete levels and showed sound positioning throughout the scrimmages to become a reliable contributor. On a scoring by committee team such as Sarnia, Moore has a potential to make an impactful first OHL season.
Alex Broadhurst, C (London Knights)
The 2011 Chicago Blackhawks' prospect (199th overall) was selected in the 2012 OHL Priority Selection draft by the Hunter Brothers' 29th overall (2nd round) and will join the defending OHL Champions. Broadhurst, a 2011-12 Champion himself, spent the past two seasons playing for the Green Bay Gamblers of the USHL where he has totaled 39 goals and 106 points in 108 regular season games. In training camp, Broadhurst elevated his game as the scrimmages evolved showing that he is more than capable of providing secondary scoring for the Knights team. Broadhurst showed good on-ice awareness as he scoured the ice in search of prime scoring areas and he was able to cash in on being in the right spots at the right time.
Scouting Analysis: Alex Broadhurst's best attribute is his on-ice hockey sense as he sees the ice extremely well. As mentioned above, Broadhurst knows where to be to score but also uses his vision to send equally impressive passes to open teammates. Depending on Broadhurst's linemates in London, he stands a good chance at posting impressive numbers as a 19-year-old OHL freshman.
Remi Elie, LW (London Knights)
The Knights' training camp presented some nice surprises but no other non-returning player was as impressive as Remi Elie. At the 2011 OHL Priority Selection draft, Elie was the 91st selection (5th round) of the London Knights in the same year that he was drafted 1st overall to the Hawkesbury Hawks of the CJHL. Remi Elie finished second in team scoring for Hawkesbury after posing 21 goals and 46 points in 59 games. Elie added another 9 points in as many playoff games. The Eastern Ontario boy has made significant strides in his game since last season and simply dominated at times during the Knights' recent training camp, likely ensuring himself a spot on the team.
Scouting Anaylsis: Remi Elie is an above-average skater that originates from a powerful stride that shows good edge work. His ability to control the puck with confidence makes him appear as a savvy veteran but he remains just 17 years-old. Elie has good creative instincts and makes crisp accurate passes displaying both playmaking and scoring ability. His strong hockey sense assists him in being a valuable player in both the offensive and defensive zones. It appears at this stage that the London Knights have struck gold with another prospect as I truly believe he could be a star in the OHL. Remi Elie is eligible for the upcoming 2013 NHL Draft and it appears he stands a very good chance of being drafted.
Bo Horvat, C (London Knights)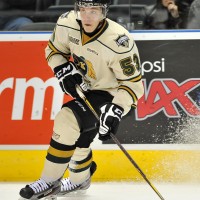 What isn't to like about London Knights' pivot Bo Horvat? Horvat enters his sophomore season as one of the top-rated 2013 NHL draft-eligible players in the OHL (in my opinion at least). The Rodney, Ontario native has accomplished a lot early in his career and it's not surprising considering his remarkable work ethic and overall hockey skills. Bo Horvat has represented Canada several times as members of the Ontario U17 team (Captain) and 2012 Ivan Hlinka team (Asst. Captain) winning gold both times. Beyond his admirable leadership skills and dedication to excellence, Horvat has shown to be a valuable player offensively and defensively. It's expected that Bo Horvat will adopt a bigger offensive role for London in 2012-13 as several veterans move on and if his training camp performance is any indication then "Bowie" Horvat is in for a breakout season.Scouting Anaylsis: Bo Horvat's two-way game stems from his impressive powerful skating stride that allows him to get to where he needs to be quickly. Skating in a stocky frame, Horvat is difficult to knock off stride and he uses that advantage as an offensive weapon. His puck possession game is strong and he operates well in traffic showing a unique ability to dish creative passes at unexpected times. Horvat possesses a complete shooting arsenal featuring a heavy accurate shot with a quick release.
Chris Tierney, C (London Knights)
London's Tierney is primed for a breakout season after riding the momentum of being selected 55th overall by the San Jose Sharks at the 2012 NHL Entry Draft. Tierney, London's 1st round pick in 2010 (19th overall), was among the standout returnees at training camp showcasing his silky hands on almost every shift. With more opportunity in London, Tierney is among the secondary scorers last season that stands to benefit and he should approach point-per-game numbers.
Scouting Analysis: Chris Tierney shows good offensive instincts and confidence in his one-on-one abilities. He displays crafty puck handling skills that he uses well in traffic to beat defenders. His ability to release his shot at varying locations in stride tends to fool the opposing netminders.
Nikita Zadorov, D (London Knights)
"Intimidating" describes the Nikita Zadorov perfectly. London selected Zadorov 9th overall in the 2012 CHL Import Draft to replace the physical presence of Jared Tinordi. Zadorov, who speaks almost no English, didn't take long to introduce himself in the best way he knew how, by physically punishing the opposition. Zadorov stands at over 6'6" on skates and he burrowed down hard on several players during camp showing that he will be a feared defenseman in the OHL this season.
Scouting Analysis: Beyond his board-rattling body checks, Zadorov skates well for a big man showing good acceleration and a smooth stride at full speed. Improvements can be made in his transition from forward to backward skating as he was beat a few times wide by some speedier opponents but his wingspan and pure size should help contain the opposition. Nikita Zadorov is draft-eligible for the upcoming 2013 NHL Draft and he will become a vital member of a sizeable blue line in London.
Adam Bateman, D (Windsor Spitfires)
Originally drafted to the Niagara Ice Dogs 19th overall (2011), Adam Bateman arrived in Windsor last summer ready for a fresh start. It appears that Bateman has a re-gained confidence as he prepares for his sophomore OHL season. During the Blue and White game, Bateman patrolled the blue line with an improved confidence allowing him to play to his own strengths. The former Don Mills Flyers defensive star will attempt to earn more offensive minutes this season alongside the likes of Nick Ebert, Saverio Posa and Brandon Devlin but it may not take too long for this youngster to surpass a few on the depth chart.
Scouting Analysis: Adam Bateman is at his best with the puck on his stick displaying his strong puck skills. His ability to hold the offensive blue line is impressive as he utilizes his mobility and stick handling abilities to elude attacking forwards. Bateman is a strong distributor of the puck but also has a talent to get his point shots to the net quickly and accurately. If Adam Bateman can earn secondary powerplay minutes then he has the potential to improve substantially on his 10 point rookie season totals.
Joshua Ho-Sang, C (Windsor Spitfires)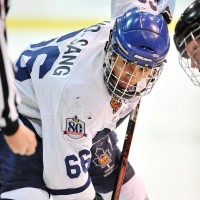 The easiest way to replace a departing dynamic winger in the mold of Alexander Khokhlachev is to draft an arguably more-talented and younger player in Ho-Sang. Windsor selected Ho-Sang 5th overall at the 2012 OHL Priority Selection draft and he is arguably the most talented player of his age group. During Spitfires' training camp, Ho-Sang was able to introduce himself to Windsor fans using his elite-level on-ice talents. It's expected that the Spitfires will provide Ho-Sang with the offensive minutes needed to succeed right from the start. During camp, Ho-Sang skated between Kerby Rychel (2013 draft-eligible) and Chris Marchese.
Scouting Analysis: Joshua Ho-Sang's dynamic game comes from his ability to operate at high speeds using his quick feet and elusive skating style. As Ho-Sang gains speed through the neutral zone he is able to draw in the opposition creating time and space for his teammates. He has elite level puck skills and shows a willingness to drive the net hard. Look for Ho-Sang to become a vital member of the scoring committee in Windsor this season and take a run at rookie of the year honours.
Ben Johnson, LW (Windsor Spitfires)
The New Jersey Devils selected Ben Johnson in the 3rd round of the 2012 NHL Entry Draft after the Michigan native posted rookie numbers of 18 goals and 38 points in 60 games. Never drafted into the OHL, Ben Johnson was Michigan's Mr. Hockey recipient as the state's top high school player and the Windsor Spitfires added him to the mix soon after. During Spitfires' Blue and White game, Ben Johnson was the most impressive player on the ice as he notched a hat trick in the Blue and White game. Entering his second OHL season, Ben Johnson will challenge Brady Vail and Kerby Rychel as Windsor's top scorer.
Scouting Analysis: Ben Johnson is a gifted skater with tremendous hockey instincts proving to be valuable in all three zones. His quick hands and eye coordination are valuable attributes when he's killing penalties as well. Despite being average-size, Ben Johnson displays a willingness to engage physically and his puck pursuit is top-notch. Johnson's slick puck handling skills allows the winger to retain puck possession allowing enough time to set up streaking teammates.
Jordan Maletta, RW (Windsor Spitfires)
The former 13th overall pick of the Spitfires (2011), Jordan Maletta enters his sophomore season after struggling to stay healthy in his freshman campaign. Looking to improve upon his 20 point rookie season, Maletta has an opportunity to more than double his offensive output from last season if he can remain healthy. Maletta is a big winger with good upside and if he can find himself on a scoring line this season then he stands to become a breakout sophomore.
Scouting Analysis: Jordan Maletta's size allows for him to maintain puck possession using his large wingspan and quick feet. He tends to thrive in and around the crease as he gains body position on opposing defenders cashing in on loose pucks with his quick hands. Maletta is a potential power forward looking to gain momentum as he enters into his NHL draft year.
Honorable Mentions:
Max Domi, C (London Knights) – Max Domi is a dynamic and elusive skater with wizard-like puck skills that is fully expected to take a massive jump in offensive production as he enters into his NHL draft year.
Reid Boucher, LW (Sarnia Sting) – The New Jersey Devils 2011 4th round selection enters his second OHL season ready to showcase his lethal shooting skills. After posting 50 points last season, Boucher appears to have more confidence in his puck skills and with improved consistency he should be able to post near point-per-game numbers.
Brady Vail, RW (Windsor Spitfires) – Similar to Boucher, Brady Vail looks to shake the inconsistencies in his game to become one of the OHL's leading scorers. His improved strength and size is already noticeable in camp and he's playing the game with increased confidence after being drafted by the Montreal Canadiens in the 4th round.