This is Part 1 of a 4 Part Series.
Part 1: Barrie Colts, Belleville Bulls, Brampton Battalion, Erie Otters & Guelph Storm
Part 2: Kingston Frontenacs, Kitchener Rangers, London Knights, Mississauga Steelheads, Niagara Ice Dogs
Part 3: Oshawa Generals, Ottawa 67's, Owen Sound Attack, Peterborough Petes, Plymouth Whalers
Part 4: Saginaw Spirit, Sarnia Sting, Sault Ste. Marie Greyhounds, Sudbury Wolves, Windsor Spitfires
With the beginning of the 2012-13 OHL season coming up in less than a month, it is paramount to look at the 20 member teams and contemplate about the campaign ahead. Many teams are going to look significantly different this year, several with players having graduated to the professional or Canadian university ranks, but the talent level will still be as dynamic as it ever was.
The OHL prides itself on being one of the best developmental junior leagues in the world and it is no wonder that so many great players have come from it. This season should be no exception, with many of the best young prospects in hockey are playing in it this season, either from the U.S. under-18 program, the Import Draft, or just from the usual OHL 2012 Draft. This season will also mark the first time that two players granted "exceptional player status" by Hockey Canada will play in the OHL concurrently. Additionally, there will be at least one draft pick of each NHL team in the OHL this season, a feat that has not been accomplished in several years.
**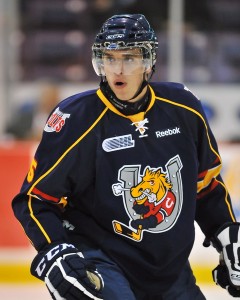 The Barrie Colts have been one of the biggest yo-yo teams in the OHL in recent memory. Over the span of the last three years, they have gone from being in the OHL finals, to being dead last in the league standings, to finishing second in the Central Division just this past season. Under Dale Hawerchuk, the Colts initially struggled to find their game despite the offensive contributions of Mark Scheifele, Tanner Pearson and Colin Behenna but, last year, that all changed with a solid balance of veteran leadership and youthful exuberance. Up front, Behenna's graduation, the departures of Ivan Telegin and Daniel Erlich, and possible sayonaras to both Scheifele and Pearson has been faced head-on; the team has found themselves taking incredible measures to supplant the lost point production. Boston Bruins prospect Anthony Camara, as well as returnees Erik Bradford and Dylan Smoskowitz, can surely help in that area. Gregg Sutch could also return as an overager. The Colts have also acquired Detroit Red Wings draft pick Andreas Athanasiou from London and Dylan Corson (son of Shayne Corson; nephew of Darcy Tucker) from Belleville. In addition, they chose Samu Markkula in the 2012 CHL Import Draft, a small but speedy forward much in the mould of former captain Behenna.
The youth movement is surely in full force on the back end, most notably with Aaron Ekblad on defence. The 6'3″, 220-pound blueliner emerged leading the Colts' defensive corps in scoring and he was named the OHL's top rookie. This season, the Colts' defence is going to be considerably young, with Norm Ezekiel and Reid McNeill having graduated. Buffalo Sabres draft pick Alex Lepkowski will return to provide leadership and size. Alex Yuill and Jonathan Laser will have to play big minutes. In goal, the Colts are hopeful for the return of workhorse German netminder Mathias Niederberger, who played extremely well for them in 2011-12, with a 2.68 goals-against average and a .918% save percentage in 49 games last season.
*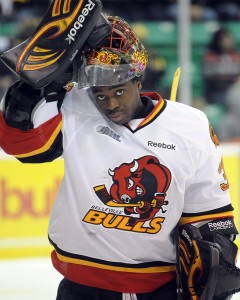 The Belleville Bulls are going to be one of the strongest teams in the OHL in 2012-13. Despite losing graduating captain Luke Judson, the team has significant offensive power up front and from the back end that will make them one of the best teams not only in the Eastern Conference but the entire league. The key returnee up front will be Brendan Gaunce. The 2012 first-round pick of the Vancouver Canucks, a very good candidate to assume the captaincy, Gaunce has great size and offensive talent, going a point per game last season appearing in all 68 contests last season. Gaunce will not suffer with Judson's graduation, or even that of Joseph Cramarossa (although his younger brother Michael can be on his way to Belleville, too) and Adam Payerl; the Bulls have significant firepower coming back such as Austen Brassard, Daniil Zharkov, Carter Sandlak and Michael Curtis. The team also traded for Sergey Kuptsov from Mississauga, and they signed 2011 OHL Cup MVP Aaron Berisha, too. First-round pick Niki Petti will also be expected to help out up front, especially with his superlative skating ability.
On defence, Jordan Subban is performing at the same level as his oldest brother, doing just as well as P.K. did in his first season in Belleville. Brady Austin, who was chosen in the 2012 NHL Entry Draft by the Buffalo Sabres, could also return; so could Stephen Silas. Rookie blueliner Daniel De Sousa could even help out with defenceman scoring. In goal, the Bulls have easily the de facto best goaltender in the OHL in Boston Bruins first-rounder Malcolm Subban, whose 2.50 goals-against average and .923% save percentage in 39 games last year was terrific, despite missing time with injury. Charlie Graham played well enough in callups last season that he is a possible backup for Subban, especially now with John Chartrand being traded to Sudbury. If the Bulls can stay relatively healthy and play consistent hockey much like George Burnett coaches, they can contest for the top spot in the East Division and Eastern Conference. If they do, they could be the Eastern Conference's representative in the OHL finals.
THW Says: "The Bulls come into the season with a lot of familiar names, but also plenty of fresh faces. After drafting Niki Petti in the first round last spring, "speed" could be a word that describes this year's team. The international-sized ice surface at Yardmen Arena will allow Petti to utilize one his central strengths, and could lead to an impressive rookie season for the youngster from Welland, Ontario. Brendan Gaunce and Malcolm Subban, both first-round NHL draft picks in June, will have high expectations placed upon them this year, but both are more than capable of handling it. Expect the Bulls to make the playoffs come springtime." ~ David O'Connor
*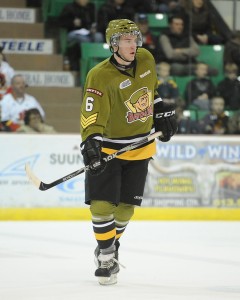 The Brampton Battalion are going to be one of the more desperate teams in the OHL this season. Up front, they have lost some of their most key contributors, most notably Sam Carrick, Philip Lane, Mitchell Porowski and Ian Watters. Thankfully, Barclay Goodrow, who was the team's first-round selection in the 2009 OHL Priority Selection, is returning for a fourth OHL season and he could become the team's new catalyst on the attack. After slipping through the last two NHL Entry Drafts, Goodrow will have something to prove if he wants to get chosen before his major junior career ends. He could also assume the captaincy with Carrick gone, especially since he wore an A last year. Patrik Macháč will also be a key contributor after the Czech forward had 32 points in 61 games last season. Acquired from Ottawa, Nicholas Foglia can also help with any offensive contribution. Two overagers, Derek Froats and Alex O'Neil, could also assist in scoring from the forward position.
Thankfully, for the Battalion, they will be very strong on the blueline. The majority of their defensive corps from last year can return, most notably overager Cameron Wind, Tampa Bay Lightning draft pick Dylan Blujus, and former first-round OHL draft pick Marcus McIvor. Spencer Abraham is starting to come into his own, too. The Battalion are going to need a strong defence, especially with the possibility of Matěj Machovský becoming a workhorse netminder, now more than ever with Keegan Wilson going to the 67's in the Foglia trade. They could find themselves in the middle of the pack or around the fourth position of the Central Division. The playoffs could be a possibility but they will have to contend with everyone in their division with the best of their abilities.
*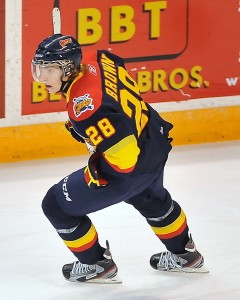 The Erie Otters found themselves to be one of the more inopportune teams in the OHL last season, finding themselves finishing last in the overall standings. The team had only ten victories all of last year despite the stellar talents of some of their players. The Otters did find themselves missing Anthony Luciani and Shawn Szydlowski a lot last season but they did manage to have some significant firepower in Norwegian import Sondre Olden, second all-rookie team member and Toronto Maple Leafs draft pick Connor Brown, and in rookie forward Stephen Harper. Trading Mike Cazzola, Brett Thompson and Greg McKegg surely helped them solidify their future, especially getting Dane Fox from London in the McKegg deal. This year, they will have Connor McDavid up front as the 1997-born forward was granted exceptional player status to be chosen a year early. Connor Crisp (who should not be playing any more games in goal) and Anthony Cortellessa can also be significant contributors to the offence.
The blueline will be significantly more experienced this coming season, too, as Adam Pelech, Troy Donnay, Jimmy McDowell, Liam Maaskant, Kristian Grant and Tyler McCarthy all expected to play big minutes. In goal, Ramis Sadikov's graduation could pave the way for the Otters to use their third import goaltender in the last six seasons; Columbus Blue Jackets draft pick Oscar Dansk will join Sadikov and Jaroslav Janus as European netminders to play for the Pennsylvania-based OHL team. Devin Williams showed last year in limited action that he is a reliable backup. They will be hard to make the playoffs in the tough Midwest Division but, if other teams falter, they could find themselves in the playoffs in the bottom three teams in the Western Conference, especially if Dansk can play at the same level he has historically in his career thus far.
*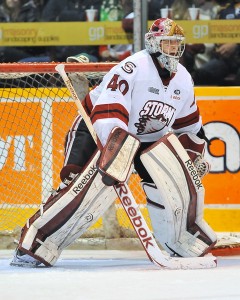 The Guelph Storm should be one of the strongest teams in both the Midwest Division, the Western Conference and the entire OHL this season. They may have lost goaltender Brandon Foote to graduation, as well as overage defencemen Kyle Pereira and Stephen Gaskin, but they do have the majority of their roster from last season returning this year. Francis Menard has been traded to Peterborough for his overage season but his departure was quickly filled by the signing of first-round draft pick Robbie Fabbri. Additionally, Fabbri and fellow rookie forward Brody Milne have found themselves to be the heirs apparent to impending overage graduating forward Cody McNaughton. The team's leading scorer from last season, Zack Mitchell, found himself undrafted to the NHL yet again in 2012 but, that being said, the Storm did not suffer in the realm of NHL draft picks in 2012. Forwards Scott Kosmachuk, Brock McGinn and Tanner Richard were chosen by Winnipeg, Carolina and Tampa Bay, respectively, while defenceman Matt Finn, who is becoming one of the OHL's better young defencemen, was chosen by Toronto to join goaltender Garret Sparks in the Maple Leafs organization. Jason Dickinson, Hunter Garlent and Tyler Bertuzzi are all expected to be chosen in the 2013 NHL Entry Draft, too.
On defence, the returns of Finn and Andrey Pedan are going to surely help on the blueline in terms of offensive production while the stay-at-home blueline presence of Zac Leslie and Mac Nichol will surely be a great balance. In goal, Sparks' backup is yet to be determined but Jason DaSilva is a great possibility, serving as the backup to the American netminder while Foote was injured last year. Head coach Scott Walker should have a very strong and solid group who can help the team win an OHL championship this year.