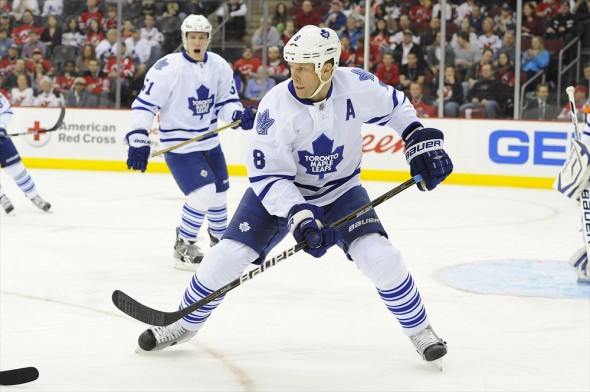 Leadership is defined as "a person who guides or directs a group". With that title comes a responsibility to conduct yourself in a way that you can influence others, control and manage those around, and the ability to gain the respect of the group you are asked to lead.
While leaders are often judged by the performance of others, your own performance will undoubtedly come into question—especially if you fail to live up to expectations.
One of the things Toronto Maple Leafs president and general manager wanted to change when he arrived in Toronto in 2008 was the leadership of his hockey club.
For Burke, simply electing a captain from the roster he inherited was not an option. With  former captain Mats Sundin already gone, Burke took his time selecting a leader, preferring to go without a captain from 2008—2010.
Known as a quiet leader and for his ability to address the media with ease, Mats also stands as the franchise scoring leader with 987 points in 981 games played.
When you consider everything Sundin brings to the table, he would be a tough captain to replace for any NHL franchise. For Burke, he wanted someone that was a reflection of himself, someone that would embrace the leadership role while glowing with Blue and White pride.
Burke found his man when he traded for Dion Phaneuf. While Dion was not given the "C" immediately, his first entrance into the Maple Leafs dressing room where he sauntered in and cranked up the stereo was seen by some as his coming out party. Dion's actions let everyone in the room know that, while he may not be wearing the "C", this was his team now and that change was coming.
With the help of former head coach Ron Wilson, Burke introduced Phaneuf as the captain of the Maple Leafs on June 14, 2010. It was a proud day for Burke, and for Phaneuf a chance to put the past (which was sketchy in Calgary) behind him and an opportunity to start fresh in Toronto.
"Today is a very important day for the Toronto Maple Leafs. The Leafs have had many great players fulfill this role (Captain) in the long history of the franchise, and we wouldn't be taking this direction if we didn't think it was absolutely the right step. We liked the impact Dion made with players, coaches and fans alike since his arrival and we consider him a building block toward future team success."
As the 18th captain of the Toronto franchise, Phaneuf would have big shoes to fill, taking on the responsibilities and leadership role that was once filled by Leaf legends such as Sundin, Doug Gilmour, Wendel Clark, Darryl Sittler, Dave Keon and George Armstrong.
At just 25-years of age, Phaneuf was taking on a lot of responsibility becoming captain. In an effort to help Phaneuf make the adjustment Burke employed a number of veterans throughout the lineup who could help Phaneuf learn the leadership role.
Fast forward to the 2011-12 season and you'll find Phaneuf was joined by assistant captains Mikhail Grabovski and Mike Komisarek, two ex-Montreal Canadiens who have had their fair share of doubters over the years.
In Grabovski, Burke has a player who has the respect of the room. Grabovski (28) has his faults, but for the most part he is a hard worker and as the years have passed he has improved his defense to the point that he was amongst the Maple Leafs best in the plus/minus department last season (not that that's saying much!).
On the other hand the selection of Mike Komisarek as assistant captain was puzzling.
Since his arrival in Toronto via free agency Komisarek has been limited to just 34 games in 2009-10, 75 games in 2010-11 and 45 games in 2011-12. While injuries contributed to his lack of playing time, Komisarek also struggled on the ice resulting in his being found in the press box on more nights than I can count.
Komisarek posted a plus/minus -9 rating in 200-10, plus/minus -3 in 2010-11 and a career-worst plus/minus -13 in 2011-12.
A decline in his physical play and an inability to keep up with aggressive forwards in the defensive zone have hindered his game to the point that some experts wonder if he will be able to crack the Maple Leafs lineup next season.
With his play in decline and no telling how many games he will miss due to injury or poor execution next season, it appears as if it is time for Burke and head coach Randy Carlyle to tear the "A" off of Komisarek's chest.
Burke has always been loyal to his players (sometimes to a fault), so a move like this would not go over well with the burly Irishman. Still, taking the assistant captains role away from Komi is the right thing to do, no matter how it would look to some.
Fortunately, Burke and Carlyle have plenty of talent from which to chose a new assistant captain.
Veteran forward Joffrey Lupul won the respect of many teammates for his gritty performance last season. Lupul is vocal, outgoing and a character player who wears his heart on his sleeve. He was also one of the hardest workers and most consistent offensive weapons on the team last season—two attributes Carlyle likes in his players.
Lupul, who stands 6-foot-1 and weighs in at 206-pounds, served as an alternate captain at last years All-Star Game and was runner up to Montreal Canadiens forward Max Pacioretty for the Bill Masterton Trophy which is awarded annually to the NHL player who best exemplifies the qualities of perseverance, sportsmanship, and dedication to hockey. Lupul's drive to come back to the NHL after a herniated disc and an infection that nearly derailed his professional hockey career is well documented, as is his hard work on the ice.
As a former member of the Anaheim Ducks and Philadelphia Flyers Lupul was able to watch the likes of Scott Niedermayer and Chris Pronger in their leadership roles. Pronger is regarded as a great leader, and it doesn't get much better than Scott Niedermayer. Needless to say, Lupul had great mentors—a fact that is likely not lost on Burke (who knows both Niedermayer and Pronger well) and Carlyle.
Lupul, who will turn 29 on September 23rd, is a survivor, a good teammate and as competitive as they come. Like many good leaders he wants to succeed and his past struggles suggest he is willing to do anything to make both himself and the Maple Leafs winners at any cost.
With his inability to handle the media and penchant for doing his best to remain in the shadows well documented, Phil Kessel (25) would not be a good candidate for the added responsibility that comes with being an assistant captain. Kessel, an introvert by nature, may be the Maple Leafs' best player, but that doesn't mean he should be thrust into a leadership role—a move far too many NHL teams seem intent on making these days.
James van Riemsdyk might get some consideration, but with management knowing little about the 23-year old forward, the odds are against him getting an "A".
Another logical candidate would be veteran defenseman John-Michael Liles. Liles will be 32-years of age in November, making him the undisputed elder statesman on the club. While age should have little to do with the decision, Liles' experience and veteran savvy are assets this young group could benefit from.
That said, the Maple Leafs are clearly continuing to go in a youthful direction which means Liles might find himself with another hockey club before long—especially if young defensemen like Jesse Blacker or Morgan Rielly make a push to join the big club next season.
The simple truth of the matter is Joffrey Lupul should be an assistant captain next season. If he was good enough to be an assistant at the All-Star Game where the best players in the NHL gather, he is good enough for the Maple Leafs, isn't he?
There is no sense in keeping the "A" on Komisarek's sweater. He did not earn the "A" and if anything his play and inability to stay in the lineup have caused many to doubt his effectiveness as a leader. The time has come for change—Lupul should be the Maple Leafs next assistant captain.
Until next time,
Peace!