[You can also read my Jake Gardiner article here…]
The Toronto Maple Leafs are a legitimate contender for a playoff spot, hoping to end a string of futility that dates back to the Spring of 2004.
One of the mandates set out by GM Brian Burke was to populate the club's top two lines with acknowledged scoring threats. It can be argued that the 2011-12 version of the Leafs has those components in place.
Perhaps the most surprising of those top forwards is Joffrey Lupul. It has been a bumpy road for "Lupes" to finally show the high end of his potential, but if we look back on his career we gain perspective on the high-water mark that he is reaching this season.
At 6'1", 200 lbs he bears the look of a hockey player and as a Junior player born in Fort Saskatchewan, Alberta, he proved to be a consistent offensive threat during a great career with the WHL's Medicine Hat Tigers. In three seasons there he scored 240 points in 189 games played.
As a result of his overall attributes, he was chosen, with the 7th overall pick in the 2002 NHL Entry Draft, by the Anaheim Mighty Ducks.
He became known for a keen scoring eye in his second year with the Ducks, when he scored 28 goals. When he added nine goals in 16 playoff games that spring, he really raised his profile around the league.
The Edmonton Oilers came calling when it was clear that their veteran leader, Chris Pronger demanded a trade. Lupul became the key piece , going the other way in that exchange.
He saw his productivity decline to 16 goals and 12 assists with the Oilers during the 2006-07 season, a year that saw his profile decline. It just seemed that he was not a good fit there, playing in a third line role, much of the season and posting an ugly (-28) rating.
The Oilers took an opportunity to cut their losses and moved Lupul to the Philadelphia Flyers. His new team seemed a better match because he was now surrounded by some real good offensive depth in the Flyer organization. It didn't matter whether he played second or third line minutes, he still was guaranteed to play with skilled teammates, on a strong team. Despite some injury troubles, he managed to exceed the 20-goal mark in his two years with the Flyers.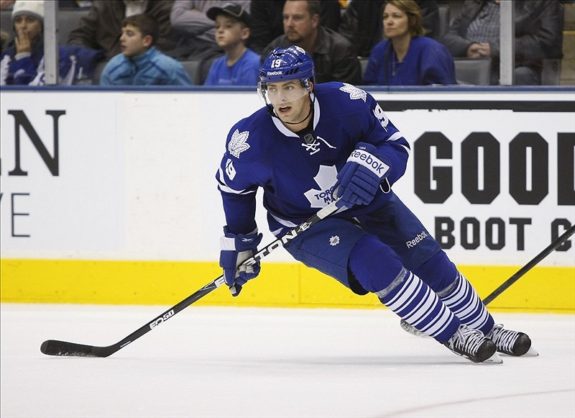 Once again, however, he was involved in a trade and oddly, Chris Pronger was again going the other way in the deal. This trade saw him return to the Ducks organization. His second stint in Anaheim was pretty much a disaster.
He only played 23 games (scoring 10 goals) in the '09-10 season, before injuries caused him to shut things down.
The next season was the nadir, though, as a rare blood infection, not only limited him to 26 games (13 points) and signaled a potential end to his career, to say nothing of the concern about his quality of life. He would lose close to 50 pounds on his big frame due to this illness.
By this time, the Ducks grew concerned about the onerous cap hit of $4.25 M through the end of the 2012-13 campaign that was attached to Lupul. Despite the fact that he was making a recovery back to full size and strength, they jumped at the chance to push his contract into trade talks with the Leafs. That trade which sent Francois Beauchemin to the Ducks, brought prized young prospect, defenseman Jake Gardiner to Toronto, with the provision that the Leafs also take back Lupul.
Ironically, the Anaheim GM who dealt Lupul out of Anaheim was Brian Burke. The Leafs GM acknowledged that Lupul was a significant talent, but bringing Pronger to the Ducks proved to be the final key piece in their subsequent Stanley Cup win. Less that a full year later, this trade looks like one of the best trades in Leafs history.
Gardiner is showing regular flashes of brilliance as a future star, but Lupul has exceeded the wildest dreams of Leafs fans as he has formed a potent partnership with Phil Kessel. These two Leaf forwards currently rank among the top scorers in the entire NHL.
For his part, Lupul admits to being totally healthy for the first time in years and is in the midst of a career year with 18 goals and 27 assists in 40 games.
The Leafs, and their rabid fan base, are more than pleased to see him reach a potential that was foretold by his Junior hockey exploits and three 20+ goal seasons in the NHL, as he patrols the left wing in the colors of the Blue and White.