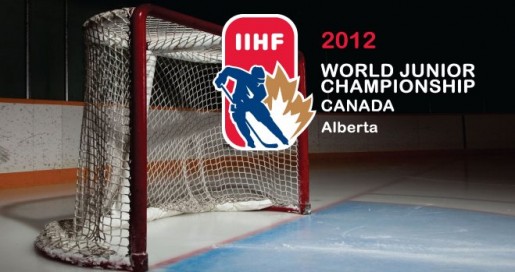 Calgary – "The Russians are coming!" historic phrase is often burrowed for sports analogies. In the gold medal battle between Sweden and Russia Thursday night at the Saddledome, it was more like: "The Russians are coming, but boy are they tired…"
The normally ever explosive Russian forwards like Kuznetsov, Gusev and Yakupov only had glimpses of brilliance.
It was a game in which Sweden dominated play, but one had the feeling that Russia could unleash their stealth-like counter attack at any moment to take the lead.
One such moment occurred when tournament MVP Yevgeni Kuznetsov (Washington Capitals 2012 1st rounder) broke into the Sweden zone and executed a savvy behind the back cross ice pass with surgeon-like precision to a charging Nikita "Picasso" Gusev (another one of my invented nicknames – Gusev painted a couple of masterpieces in this tournament). In the end, the glorious opportunity was thwarted by Swedish netminder Johan Gustafsson with an agile save.
Sweden Strikes Gold For First Time Since 1981
Team Sweden last won gold 31 yeas ago in 1981. Some recognizable names from that squad include:
Jan Erixon: former New York Ranger and father of Tim, who is a prospect bluliner for the Rangers. He had 7 points in 5 games.
Patrick and Peter Sundstrom: Patrick had 7 goals in 5 games and Peter had 5 points in 5 games. Patrick had a successful NHL career with stints with the Vancouver Canucks and New Jersey Devils. Peter wasn't as successful as his brother in the NHL, but did play for the Rangers and Capitals.
Team Sweden Coach Ronnberg on his response after the winning OT goal was scored:
"I was waiting for the referee to do something or review it. I couldn't believe it and haven't really believed in it yet. This is a really big for Sweden. It's really important. We have chased this gold for so many years."
Makarov Almost Unbeatable
In a somewhat controversial move, Russian Coach Bragin opted to start Andrei Makarov over 2012 NHL draft eligible and tournament sensation Andreii Vasilevski. Vasilevski was in the running against Czech Republic's Petr Mrazek for goalie of the tournament. However, Bragin pulled Vaslilevski for the final 5 minutes to close out a 6-5 victory over Canada in the semi-final.
It must have been a hunch.
Makarov was spectacular in form in stopping all but one of Sweden's 58 shots.
Goalies Named Gustafsson/Gustavsson Unbeatable
As mentioned above Team Sweden's young netminder Johan Gustaffson only had a couple of challenges in this game, but was good when he had to be in a 17 save shutout gold medal performance.
Another goalie with a very similar name also had a memorable night.
As Yahoo Sports reported:
For a few frantic moments in the third period, Jonas Gustavsson played without his glove. When the final horn sounded on his second career shutout, he could only watch as an opponent threw the game puck over the glass.

He lost everything, it seems, but his grip on the Toronto Maple Leafs' goaltending job.

Gustavsson stopped all 24 shots he faced Thursday night to lead the Maple Leafs to a 4-0 win over the Winnipeg Jets.
Zibanejad Calls His Shot
Ottawa Senators 1st rounder Mike Zibanejad told his teammate in the morning of the game and before overtime that he would be the one to score the gold medal clinching goal. With a brilliant breakaway deke he did just that in fine fashion in sudden death overtime.
"I told (Rotevall) before the overtime too so it was good to get that goal," Zibanejad said. "You have to decide if you want to win this. In the morning, it was a joke, but obviously it's not a joke anymore."
Broken Nail: Yakupov Injured
Yakupov left the Saddledome on a stretch with an apparent torn miniscus (knee injury) and is likely to miss a month or more of action.
Video Highlights (IIHF)
Chris is THW's senior draft/prospect analyst and a Managing Editor. Watch for "The Next Ones" Prospect Profile series, exclusive rankings, mock drafts, as well as the annual THW NHL Entry Draft Guide. Follow @ChrisRalphYQ on Twitter as he infiltrates, dissects and analyzes all happenings of hockey prospects and the NHL entry draft. Email: cralph[at]thehockeywriters[dot]com