Yesterday night, Sweden won World Junior Championship gold for the first time in 31 years with a 1-0 overtime victory over Russia in a tremendous game that saw everything from great scoring chances to miraculous goaltending by Andrei Makarov (2012 draft eligible) and Johan Gustavsson (drafted by Minnesota in 2010). If you'll remember, Makarov came in relief of Andrei Vasilevski (also 2012 draft eligible) who was pulled by his head coach late in the third period with a 6-5 lead against Canada in a move many experts thought was to stop the Canada's comeback and rest him for this final game. But nobody expected to see Makarov start the gold medal game, which turned out to be the right decision even though the Russians lost in overtime.
Through overtime, and most of the game, save for the third period, Sweden carried the play and had the most opportunities. Makarov finished the game with 57 saves before being beat on a nice Mika Zibanejad back-hander midway through the overtime period after breaking into the offensive zone on a neutral zone turnover by Sergei Gusev. Zibanejad (Drafted by Ottawa in 2011) backed up his prediction by beating a seemingly unstoppable Makarov to give his home country its first gold at this prestigious tournament since 1981.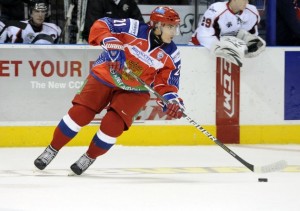 Russia not only lost the game, they also lost blue-chip forward Nail Yakupov  in overtime with an serious knee injury (reportedly a torn meniscus) and didn't return. He was seen leaving the arena on crutches after the game and departed for the hospital on a stretcher. Early indications are that the top ranked prospect for the 2012 NHL Entry Draft will miss significant period of time. Yakupov will have to stay for the ice for a least one month and then continue his rehabilitation hoping to return later this season with the Sarnia Sting of the OHL. In 26 games with the Sting this season, Yakupov had recorded 21 goals and 32 assists for 53 points (2.04  PPG) and a +21 plus/minus differential.
This injury might scare away some teams as it could take Yakupov much more than one month to recover from this serious injury depending of the extent of the damages on the knee. The tear of the meniscus can take up to two-to-three months to fully heal and sometimes more than a year if another ligament is damaged such as in the case of Andrei Markov, who has yet to fully recover from a surgery to repair a meniscus and reconstruct the anterior cruciate ligament (ACL) that was performed by Dr. James Andrews in December 2010. Markov, who was practising with the team in early December, suffered another setback in his recovery and will not come back before the 2012 All-Star break in Ottawa, more than 14 months following this delicate surgery.
As a result of this serious injury, NHL teams will be extra careful before drafting Yakupov in June as the nature of this injury makes him a riskier pick than healthier prospects such as Mikhail Grigorenko, Mathew Dumba or Filip Forsberg.
Follow me on Twitter to get updates and news on the NHL, the CHL and hockey in general.
A long-time Joe Sakic fan, Fred, 35, is a freelance sports writer and translator. Fred earned a Bachelor of Translation in 2002 at Laval University in Quebec City. He also writes on the Montreal Canadiens for HabsAddict.com and he is an associate editor and a baseball columnist on Dobberbaseball.com. He is also fluent in English, French and Spanish.