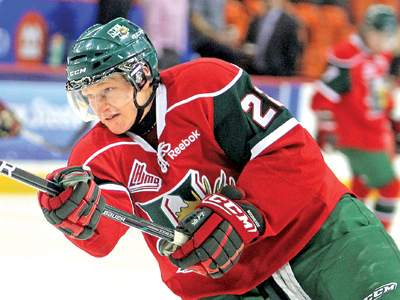 On Jan. 4, the World Under-17 Challenge wrapped up in Windsor, Ont. The event featured 10 teams, five Canadian and five international, and for the first time in a while, a Canadian team wasn't present in the final. The tournament was an incredible displays of the best 16-year-old players the world has to offer and these players did not disappoint. With these players not being eligible until the 2013 or even the 2014 draft, let's have a look at the 10 players at this tournament whose names you shouldn't forget.
Valeri Nichushkin, Forward – Russia This player was amazing in the gold medal, which saw Russia defeat the U.S. 7-4. In total, the native of Chelyabinsk had an awesome tournament, scoring five goals and adding three assists for eight points in six games. What makess this guy so effective is how well he uses his 6'3″, 176 lbs frame. A word I heard around the rinks at this tournament was "plays a bit like Malkin." These are pretty lofty comparisons, but when he adds some weight to this tall frame, defencemen beware. He will be very dangerous.
Anthony Louis, Forward – U.S.A. This little speedster from Winfield, Ill. may not look very intimidating at 5'6″, 130 lbs. When this guy picked up the puck, people were on the edge of their seats because they knew something memorable might happen. Already committed to University of Miami of Ohio, the Team Illinois graduate collected four goals and four assists for eight points in six games as the U.S. claimed silver.
Sergei Tolchinsky, Forward – Russia If you like hockey players having a swagger about them, you will definitely enjoy watching Sergei Tolchinsky. The native of Moskva, Rus. had five goals in the tournament, including a clutch performance in the gold medal game, which saw him bury a hat trick. In this three goal performance, he finished a shorthanded 2-on-1 with a great backhand deke and also scored on a penalty shot. With outlandish celebrations that would rival Alex Ovechkin, looks for this 5'7″, 150 lbs. sniper to appear for years to come.
Sam Reinhart, Forward – Canada, Team Pacific This guy is a solid, solid hockey player. In this tournament, he appeared on the score more often than not, scoring four goals and six assists for 10 points in five games. He's also putting great numbers in his first full season with the Kootenay Ice of the Western League, scoring 10 goals and 21 assists for 31 points in 34 games.
Leon Bristedt, Forward – Sweden You want a pure sniper? Leon Bristedt is your man! Seven goals, one assist in five games, the kid knows how to find the back of the net. This season, he's split time between the under-18 and under-20 teams in the Linköping program, where he's got nine goals and six assists for 15 points in 23 games.
Max Domi, Forward – Canada, Team Ontario The son of Tie Domi has a lot more to offer than his father, who fought his way to a long NHL career. Domi won't need to do that, as his skill set is pretty loaded. At the under-17 challenge, he had three goals and four assists in seven games and with the Ontario League's London Knights, he's got 12 goals and 20 assists in 33 games.
Leon Draisaitl, Foward – Germany This guy is the only player I didn't see in person at this tournament but I can't argue with his past stats. On a team that finished ninth out of 10 teams, he had one goal and four assists for five points against competition that his country was just not up to standard with. Here's the interesting stats: from 2009-2011 with Mannheimer ERC U16, Draisaitl had a RIDICULOUS 145 goals and 150 assists for 295 points in 55 games! I'm really hoping this kid comes over to Canada to try out the junior ranks. He would definitely benefit from it.
Nathan MacKinnon, Forward – Canada, Team Atlantic Mackinnon has been hailed as the next "the one" in the hockey world(http://www.thestar.com/sports/article/1110348–why-nathan-mackinnon-could-be-hockey-s-next-big-thing). Despite this billing, he really didn't live up to the hype on an Atlantic team that didn't make much noise at the tournament. Outside of this tournament, the 5'10", 168 lbs member of the Halifax Mooseheads has been giving defenders in the Quebec League fits, scoring 19 goals and adding 30 assists in 31 games.
Aaron Ekblad, Defenceman – Canada, Team Ontario When you're the second player, after John Tavares, to be granted exceptional status into the Ontario League, the expectations are there. What some people miss on his stat line is that he's a defenceman. The product of the Sun County Panthers AAA system is a 15-year-old playing against some players in the Ontario League who are up to five years older than him. Even still, this kid is monster who stands at 6'3″, 207 lbs. He will dominate in the next year or two.
Scott Savage, Defenceman – U.S.A. This guy is a hard-hitting, solid puck moving defenceman. Everytime there was a poor pass made, the arena was ready for him to throw a big hit. The points are always there but he's rarely out of position and even sees time on the second power play unit for Team U.S.A.
There's 10 players to keep an eye on, whether they'll be in the Ontario League, the Quebec League, the Western League, the NCAA or even abroad with foreign junior teams, just look for these guys to be big contributors in upcoming events like the under-18s and the world juniors and, one day hopefully, the NHL.
Marc is a young Canadian journalist, who graduated from St. Clair College in Windsor, Ont. in April 2011. Since his graduation, Marc has began working for Sun Media in Essex County, covering various community events and local sports, particularly hockey. If you ever want to talk hockey or any other sport, feel free to contact him on twitter @mgirard24