Calgary – For Canada it has always been gold or bust. Gold or nothing. On Thursday night in Calgary, however, bronze helped sooth the wounds of the devastating semifinal loss to Team Russia. The bronze medal never really seemed in doubt as Canada executed Coach Don Hay's game plan and skated to a 4-0 shutout victory.
One has to realize just how close nations are at this level. True – Canada could probably ice three or more complete teams that would all compete in this tournament. However, when choosing one team per nation, Sweden, Russia, USA (despite their relegation experience this year), Finland and others can win on any given icetime.
The one advantage of winning bronze is that you do end the tournament on a winning note.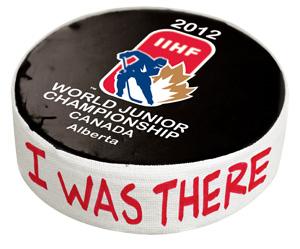 "Murray's Law" Ends Here
Ryan Murray rebounded with his usual silky smooth and poised play from the blueline in Canada's bronze medal battle against Finland. The youngest player on Team Canada and only first year eligible player for the 2012 NHL entry draft on the squad(Tanner Pearson is draft eligible in 2012, but it will be his third year of eligibility) had a disastrous semifinal night against Team Russia.
It seemed to be "Murphy's Law" for Murray on Tuesday night as the usually near flawless blueliner had a couple of Russia's first goals deflect in off him. Ryan ensured "Murray's Law" was not here to say and rebounded with a solid effort in the bronze medal. He contributed on Florida Panthers prospect Quinton Howden's second goal with an assist on a head's up shot from the point.
One should also not forget Murray's contributions to Team Canada in the past couple of years. Murray was the team captain for Canada in the Ivan Hlinka Memorial Tournament, and led them to a gold medal in 2010. At the 2010 World Junior U18s he was a first team all-star and registered 10 points in just 7 games.
Murray finished this tournament with 3 assists in 6 games and was still plus 6 despite the game against Russia.
"Murray's Law" ends here.
Visentin Stellar
Canadian netminder Mark Visentin seemingly was doomed by everyone from the very start having been remembered as the goaltender of record for Canada's collapse in last year's gold medal lost to Russia.
It was fantastic to see Visentin get redemption at this level, even if it was for bronze and not the coveted gold. I still feel strongly he should have been the starting goaltender for the whole tournament this year.
It was a night of highlights for the Coyotes goalie of the future. He shut down Red Wings prospect and scoring sensation Teemu "The Incredible Pulk" Pulkinnen (okay – I just made up that nickname) on a penalty shot.
As well, as Aaron Vickers of NHL.com reported on a pure magical moment:
Just 2:01 into the third, Joonas Donskoi chipped a puck on net that went over Visentin. The Canadian netminder didn't mind, making a spectacular behind-the-back glove save before the puck could cross the goal line to keep Finland off the board.

"It was pretty wicked," Visentin said. "I watched the puck go off my shoulder, off the crossbar and I just saw it out of the corner of my eye go into my glove when I was reaching for it. I was kind of worried I swept so far back I caught it and put it in my own net but once I saw the replay and the crowd started to go nuts I had a good feeling it wasn't going in."
Other Notes
From TSN (Canadian Press):
The 2013 world junior hockey championship will be held in Ufa, Russia, and in Sweden the following year. The tournament returns to Canada for 2015, 2017, 2019 and 2021.

There are seven players eligible to play for Canada again in Ufa, but some of them will likely have NHL commitments at that time. When Hay asked if he'd want to coach the team again, he said he'll need some time to think about that.
Video Highlights via IIHF: