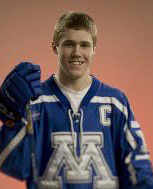 Jake Gardiner was the Anaheim Ducks' first round pick (17th overall) in the 2008 Amateur Draft, but is only now playing in his first NHL season as a 21-year old defenseman.
To their credit, the Ducks did not rush his development by promoting him sooner.
However, when they decided that their defense needed an upgrade last season, they engineered a trade with the Maple Leafs, sending Gardiner and Joffrey Lupul to Toronto in exchange for veteran blueliner Francois Beauchemin. Lupul was not the primary asset sought by the Leafs, who are undoubtedly thrilled that he has regained his health and currently sits among the league's leading scorers.
They agreed to take back Lupul's hefty $4.25 cap hit through the end of next season because they wanted to get Gardiner into the organization. The young rearguard was allowed to finish his term the University of Wisconsin, where he really blossomed as a top-scoring defenseman, compiling 41 points in 41 games played.
The Leaf brass gave him a chance to show his wares in a pre-season rookie tournament, where he starred, earning an invitation to the team's main training camp. He continued to impress in exhibition games, as the team's management continued to monitor his ability to compete at this level.
Armed with a rare fluid and agile skating ability and a wonderful instinct for distributing the puck, he has continued to show growth in his confidence and overall game, through the early season. He is now playing upwards of 20 minutes per game and has formed an effective partnership with Luke Schenn on the Leafs' blue line.
He has already impressed his teammates to the point where he's been given the nickname, "Silver Stick", a reference to his cool demeanor and competence reflective of a veteran of 1000 games. Typically, on achieving that milestone a player is given a silver stick by his team.
Gardiner already looks very comfortable in all situations and observers marvel at his ability to shift gears and make new options for himself when a less-skilled player would be in big trouble.
The intangible of his on-ice vision, along with his physical skills bodes well for a rookie who already showing signs of a high hockey IQ.
It sure looks like the sky's the limit for Jake Gardiner.
Paul Bruno is not your average hockey fan. I am truly a student of the games the pros play. In analyzing the sport I developed an important innovation. In 1991, I approached the management of the Toronto Maple Leafs to present my idea for the tracking of numerous game events, like face-offs won and lost, blocked shots, hits, giveaways, takeaways and much more. This prototype was soon adopted by the NHL and is currently known as NHL Real Time Scoring.
I am proud to say that hockey, at all levels, is now reported, reviewed and studied with great use of this information.
Since 1996, I have been a member of the Society for International Hockey Research (SIHR) an international group of hockey researchers and historians whose objective is to study and preserve the history of hockey. Since 1998, I have been the Treasurer of this group, which includes members of NHL management, broadcasters, reporters and authors.
I have appeared on numerous radio and television shows in the role of hockey expert, fluent in the analysis of the game and in giving opinions about the current NHL landscape.