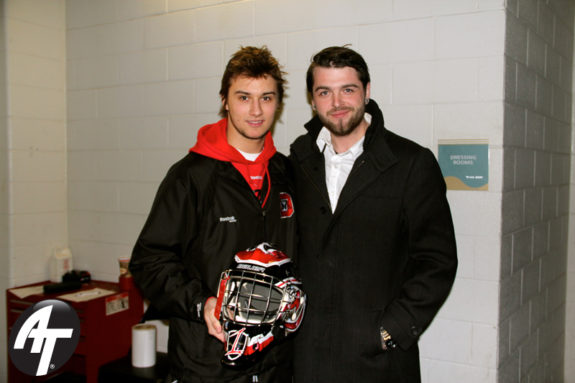 Since my days as an adolescent, the goalie position has always fascinated me.  Sure making the huge save at a crucial moment in the game is a big deal, but that wasn't what gravitated me towards the the aura that surrounded the netminder.  I found the design on the helmet to conjure up feelings of awesomeness.  I remember thinking: WOW! That mask has the coolest design on it!  I wanna play goalie just for the mask!
It only took one time suiting up in pads to realize playing goalie wasn't as fun as I had envisioned it.
I didn't appreciate the stories, journeys, memories, etc. that came with each design until much later, but I distinctly remember Hextall's orange arrow mask, Hayward's Shark teeth bucket, and Belfour's patented Eagles wings.  This fascination has carried on up until now and oftentimes I find myself admiring Jonas Hiller's all black helmet and Henrik Lundqvist's sparkling Statue of Liberty mask.
Goalie Mask Painting – Each Work is Unique
Each pattern isn't a pre-designed template that is simply placed on each mask.  For every goalie there is a goalie mask, and for every goalie mask there is an artist – one who has spent countless hours refining his tools to make the most appealing work of art displayed for hundreds of thousands of hockey fans to view and ponder.  In steps Andrew Manning [stage right].
Andrew has only been painting goalie masks since 2011, so he is fairly new in terms of experience, but you would never know by viewing his finished products.  He always had a knack for drawing and coming up with designs, but never realized he could parlay this talents for goalie masks.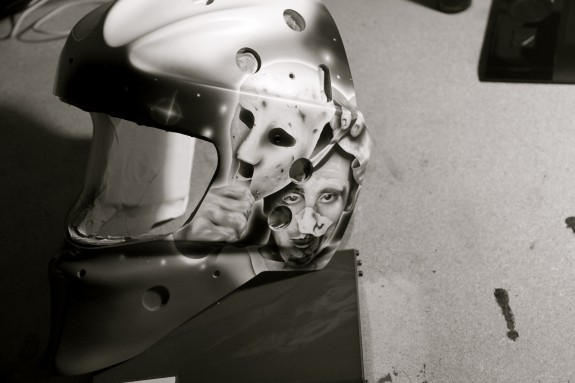 "It was a really odd turn of events, actually," Manning said.  "I had started
Air Trix Studios
 8 months prior to doing masks – I was doing custom motorcycle artwork. I bumped into a former hockey teammate and had some small talk. He mentioned that he was coaching for the local Jr. D club and that I should talk to his starting goaltender about making a design up for his mask.  I painted the mask for him in January of 2011, put it up on social media – Facebook and Twitter – and its taken off from their!"
Each goalie mask is different.  Copious amounts of ideas are bounced back and forth between goalie and designer, but the basic layout of the airbrush process is relatively the same.
"When a team or goalie contacts me about a mask we go over the ideas they would like to incorporate.  They send reference materials to me and from there I draw up concepts for them.  After the concepts are sent off we have a phone call meeting to discuss any alterations that need to be made.  Then I create a final rendering in Photoshop and we base the mask off that.  When the mask comes into Air Trix Studios we strip the mask down to the bare shell, make any repairs that are needed and they get primed and prepared for the paint process.  After the mask is prepared for paint, it goes into the heart of the studio – my painting table.  Here the artwork is applied and any free hand portraits are done using our great airbrushes from Iwata."  Manning continued, "Once all the art work is done, it goes into the booth and is clear coated using our great system and water sanded and polished to a great finish!  After the mask has dried, we inspect the mask and then it goes to final assembly and photography.  It's a very fun journey for goalies and myself.  Normally this whole process takes all of 12-16 days."
Mask Painting Requires the Best Products
The materials and paint used is one of a kind.  One would guess you'd need some of the top products to make a mask stand out and be admired.  Andrew realized this when he first began and he hasn't changed the philosophy since.
"Air Trix Studios uses the highest quality products available.  We use high performance Hydro-carbon color systems which offers high flexibility under cold conditions (main cause of mask chipping) and the clear coat system is the same product that can be found on cars built by Ferrari.  It really is some amazing stuff!"
One of the most difficult parts of the job is figuring out where the designs and layouts will be placed on the mask.  It is an tediously arduous process and must be done with as few flaws as possible…preferably none.  It takes a skilled worker such as Manning to get everything just perfect.
"To lay out the design I always take into consideration the shape of the mask.  Its high spots, low spots and areas that are covered by strapping and the cage.  Another big thing is balancing around vent holes.  Nothing worse than having a great portrait of someone's face, then having it placed over a hole.  [Laughing] If not, they become a cyclops.  The major thing though is color separation.  Whatever colors are used in the theme, it's important to give a splash of it in the proper areas to make the mask look cohesive.  It can really make or break a job," said Andrew.  "All of these elements really come into play when doing the designs for the players.  When the attention is paid to all these areas you can really create something special!"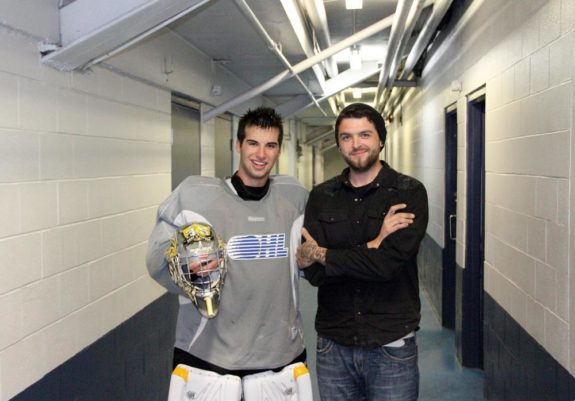 The best part about the job is mixing the thoughts and ideas of the goalie he is working for with his own interpretations.  It makes for a unique concept that has a very defining impression and meaning to, both, creator and player.
"I think [the design] is a great mix of both!  Some players are very artistic and send me technical drawings of there vision, while others give me a theme and say 'go for it!'  Regardless of initial input, I like to have design meetings with the goalies over the phone to bounce ideas back and forth.  I have found even if a goalie initially says 'go for it' during our design meetings they think of cool little things we can add and build off of.  I like doing it that way.  Means more to me as an artist to create for them and it means a lot to the goalie because they can turn a small idea they had into a remarkable mask," Manning explained.
And just for kicks, some of the requests by goalies can be rather "risque", if you will.  But that only leads to a more original idea and a better story to tell for later.
"Nothing is "crazy" if you put it in the right context.  I have had a few request for images that were…shall we say not safe for work [laughing].  I like it when a goalie gives me a 'far out' idea.  It pushes me to create and think outside the box – much like a helmet I painted for a goalie in Switzerland.  He asked me what I thought about painting the 'Vitruvian man' by Leonardo Da Vinci.  I had never seen it before on a mask in my life and loved the idea right from the start.  I think the mask turned out really nice.  Very clean, but great attention to details, at the same time."
Each mask is special in it's own way, but Andrew is currently working on a mask that touches base with him, more so than any other he's worked on.
"I'm working on a very special design for this fall. Its a tribute mask to the troops and really hits home," he mentions.  "My grandfather was in the military and served for his country in World War 2 and various other campaigns over his life.  I'm very proud of him and will be giving the most amount of detail/attention into it that I possibly can."
His work has amassed interest from all around the world from minor leagues in Canada, to the Swedish Elite League.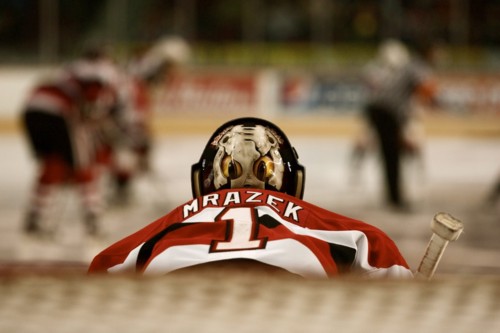 "In just under a year and a half of creating professional mask art I have been fortunate to have worked with some amazing athletes!  From OHL, stars Petr Mrazek, Brandon Maxwell and Brandon Hope.  To HV71 (Swedish Elite League) rookie Sander Berg, Dennis Saikonnen of the GCK Lions (Switzerland), and a host of other great goalies stretching from Los Angeles all the way to Norway."  Manning went on, "We have some new goalies and projects that we have welcomed to the Air Trix family for this upcoming season in the NHL and OHL, but can't say to much right now.  Very exciting times at the studio!"
Manning was able to catch the eye of one of the most prominent goalies in the NHL today, Carey Price of the Montreal Canadiens.
"I was asked in the spring to create this mask for the Price family.  It was a tribute to his father (who was drafted by the Flyers) and his journey with Carey growing up and teaching him to play hockey.  The one side was the Philadelphia theme with the Liberty Bell ghosted into the logo and atop is the bold iconic bridge.  The other side was "The Journey" (name of the mask) on top of the mask is a soft oil painting style of Anahim Lake BC where Carey was raised.  I chose that style for the calm, serene feel of the land as well as most of the art that was produced in that region was either oil painting or water colors.  Ghosted in the logo you will find the same Piper Cherokee plane that Jerry bought to fly Carey to the rink in Williams Lake.  With a little added touch though, I replaced the aviation numbers on the side of the plane with the numbers 081687, which is Carey's birthday.  I spoke with his sister, Kayla, after he gave the mask to his dad on fathers day and it apparently made his mother cry with joy.  I was very happy to work on that project for them."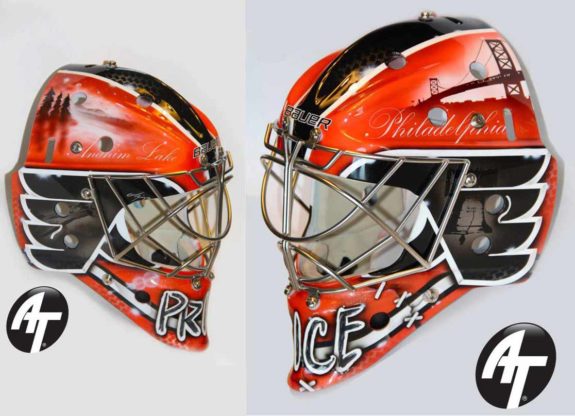 There are many rewards associated with painting masks for netminders such as some extra cash, a bit of fame, what have you.  Be that as it may, none of those seem to affect the humble personality Manning calls his own.  He's built his craft on emotion, hardheadedness, determination, and talent.  Each mask carves a new piece into his life, so when I asked what the best part of his job was, he replied, "I love talking with the goalies and getting a feel for what they like in a mask.  I really enjoy learning about different things when researching for a mask.  The paint process is always fun.  But the best thing is seeing the reaction from the people when they get the mask back.  I've done some tribute masks with portraits of people that have passed and actually had family members burst into tears because it looks exactly like them and it's done in a respectful manner.  That's the best thing to me, a design that can bring emotions out in people."
However, he is never one to shy away from giving advice to aspiring goalie mask artists who are trying their damndest to make it into the industry.
"When giving advice, I can't speak for everyone, but these are a few tips I believe in.  Quality of work – paint, paint, paint.  You will never get stronger as an artist if you don't hone your craft.  Another is think outside the box.  This goes for art and the business structure.  Thirdly, be humble.  Much like the goalies we work with we are blessed to be able to do something that others might not.  Furthermore, talk to people.  No one knows the guy in the corner of the room, introduce yourself to prospective goalies, teams, etc.  And lastly, be a good person, plain and simple.  You could be the best in the world, but if you have a bad attitude no one will want to work with you."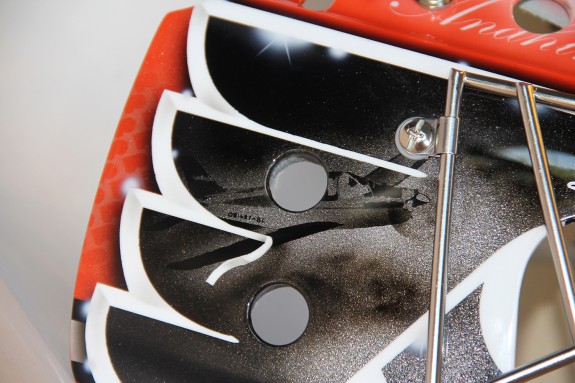 Air Trix Studios is going strong and goalies continue to bombard Andrew with requests day after day.  It isn't the easiest of tasks, as I hopefully explained early on in the article, but it certainly has its benefits and rewards.  You can meet some great people in the business, share emotions with players and family members through the simple stroke of an air brush, and your masterpieces that you've created can be flaunted for a massive population to view and appreciate.
I know I can't be the only kid who found goalie masks appealing, and it is thanks to the work of artists like Andrew Manning of Air Trix Studios who make an idea become a reality.  For that, we are forever indebted to the beauty, technique, and sheer brilliance of goalie mask artists.
Visit the Air Trix Studios site at www.airtrix.ca, like Air Trix Studios on Facebook, and follow Air Trix Studios on Twitter (@Air_Trix).
Follow Shawn Reznik on Twitter (@ShawnReznikTHW).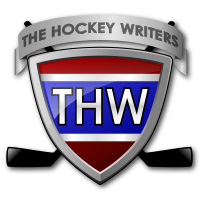 The archives of THW contain over 40,000 posts on all things hockey. We aim to share with you some of the gems we've published over the years.