Exploding onto the scene with 72 points in his rookie campaign, Kane had shown a lot of promise early on in his career. Since then, he has seen mixed results from year to year — experiencing his best year in 2009-10 where he was a key contributor in helping Chicago win their first Stanley Cup since 1961 with 88 points in the regular season and 28 points in the post-season. This past season was a tough pill to swallow for Kane as he came off career-lows in almost every category.  To be fair, he was bounced around the line-up and spent a fair share of his time at an unfamiliar center position.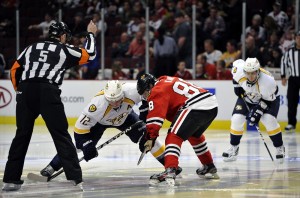 His off-ice distractions really have had no correlation to his on-ice struggles considering most of his issues have come during the off-season, so we won't get into that. There are a lot of positives in his future as a Blackhawk. Yes he has come off career-lows in point production, power-play production, and shooting percentage, but he has also stepped up his defensive game, grown as a leader, and provided the team with versatility when they needed it most.
The most important question surrounding Kane for this upcoming season is where Joel Quenneville plans on utilizing him in the line-up. At center, Kane isn't nearly as dynamic as he can be on the wing, which is quite clear. Many NHL coaches have admitted that they actually like Kane at center, but that isn't a testament to his effectiveness, rather an exploitation of a weakness. All things considered, Kane did well at center but that simply is not where he will be at his best.
We've seen Kane mature (believe it or not) through out his tenure in Chicago. His leadership last season was exemplified when Jonathan Toews was sidelined due to injury. Kane took the bull by the horns and actually did quite well as the teams 1st line center, not only offensively but he even got his hands dirty at times as if it were his team. At the end of the season, Kane finished off with 17 points in 19 games playing at center. The Blackhawks need more of that out of Kane moving forward, not just the production but the attitude and youthful exuberance that he displayed years ago. That explosiveness needs to be flaunted every game, at this point in his career it's a matter of consistency. Can he break through that ceiling this year or will it be more of the same for Kane?
PREDICTION:  82 GAMES | 31 GOALS | 51 ASSISTS | 82 POINTS | PLUS-10
I started covering the Chicago Blackhawks in 2007 for IndianHeadNation.com and eventually on Twitter and now The Hockey Writers. Although I've never played at a professional level, I have followed the NHL religiously, analytically, and statistically since 1999, and a born fan since 1989. I have one true passion: HOCKEY.