The Minnesota Wild have a little over one month left to play in the 2015-16 regular season. A month ago, it seemed April 9 was going to be the last time Minnesota took the ice this season. Yet despite the team's annual mid-season slump last month, the Wild just might have a chance to play past April.
Pushing for the Playoffs
A mere few weeks ago, it seemed the Wild were done. The team had completely stopped trying; there was nothing left for Mike Yeo to do; and the fans had given up on the season. Minnesota's successful start was behind them, as were any hopes of the playoffs. Or so it seemed.
Clearly a lot has changed in almost four weeks.
On February 13, head coach Mike Yeo was fired and Iowa Wild head coach John Torchetti took over as Minnesota's interim coach. Since then, the Wild have rebounded in a way that previously seemed impossible. In just 12 games under Torchetti, this team snapped its eight-game losing streak, saw seemingly stagnant players like Erik Haula and Jason Pominville explode offensively, and found a way to push back into playoff contention.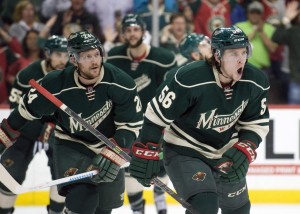 Currently, Minnesota sits in the second wild card spot in the Western Conference. The Wild is tied in points with the Colorado Avalanche (72) – but has a game in-hand – and is six points behind the Nashville Predators (78). This team might only have 15 games left in the regular season, but with the way things are going, that might just be enough.
It might seem like a tough task, but the Minnesota Wild have overcome worse odds. The playoffs are still far away, but this team shouldn't be counted out quite yet. Minnesota is still very much in the hunt for the postseason, and if players like Haula, Charlie  Coyle and Nino Niederreiter continue to play the way they have over the past month, there's really no telling where the Wild could be at the end of the regular season.
A New Team
A month ago, it seemed that watching this team play the last 15 games of the season was going to be unbearable. The lack of effort, inconsistency and zero offense made this team hard to cheer for. At the beginning of February, the Minnesota Wild looked like they would miss the playoffs for the first time in three years, but now it appears this team might have a chance after all.
This team has has completely changed under Torchetti, and for the better.
While there's certainly no guarantee the Wild will make the postseason, it's a lot easier to root for a team that's finally trying, has turned the season around, and actually has a chance. Things looked bleak for the Minnesota Wild four weeks ago, but as we've learned in previous years, just because this team has a mid-season slump, that's no reason to count them out.