For some leagues, fantasy hockey playoffs are right around the corner. Owners are either scrounging for those lower end depth players or trying to figure out who to start and who to bench in the coming weeks.
In this edition of THW's Fantasy Findings, we look at some of these players. Who should you target in the coming weeks? Which players make sense as starters?
For starters, Matt Weverink over at Blackburn News says there are fantasy "handcuffs" that owners can stash away for their playoff runs. He describes handcuff players (using a definition from fantasypros.com) as "a backup that will likely take over for a team's starter in the event of an injury."
In this case, Weverink takes a look at goaltenders – one of the hardest positions to judge this season. With that in mind, the names he threw out should draw some significant interest – Thomas Greiss, Antti Raanta, Philipp Grubauer, Andrei Vasilevskiy and Scott Darling.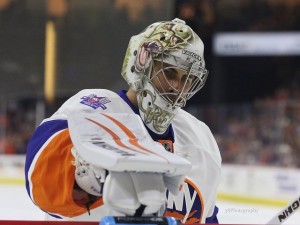 Greiss has played far over his head this season, with a 18-6-3 with a 2.21 goals against average and a .930 save percentage. According to Weverink, he's owned in 47 percent of Yahoo leagues after having played just 28 games this season.
The others have all played over 17 games this season and every one of them has a save percentage over .900 and a sub-2.55 goals against average. These are the types of goaltenders that are referred to as handcuff players in fantasy hockey.
Fantasy Advice: Locking Up the Handcuffs
For those who have playoffs in their fantasy leagues, chances are you'll need some of these guys down the stretch. Goaltenders – while numbered in fantasy leagues – tend to be very important pieces to championship teams. Most pools start two tenders. Normally you want two starters to fill those spots, but sometimes you're dealing with injuries.
That's where these handcuff players come into play. Having a guy like Grubauer on the bench is helpful – especially if Washington decides to rest Holtby a little more heading into the final few weeks of the NHL season.
Even a guy like Darling can be useful. He's only owned in six percent of Yahoo leagues, but with Chicago doing as well as they are, he could a be one goalie seeing a little more playing time over the next month. Don't be afraid to fill some bench spots with these handcuff goaltenders – as Weverink points out they could be far more useful than they may seem.
It's not the first time we've seen injuries open up doors for other fantasy players – or owners. As Sean Allen writes for ESPN, an injury in Winnipeg may be one reason for the most recent successes of Mark Scheifele.
When Bryan Little went down for the Jets, Scheifele rocketed up the team's depth chart and took on a bigger role. Since February 18 (when Little went down), Scheifele's notched eight goals and 12 points.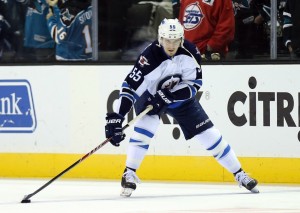 With that in mind, the young Jets' forward is finally living up to expectations with his new role and responsibilities. With Little out for the season, Scheifele is a sure bet to handle the majority of the minutes up the middle in Winnipeg. So sometimes injuries can hurt an owners chances, but sometimes it can help a player up their fantasy value.
Fantasy Advice: Scheifele Benefitting Off Injuries
While seeing guys like Little, Klingberg in Dallas and Schneider in New Jersey hurt fantasy owners, it can be helpful to others looking for those unlikely heroes late in the season. While a guy like Scheifele hasn't been a fantasy stud all season – his time to shine may rest on the shoulders of an injured teammate.
Target these players. A backup like Kinkaid could help in your playoff push or as you head towards those money spots in your pool. This late in the season it comes down to who you start and making the right calls on some of those regularly designated bench players.
Don't shy away from adding those free agents that've hovered around the top of your pool all season long. Even with the situation as dire as it is in Toronto, players like Soshnikov or Sparks may be the one little pieces that can fill in when times get tough.
For now, keep an eye on those waiver wires and check out what Allen says about the risers and fallers over at ESPN.
For more advice, check out THW's fantasy homepage or follow Andrew on Twitter at @AndrewGForbes.