Improved play up and down the lineup for the Philadelphia Flyers has the team inching closer and closer to a playoff position. Radko Gudas has factored into the team's scoring, while Brayden Schenn has helped offset the loss of Jake Voracek to injury.
But a position switch for second-year pro Scott Laughton has turned his season in an upward trajectory. Originally slotted in at center, coach Dave Hakstol moved him to left wing when rookie Nick Cousins joined the team in early February.
Cousins has seven points in 20 games, but Laughton has also helped statistically with five points in his last nine. He may have been held pointless in his last four, but Laughton's also received 11 minutes of ice time in each game and managed to stay even in a 4-0 loss to the Edmonton Oilers.
Center Shortcomings
When the Flyers selected Laughton in the first round of the 2012 draft, his future seemed to be as a shutdown third-line center behind Claude Giroux and Sean Couturier.
Philly allowed Laughton to develop at the pivot position. He suited up for the Oshawa Generals of the OHL for two more seasons and captained Canada's World Junior team in January 2014 before joining the Lehigh Valley Phantoms for the 2014-15 season.
The Flyers played Laughton for 31 games last year scoring five points.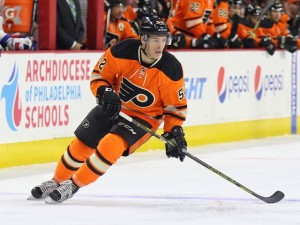 During that stretch, the Oakville, ON native showed some flashes of being a strong two-way player but it was also evident he needed some more seasoning.
Laughton finished the season with the Phantoms, but earned a spot in Philadelphia at the end of training camp before the 2015-16 season. Laughton played better than the previous year, but again defensive lapses caused issues. That is, until he moved to wing.
Position Switch
The wing positions are known to be much simpler in a defensive view in hockey. Less play in the middle of the ice and less need for backchecking are causes of that.
With Laughton struggling at times in his own zone, it made sense for Hakstol to move him away from the one forward position that called for the most defensive presence. At a year older, Cousins has done a much better job than Laughton in his own end.
But Cousins is a year older and has one more season of professional play under his belt than Laughton. Defensive play for forwards is a huge developmental leap and it's okay if Laughton doesn't get it figured out right away.
Don't count Laughton out as center just yet, but with Cousins and Matt Read he's helped create a reliable bottom six line for the Flyers. With playoffs just a couple points out of reach, it's what the team needs right now.
* Featured image provided by Amy Irvin / The Hockey Writers