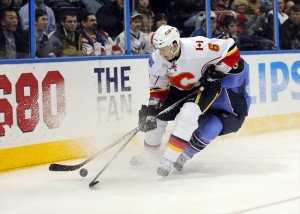 With next Monday's National Hockey League trade deadline rapidly approaching, speculation around the league is rampant regarding which teams will make big deals and who they will acquire.
Hockey fans probably should not expect the Calgary Flames to make a major deal at the deadline, for a few key reasons.
THE CAP
When he became Calgary's general manager full-time in the off-season, Jay Feaster explained that he wanted to get the team in a more flexible salary cap situation, describing the cap crunch the Flames were put in by former GM Darryl Sutter as "salary cap jail."
Feaster went to work, shipping out defender Robyn Regehr ($4.02 million) and forward Ales Kotalik ($3 million) to Buffalo at the draft and forward Daymond Langkow ($4.5 million) to Phoenix prior to training camp. Heck, Feaster even threw in a second round draft pick in the trade with Buffalo just so they would take Kotalik's contract off Calgary's hands.
While the Flames have added some salary this year in the Mike Cammalleri deal (trading Rene Bourque's $3.3 million contract for Cammalleri's $6 million deal), remaining flexible seems to be a priority for Feaster. If the Flames were to bring in a big piece, that would probably eat up any wiggle room for them, cap-wise.
THE ROSTER
Teams make deadline deals to bring in new faces and shake up their rosters. In Calgary, that's a process that's been happening over the entire season.
Consider, for a moment, Calgary's opening night line-up:
Goaltenders Miikka Kiprusoff and Henrik Karlsson
Defenders Jay Bouwmeester, Mark Giordano, Cory Sarich, Scott Hannan, Anton Babchuk and Chris Butler
Forwards Niklas Hagman, Jarome Iginla, Olli Jokinen, Tim Jackman, Tom Kostopoulos, Rene Bourque, Matt Stajan, Curtis Glencross, Lee Stempniak, David Moss, Alex Tanguay and Roman Horak
Injured were Brendan Morrison, Brett Carson, Raitis Ivanans and Mikael Backlund; scratches were Pierre-Luc Letourneau-Leblond and Derek Smith
From this starting point, a tremendous amount of Flames have been injured throughout the year (man-games lost is somewhere around 260), meaning that around ten different players have been used as injury replacements (including Leland Irving, T.J. Brodie, Joe Piskula, Clay Wilson, Derek Smith, Roman Horak, Greg Nemisz, Krys Kolanos and Lance Bouma). In addition, Niklas Hagman, Brendan Morrison and Rene Bourque were shipped out (via waivers and trades) and Blake Comeau and Mike Cammalleri were brought in. That's a lot of new faces in the locker room.
There has been so much turnover all season long, so it seems prudent for Feaster to elect for some stability. Plus, it might not be the best idea to trade roster players while the team is still waiting for some of its six injured regulars to return to the line-up, which itself will have the impact of a major trade.
THE FUTURE
As much as the Calgary Flames are concerned with success this season, they're always looking to next year and what kind of team they'll be able to ice.
Between the NHL and AHL rosters, the Flames have 21 pending free agents.
Unrestricted: Scott Hannan, Cory Sarich, Olli Jokinen, Lee Stempniak, Tim Jackman, David Moss, Tom Kostopoulos, Pierre-Luc Letourneau-Leblond, Raitis Ivanans and Guillaume Desbiens
Restricted: Leland Irving, Jordan Henry, Brian Connelly, Blair Jones, Paul Byron, Mikael Backlund, Blake Comeau, Logan MacMillan, Akim Aliu, Ryley Grantham and Stefan Meyer
Let's say that the Flames are going to trade some of their pending unrestricted free agents. Arguably Jokinen would net the best return, but he's got a no-trade clause and is having arguably his best year ever with the Flames. Even if you wanted to trade him (and whether that's a smart move is definitely doubtful), he has to approve the move. Beyond Jokinen, Backlund, Moss and Stempniak are all injured, so they're off the table.
It's entirely possible that Scott Hannan or Cory Sarich could be nice rental players for other teams, as would Tim Jackman and Tom Kostopoulos. The next question is whether the Flames have anybody on the farm (or on the current roster) who could replace their minutes going forward – young Lance Bouma may be a candidate, as would defenders T.J. Brodie, Clay Wilson and Derek Smith, all of whom are under contract for next season.
Finally, the Flames are very high on graduating junior forwards Sven Baertschi, Max Reinhart and Michael Ferland. All three will likely be given chances to make the big club next season, which means the team will need to have roster spots and cap space to potentially accommodate them. Baertschi's cap hit alone is $1.5 million.
THE VERDICT
The Flames have already made their big moves this season, adding Mike Cammalleri. The rest of Calgary's big-ticket players have no-trade deals. Most of Calgary's most alluring pending free agents are either injured or have no-trade deals. The team is still in the playoff mix and will probably merely wait for their injured regulars to return to the line-up in March to give them a boost.
That said, if the Flames make some moves, they will likely make smaller, lateral moves. The team has a bunch of defensemen under contract for next season and probably won't be averse to swapping one or two veterans for draft picks or prospects, as they did when they traded Brendan Morrison to Chicago.