The Chicago Blackhawks have made a surprising trade during the usually quite All-Star break as they acquired centerman Brendan Morrison from the Calgary Flames in exchange for young defenseman Brian Connelly.
Morrison has been limited to 28 games this season after undergoing ACL surgery during the offseason, an injury that he suffered against the Blackhawks on March 2nd. During that game it was believed that some of the 'Hawks players were "chirping" him as he went off the ice but Morrison, during a conference call tonight stated it was a dead issue.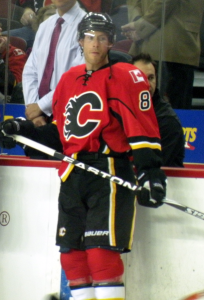 In those 28 games Morrison has scored 4 goals and added 7 assists, surprisingly which was 7th amongst the Flames in scoring. Although Morrison is 36 and on the down side of his career he is still a solid veteran center who can contribute in the top nine forwards of most teams. As proof, over the past two seasons Morrison has been able to contribute 85 points in only 140 games.
Now Morrison has struggled this season with injuries and hasn't been able to see as much ice time in the top six as he has in the previous seasons but with the jump in talent that he will have with the 'Hawks and likely jump in minutes we should see his numbers rise.
It looks as though Morrison will be given the chance to play in the 'Hawks top nine either as the second or third line center depending on what role they want to place upon Dave Bolland. Either way the 'Hawks have improved their depth at the center position, an area in which they sorely needed it but even with the acquisition of Morrison the 'Hawks are still likely to make other moves.
By acquiring Morrison now it gives them some time to see if Morrison can be an impact player for them in the top nine and if he does not show signs of that in the 14 games leading up to the trade deadline they have a chance to add another piece.
Even with another forward added to the roster the 'Hawks most glaring need, defense is still to be addressed and with Morrison only costing the 'Hawks a $850,000 cap hit the 'Hawks should have plenty of room to add an impact defenseman to the mix and possibly another depth player if necessary.
For now however we will see how Morrison fits into the 'Hawks lineup and hopefully can be a solid contributor in the 'Hawks top nine as well as in the 'Hawks dressing room.