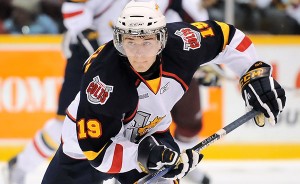 Welcome to The Prospect Panel. Each week, three of our prospect writers will be answering your questions, as well as some that many people will be wanting to have answers to very soon. In The Prospect Panel there will be discussions of all things prospects, whether they play in the NHL, CHL, NCAA, AHL, Europe, or anywhere else. This is our third edition of the column, and this week our three prospect panelists are Shawn Reznik, Andrew Sykes, and myself, David O'Connor.
Who is the best NHL Draft prospect currently playing in the NCAA or USHL?
David O'Connor: The easy answer here is to say that Jacob Trouba is the best prospect. However, easy isn't always fun, so I'm going to pick Zemgus Girgensons as the best draft prospect currently in the USHL. He's a big Latvian forward who, at 18, is already captain of the Dubuque Fighting Saints. In 26 games this season, he's put up an impressive 31 points, including 18 assists. Girgensons is considered as "a beast" to many scouts, thanks to his big frame and goal-scoring ability. He's committed to play for the University of Vermont Catamounts next season.
Andrew Sykes: The best draft prospect playing in the NCAA or USHL is U.S. Development Team defenceman Jacob Trouba. The Rochester, Minnesota native could lay claim to being the best draft-eligible defenceman period but will likely be selected after the likes of Mathew Dumba and Ryan Murray. In comparison, Trouba has a similar skill-set to that of his fellow draft prospect Ryan Murray in that he is very solid two-way defender with good size and excellent mobility. As a 17-year-old for the U.S at the World Junior Hockey Championships, Trouba was one of the most noticeable blueliners on the squad despite not being given the minutes that his older teammates were given. He looked very poised with and without the puck, handled himself physically and as was previously mentioned, proved to be an excellent skater.
Shawn Reznik: From my Top 60 Midseason Rankings: Team USA was marred this year in the WJC, but Trouba was one of the very few bright spots.  He played a very simple, yet physical, game, and I thought he was the best player Team USA had at any given point throughout the tournament.  It isn't easy for a young kid (with no prior experience) to make the team and outwork the veterans — however Trouba managed to do that.  A big body, that he isn't afraid to use, Trouba is great on both sides of the puck.  Extremely quick for a big man, Jacob Trouba is one of the better all-around defenseman in this draft.
Who do you see being the first goalie selected in the 2012 NHL Draft?
David O'Connor: At the moment, I can't see anyone but Malcolm Subban being the first goaltender chosen in the draft. Yes, Andrei Vasilevski skyrocketed on to many people's first round charts over the Christmas holidays, but I do believe that teams will play it safe and pick a North American goaltender over a Russian. That is of course, if they feel the need to pick one in the first round. Subban has been having a great season with the Belleville Bulls so far. Through 19 games played, he's holding a 1.93 GAA and an extremely impressive .938 save percentage. Expect his great play to continue throughout the remainder of the OHL season.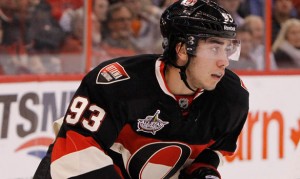 Andrew Sykes: This is a tough call as the difference in talent level between goalies is always a challenge to distinguish. Even given the fact that he is a Russian playing in the KHL, I think the first goalie chosen will be Andrei Vasilevski. The 17-year-old was easily the most impressive goalie at the WJC's and his performances boosted him to the top spot in Central Scouting's mid-term rankings for European netminders. Aside from a third period meltdown against Canada in which he could hardly be blamed for, Vasilevski looked every bit of a future star goalie and it would be worth the risk of taking him.
Shawn Reznik: In my Top 60 prospect rankings, I ranked Oscar Dansk above Malcolm Subban, as I feel Dansk will be the better goalie.  Be that as it may, I think Subban will be the first goalie selected in the draft.  He has had tremendous success with Belleville, playing behind a powerful defense, which includes his younger brother, Jordan Subban.  If there is a team that needs to replenish its goalie prospect pool, Subban will be a good fit in the 2nd or 3rd round.
Do you believe Mark Scheifele and Mika Zibanejad will stick around with the big club next season?
David O'Connor: There's a pretty good chance Scheifele will be playing full-time for the Winnipeg Jets next season. If, for some strange reason, the Jets do decide to send him back to the Barrie Colts, it will only stall his development. He's averaging well over a point per game right now, and I don't see too many transition problems arising for him next season. Zibanejad is different story. With Ottawa at the start of the season, he didn't appear to be all that ready for the NHL, so they sent him back to Sweden to play for Djurgården. However, it's not exactly like he's tearing it up over there either, as he has just 7 points in 14 games. Getting icetime is a bit of a struggle for young players in the Swedish Elite League, so I won't judge him quite yet. But I wouldn't put my expectations that high for next season either.
Andrew Sykes: I for one thought that Zibanejad could have easily stayed with the Senators this year and went on to have a good rookie year. I don't think management had any problem with his play in his nine games with the team but figured it would be the best for his development if he played at least one more year in the Swedish Elite League. In helping lead Sweden to the World Junior gold medal by scoring the overtime winner, Zibanejad looked like a future NHL star and should become a Calder trophy candidate with Ottawa next year.

Shawn Reznik: Yes, both will be staying here.  But, I do think that most of their playing time will be spent in the AHL, honing their skills to be impact players in the NHL.  The Jets and Senators are in no position to be rushing their top prospects into such prominent roles just yet.
Will Ryan Ellis be able to have a lengthy career, or will his size limit his potential?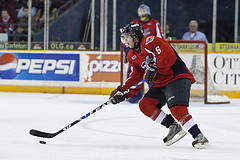 David O'Connor: Personally, I'm a huge fan of Ryan Ellis, and have been since he was a young blueliner with the Windsor Spitfires. As a result, I hope he has a great career, and based on what I've seen from him so far, there's a good chance that he will. The only thing stopping him is his size. At 5'10", 179 pounds, he's certainly smaller than your average defenseman. However, based on that big-time hip check he gave to Wayne Simmonds, he apparently isn't afraid of physical contact. Ellis has seven points in fourteen games with the Nashville Predators, and is looking like he could be around for many years to come.
Andrew Sykes: Ryan Ellis will absolutely have a lengthy NHL career and could very well become an all-star defenceman in the next few years. Many point to his lack of size and top-end speed but his ability as an offensive defenceman is what puts him on another level. With seven points in his first 14 NHL games, Ellis is already putting to rest the notion that he is too small to survive in the NHL. His offensive arsenal is comparable to some of the great offensively minded defenceman of the past such as Brian Leetch and Brian Rafalski and in today's game his is reminiscent of the likes of Dan Boyle and Kimmo Timonen. The fact the he will get to play alongside a guy like Shea Weber on the powerplay will also be a major boost for Ellis and should make life easier for him in his own zone.

Shawn Reznik: I have never been a big fan of Ryan Ellis.  I don't know the exact reason why.  Perhaps it is because he played on a stacked Windsor Spitfires team.  Maybe it was him playing for Team Canada…I'm American.  I have some bias. I don't think it's his size so much as his game that will hold him back.  Ellis has thrived on his offensive skills for most of his career in juniors, and it has given him many accolades (all very well deserved), but not everyone is a Mike Green reincarnate.  Having a good height/weight ratio is important in the NHL, but it hasn't stopped small players from making a name for themselves.
__________________________________________________________________________________________________________________
Here at The Prospect Panel, we're always looking for your questions to answer. So if you have a question, shoot it off to either me or one of our other panelists. There's a good chance we'll answer it for you in a future edition of the column.
David O'Connor is a managing editor with the Sunbelt Hockey Journal. His writing has been on the Los Angeles Times' website, among other places. O'Connor also does some scouting work for the local Junior B hockey club. Please feel free to contact him at davidoconnorhockey@gmail.com.