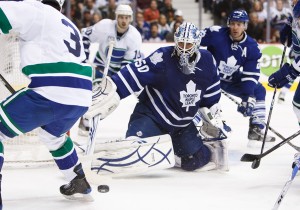 Name: Jonas Gustavsson
Position: Goalie
DOB: October 24, 1984
Birthplace: Danderyd, Sweden
Drafted: N/A
Height: 6'3″
Weight: 192
Jonas Gustavsson took one of the least likely routes to the National Hockey League. An undrafted goalie out of Scandinavia, Gustavsson may have paved the way to the NHL for others just like him. It all started with the Swedish hockey club Allmänna Idrottsklubben─better known as AIK─in the year 2000.
Gustavsson didn't have his best season during his first year with AIK, although he was only 15 years old at the time. In 12 games, Gustavsson managed a goals against average of 3.78 and a save percentage of .856. He did, however, rebound the following season with a 1.78 goals against average and a .932 save percentage.
He battled inconsistency for much of his time with AIK as he shuffled through different age levels and leagues with the team. His best season came in 2004-2005, perhaps better known as the year that the NHL went through its most recent lockout, when he posted a 2.50 goals against average and a .928 save percentage in 20 games while playing Division One hockey with AIK.
After seven seasons with AIK across various levels of hockey, Gustavsson made his way to Karlstad, Sweden, were he joined the most successful Elitserien club of the 21st century, Färjestad BK.
It was with Färjestad that Gustavsson played some of his best hockey and it's where NHL scouts really began to notice him. He played in a total of 62 games over two seasons with the team, posting a 2.40 GAA and a .919 save percentage in his first season, followed by a 1.96 GAA and a .931 save percentage in his second season.
By the time he was finished with Färjestad, Gustavsson had just about every NHL team calling him with contract offers. He eventually dwindled his options down to the San Jose Sharks, Colorado Avalanche, Dallas Stars and the Toronto Maple Leafs and chose to sign with Toronto in July of 2009.
The only question was if the man people referred to as "The Monster" would be able to translate Elitserien success into NHL success.
During his first season with the Maple Leafs, Gustavsson fared relatively well with a record of 15-16-9, a GAA of 2.87 and a save percentage of .902 in 42 games. Things didn't go quite as smoothly for Gustavsson in his sophomore season, though.
Gustavsson's poor play during his second year in the league combined with the surprising emergence of rookie James Reimer eventually led him to the Toronto Marlies, the Leafs' American Hockey League affiliate. He regained his confidence with the Marlies, but Reimer held his starting job for the remainder of the NHL season.
This year has been a completely different story for Gustavsson. In what has been described as a make-or-break season for the 27-year-old, Gustavsson has really come through. He managed to hold down the fort while Reimer was out with a concussion during the first half of the regular season and now owns the number one job.
Only time will tell if we are seeing the real Jonas Gustavsson, or if this is just another hot streak.