As we hit the All-Star Break, there's hope in Toronto for the playoffs. After 49 games, the Leafs sit 9th with 55 points. That 92 point pace, which would be the team's highest post-lockout total, may not be enough to qualify for post-season. That uncertainty, with a month left until the trade deadline, and Brian Burke's well-known penchant for making trades, means speculation is high there will be changes made in Toronto.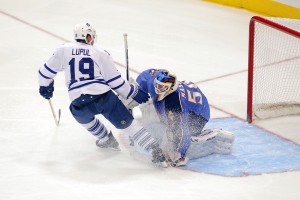 The post-lockout playoff drought must be rectified if Ron Wilson, and perhaps Burke, are to stay employed in Toronto. The Leafs have improved, but there's still holes in the roster. There's a stockpile of young goalies in their system, but no NHL veteran, and the jury is still out on whether Reimer or Gustavsson are truly big game netminders. Similarly, there's quite possibly 11 NHL-capable defensemen in Toronto's system, though the Leafs have seemed to want for a consistent, stay-at-home, shut-down pair at times. Up front, Kessel and Lupul have carried the offence, and Grabovski and MacArthur seem to be finding the net lately, but depending on who is answering the question, the team needs a top-flight centre, a big-body winger who can score, and/or upgrades in the bottom 6. Add to that, Burke has acquired a cache of prospects. Except for the thorny matter of cap-space, it all adds up in the minds of observers: the Leafs could, and maybe should, be shopping for a relatively big-name player. The Leafs should be buyers, not sellers. Think in terms of the Beauchemin-for-Lupul-and-Gardiner trade. Basically, improve the roster, with players who can help not only now, but for years to come.
Mention any 'big name' and someone has an opinion as to whether the Leafs are interested, should be interested, and how to make it happen. That's the nature of a market where last week's games are available on TV at 4am. But in trying to figure out who can be acquired, one must look at what can be offered. Fans have their favorites, those they hope won't be sent the other way. But to get quality, you must be willing to give, and Burke knows that.
So what are the most likely options for Burke?
Goaltenders: Leaf management have maintained that James Reimer and Jonas Gustavsson are 'the guys'. Reimer was given a 3-year contract in the off-season, and named the starter. A concussion sidelined him, opening the door for Gustavsson, who has played well and assumed the starter's role. The Monster is an unrestricted free agent at season end, and there's been no talk yet of an extension. It's very unlikely either will be dealt. The franchise has 4 prospects in Ben Scrivens, Jussi Rynnas, Mark Owuya and junior Garret Sparks. But the situation at goal is not strong enough to deal one of Reimer or Gustavsson and then employ a prospect as back-up, not if playoffs are the goal. The only way Reimer or Monster get dealt is if Burke secured a proven NHL goalie, and preferably one with a decent track record, coming back to Toronto. However, dealing one of the prospects is possible if it rounds out a package to land an upgrade at forward.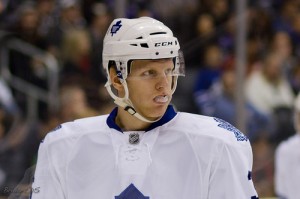 Defence: Fair to say the defenders could be grouped into categories. Category 1 includes John-Michael Liles, Dion Phaneuf, Jake Gardiner and Cody Franson. Liles' recent signing, Phaneuf's improved play and captaincy, and that Gardiner and Franson have played quite well (and were coveted by Burke and recently acquired) means these are very unlikely to be included in any deal. Category 2 are two defenders Burke would prefer not to move, Carl Gunnarsson and Luke Schenn. Gunnarsson is an attractive player, a big-minute defenseman with some offensive ability, only 25, with 2 years left at under $1.5M, and an RFA. Schenn has struggled this season, but at 22 years old, and 4 years remaining at a manageable cap hit of $3.6M, he's also garnered a lot of interest. The trouble is, these are exactly the kinds of players Burke would want on his team, young and capable, and in controllable contracts. Category 3 is Mike Komisarek. The bottom line on Komi is he's not terrible (in fact he's improved this season), but his $4.5M cap hit is a sore spot, especially since he has not provided the tough, solid defense people expected. If Burke can find a buyer, the cap relief alone is enough to see him moved. Category 4 includes Keith Aulie, Simon Gysbers, Korbinian Holzer and Juraj Mikus, 4 defenders who are all RFAs at season end. These players have toiled with the Marlies for the most part. Aulie in particular has had a rough year, but a case could be made that each is ready to assume a 6-7 defenseman role in the NHL. In fact, if one of the top-6 defenders were dealt, it would not be a surprise to see one of these guys with the Leafs. It means Burke has 11 potential NHL defensemen, and if there are deals to be had, it's where the greatest depth exists. To make big improvements, it will likely take at least one of Gunnarsson or Schenn.
Forwards: Among the forwards, 2 guys won't be dealt: Phil Kessel and Joffrey Lupul. Their performance this season, and that Burke specifically made deals to get them, means neither is going anywhere. Burke's deadline acquisition from last season, Joe Colborne, is developing and probably in Toronto's plans going forward. Everything else is fairly wide-open. Certainly, some players are more attractive as trade bait than others. Among them, Nikolai Kulemin. True, Kulemin has had a down year compared to expectations, but at 25, an excellent two-way player, and an RFA at season end, he could spice up any potential deal. Also attractive would be Mikhail Grabovski – a pending UFA, streaky, but on pace for another 55+ point season, and could be a decent rental to a team with Cup aspirations. Among the interesting options, Burke's first draft pick, Nazem Kadri, has played well this year both in the AHL and with the Leafs. Kadri would likely bring the highest return, though a player like Tyler Bozak has shown some offence, and could be of interest. Veterans Matthew Lombardi, Clarke MacArthur and Tim Connolly could garner some interest from Cup contenders looking for veteran help, though all carry baggage in the form of injury trouble, lowered performance and contracts with years and cap hit remaining. Who would be sent in a deal? Management needs to make a decision weighing Kadri's potential versus what he may be worth to another team. A decision also would be made on Grabovski, if he is in the plans going forward. What would be unlikely would be any kind of panic move, which is why no one will be sent off as a salary dump.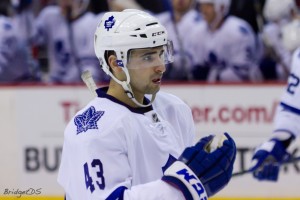 On TSN 1050 Radio, NHL Insider Darren Dreger, in talking about the Leafs, said "If Burke is going to make an impactful deal, then he's going to have to give away potential, and that's Nazem Kadri, Luke Schenn, players like that… Otherwise, you're tinkering." Indeed, it's more than plausible that Kadri and Schenn would garner the most interest, and reap the highest returns, from the Leaf roster. Whether they are actually included in a deal, that would depend on whether Burke believed he was truly improving his squad.
Further, the deal must fit within the Leafs' current salary cap situation. According to capgeek.com, the Leafs have projected cap room enough that at the deadline, they could acquire the equivalent of $2.879m of full season salary (ie., 1 player who makes $2.8/year, 2 who make $1.4M each, etc.). However, as of now, the cap space is about $1.7M, meaning a deal now is more limited, unless of course Burke is able to move a large salary. Moving Komisarek, an older, expensive piece from where you have the most depth, would work best… if not for Komi's limited no-trade/no-movement clauses.
The bottom line is that with the exceptions of Reimer, Gustavsson, Phaneuf, Liles, Gardiner, Kessel, Lupul and Colborne, any Leaf or Marlies could be in play. Burke is not afraid to make a trade to correct an issue or improve his team. Kris Versteeg was not working out as hoped, Burke found a trade to get draft picks. He traded Francois Beauchemin (one of his guys from Anaheim) and took a chance Lupul and Gardiner would perform in Toronto. But the key is, any deal Burke makes, he must feel his team will be improved (which does not necessarily mean the other team is diminished). There will be no panic move, no package of prospects in return for a veteran on the downside of his career. If the deal is not there, it's simply not there. If the GM calculates correctly, LeafNation could be looking forward to seeing their boys in Blue and White hitting the ice during the second week of April 2012.