Tampa Bay GM Steve Yzerman announced that he's asked Pavel Kubina to submit a list of five teams he'd agree to play for – if a trade can be arranged.
The 34-year-old defenseman's contract pays him $3.5 million in 2011-12, and he will be an unrestricted free agent on July 1.
It's critical to note that any team that adds Kubina to their blueline will only be on the hook for roughly $1 million worth of salary and cap hit.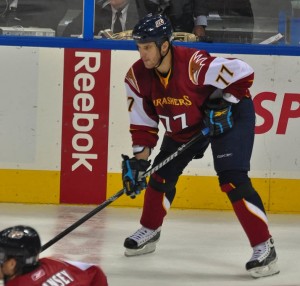 New York Rangers, Others Interested
The Rangers have been (tenuously) linked to Kubina, but considering the year they're having one has to think that the Rangers will likely be on Kubina's list. More importantly the Rangers have the cap space to grab Kubina, with almost $5.5 million in space immediately, and with almost $7 million by the trade deadline on Feb 27.
What other teams may have cracked the five-team list?
Typically, players, especially older ones like Kubina, prefer to be dealt Ray Bouque-style to a contender. Kubina has lifted the Stanley Cup (with the Lightning in 2004), but no doubt would like another dance with hockey's most famous silverware.
The Lightning will likely want him out of their division – especially considering that the Southeast's execution may be on hold.
Teams that have reasons to upgrade their defense include the
-Chicago Blackhawks with a 3.00 goals-against per game average (27th in NHL), a penalty-kill rate of only 77.8% (27th), and loads (around $20 million) of cap space;
-Philadelphia Flyers with a 2.93 goals-against per game average (23rd in NHL), have allowed 44 goals while trying to kill off a penalty (29th), and have $5 million in cap space; but
-not the Toronto Maple Leafs, who, despite the need for defensive help and have enough cap space, aren't likely to take back their former d-man. Not "truculent" enough.
This wouldn't be Kubina's first trip out of Tampa. He signed with the Toronto Maple Leafs in 2006, after leaving the Lightning as an unrestricted free agent.
With center Dominic Moore sent to the San Jose Sharks, the seal is broken in Tampa and it's likely that Kubina won't have to wait long to learn where he's headed.