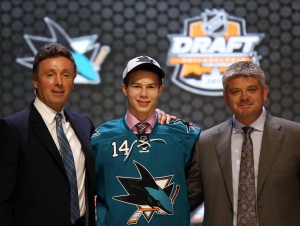 Wilson Waiting in the Weeds?
With the way 2014-15 has gone for the San Jose Sharks, making a trade deadline splash probably isn't the wisest move. While personnel decisions clearly show a Sharks team in limbo between winning now and building for the future, the latter should be the focus. Key injuries, slumping stars, and the same old unreliable postseason goaltender make it difficult to envision the Sharks breaking through this year. However, Sharks GM Doug Wilson is known for wheeling and dealing. In more recent years he has made his big trades during the summer (Dan Boyle 2008, Dany Heatley 2009, Brent Burns 2011). Previously though Wilson traded at the deadline for Bill Guerin in 2007 and Brian Campbell in 2008. Since acquiring Burns on draft day in 2011 Wilson has been rather quiet on the trade market. Picking up Raffi Torres at the 2013 deadline could be seen as a "splash" but basically Wilson has stayed out of the water since 2011. That said, he might just be due for his next cannonball before the deadline.
Nobody ever sees the Sharks' big trades coming, that has been a staple of Wilson's run as GM. He is widely considered one of the best at his position primarily because of his ability to swing deals in his favor. Considering he annually falls flat on his face in free agency, he has had to be terrific in the trade market to retool his squad and fix holes. They didn't work out in a Stanley Cup but at the time in 2011, picking up Ian White was a terrific add and in 2012 Dominic Moore was a needed role player. These certainly weren't splashes but further evidence that Wilson has made a number of quality pickups over the years. This season the Sharks are clearly in need of a shot in the arm to their offense. With Brent Burns returned to the blue-line the Sharks haven't replaced the gaping hole he left in the top-six. Given the major organizational preference to keep him on defense, acquiring a top line scoring winger would be the preferred target (although as you'll see below another center could work).
Non-Rental Options
In recent weeks we took a look at some possible pending free agent trade options that would be splashes. What about non rentals? Wilson has been adamant about not wanting to trade young players but perhaps trading young players for established young players is a possibility. Everyone knows about the two young wingers up in Edmonton and the trade rumors swirling around them. Taylor Hall and Jordan Eberle would each cost an arm and a leg but it wouldn't be impossible for Wilson to swing something. The Sharks have a top defense prospect in Mirco Mueller and a top forward prospect in Nikolay Goldobin prime to make big impacts next season. Trading both is highly unlikely though and the Oilers are best served waiting to make that kind of move come the summer time.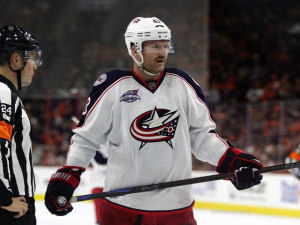 In reality, there is little hope for Sharks fans to see Hall or Eberle come to town. The Sharks have top prospects but other teams have more to offer up and can do so without having to empty their proverbial farm. A more likely deadline splash for the Sharks could see them going for a much older target but in the case should also be much cheaper. Fair or not, the Sharks have always had a label of being a team you could push around. Well, a veteran top six option that brings plenty of nasty is Columbus Blue Jackets' winger Scott Hartnell. A surprising trade last offseason sent Hartnell from Philadelphia to Columbus. The Blue Jackets have had a down year after making the playoffs a year ago. Hartnell is a guy that could help them in the immediate years but chances are they are still a few years away from making a real run. If they could turn the 32-year-old winger into some help for the future, that would be a wise move. For the Sharks if they could get a top-six player under contract without having to give up their marquee prospects, then it would be feasible. Perhaps young players with potential like Barclay Goodrow and Chris Tierney along with a second round pick would be fair return for a guy like Hartnell. That is definitely more than R. J. Umberger would have fetched Columbus.
Another more realistic option would be to go after Colorado Avalanche center Ryan O'Reilly. Despite losing Paul Stastny to free agency last offseason, rumors have the Avalanche willing to part ways with another top center. O'Reilly is known for a strong two way game and could slide in perfectly to the third line center spot that the Sharks struggle with. San Jose seems completely against moving Pavelski back to that spot (where he has crushed opponents in recent years), so trading for O'Reilly would make sense. While O'Reilly hasn't been the same offensive force over his career as Hall or Eberle, he has scored at .73 points per game rate over the previous three seasons. Coming into 2014-15, O'Reilly had scored 139 points in 190 games from 2011-12 through 2013-14. The price tag would still be high but should be considerably cheaper than Hall. While the Sharks would probably have to give up top prospects Mirco Mueller, Nikolay Goldobin and a first for Hall, perhaps Matt Nieto and a first would do the trick for O'Reilly. The Avalanche center doesn't turn 24 until February and is under contract for next season. San Jose would get the impact player they need up front, while Nieto's speed should fit in quite well with Colorado speedsters Matt Duchene and Nathan Mackinnon.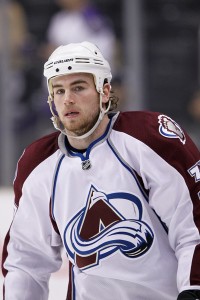 Melker Karlsson—Joe Thornton—Joe Pavelski
Patrick Marleau—Logan Couture—Tommy Wingels
Tomas Hertl—Ryan O'Reilly—Tyler Kennedy
James Sheppard—Andrew Desjardins—Barclay Goodrow
If Wingels can come back healthy for the playoffs, these forward lines could do some serious damage. However, giving up a first round pick in a deep draft with O'Reilly possibly wanting to test the UFA market in 2016 is a bit risky. Less risky than a half season rental but with injuries, a struggling blue-line, a snake bit Patrick Marleau, and no reliable postseason goaltender, win now moves just don't make a whole lot of sense for Team Teal. If guys like Justin Braun, Brenden Dillon, and Burns were all healthy and playing well defensively, then it would make more sense. But it is hard to imagine Antti Niemi backstopping a team this shaky defensively through four rounds. After all he has only put together two good series in a row once in his career. That was the 2013 lockout shortened season when he was a Vezina candidate. Outside of that, he has been downright awful in the playoffs. Even when he won the Stanley Cup with Chicago, he was only good in one series (against the Sharks). In 2011, he was one out of three good series, 2012 zero for one, and last year he was zero for one.
Every so often Wilson is good for a splash in the trade market and it has been a few years since the draft day cannonball that was Brent Burns. Personally, this season doesn't feel like the right time for Wilson to make a big trade but since we never see his deals coming, perhaps this is the calm right before the storm.