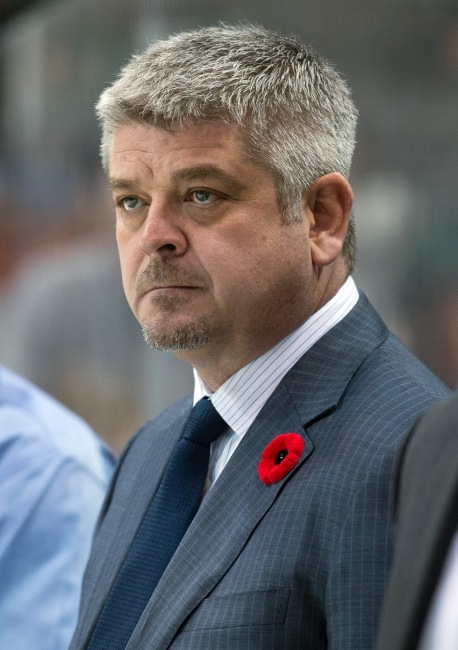 Where They Stand
For the past 11 years, the San Jose Sharks were one of the most consistent teams in the NHL and were deemed cup contenders for quite some time. They qualified for the postseason every year since 2004 and made three appearances in the Western Conference finals in that span. As a result, they hold the second longest active playoff streak in the league, behind the Detroit Red Wings. San Jose used to be considered a lock when it came to being in the playoffs. However, with a number of issues within the organization arising after a first-round collapse last year, the Sharks are questionable to participate in this postseason.
As of the All Star break, San Jose holds a 25-17-6 record and sits in second place in their division. While this may sound good at first, the team is dangerously close to being out of a playoff spot. The race in the Pacific Division is tight and only four points separate the second place Sharks with the fifth place Los Angeles Kings, who are out of a playoff position. With Winnipeg miraculously holding the first wild card spot and Calgary somehow being a competitive team and threatening to qualify for the postseason, the value of points in the standings have increased significantly. Four teams in the division– San Jose, Los Angeles, Calgary, and Vancouver– look to be battling for just three playoff spots.
Qualifying to compete for the Stanley Cup is not going to be easy, so if Team Teal wants to play in a seven game series then there are a number of things that they need to improve before the end of the season.
Be Good Against the Bad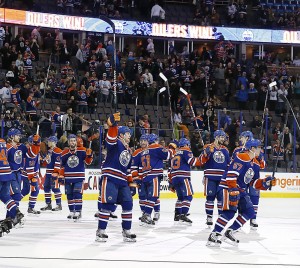 One of the troublesome traits of the Sharks is there disappointing record against teams that are currently out of the playoffs. When facing off against squads low in the standings, San Jose is just 13-8-3, which earns them 60% of the points available. As a comparison, they are 12-9-3 against clubs in a postseason position, which gives them 56% of the points possible. Strangely, those records are almost identical. In fact, had the Sharks lost to the Kings on Metallica night last week, the records would be identical.
What this means is that San Jose desperately needs to improve their play against weaker clubs. Teams like Edmonton, Buffalo, and Columbus should be relatively easy wins, but the Sharks are just 2-5-0 against them. Their play against tough teams is respectable, but their record against seemingly inferior squads is terrible when put into perspective. In a sport where every point matters, a team cannot afford to lose out on easy victories in the standings.
Should San Jose continue their current trend against teams both in and out of the playoffs, the club will finish with a total of 95 points. Last year, that would have been good enough for the final wild card spot by four points. However, in 2011-2012, that would have tied for the last playoff spot, meaning that regulation and overtime wins would have been the tie-breaker. It is unclear if this pace is sufficient for San Jose to make the postseason, but if they can improve their performance against lesser teams, then their chances at making the playoffs are significantly better.
Make Smart Lineup Decisions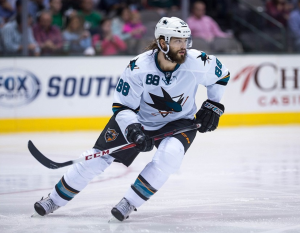 From the second management announced that Brent Burns would be moving back to defense to make up for the loss of Dan Boyle, Todd McLellan and Doug Wilson have failed to utilize an optimal lineup. They have made horrible choices at all positions and because of it, the Sharks are not the same threatening team they used to be.
Let me begin by saying that Burns is a terrible defenseman. He may be on pace to better his point totals from his career year last year, but his defensive skill is atrocious. In 69 games as a forward last season, the wookie was a plus-26 and had only 34 penalty minutes. But in just 48 games this year on defense, he has a subpar plus/minus of minus-6 and has racked up a total of 44 minutes in the penalty box. Burns is consistently out of position and requires the assistance of a competent defensive partner to bail him out when he makes ill-advised decisions. He is little more than a liability on the blue line and belongs on Joe Thornton's wing where he can pin opposing teams in their own zone.
Another frustrating aspect of McLellan's lineup choices is his preference to employ professional face punchers rather than skilled players. There is no reason why John Scott, who has as many points as Antti Niemi this year, should play over the likes of Tyler Kennedy or Barclay Goodrow. Scott, along with Mike Brown and Adam Burish, offer nothing beneficial for this team and should never see minutes in a San Jose uniform. Kennedy and Goodrow have proven themselves to be a productive part of the 12-man forward group, but  their head coach constantly elects to scratch them for traffic cones. When they play, San Jose is a deadly team offensively.
Trade For Another Top-Four Defenseman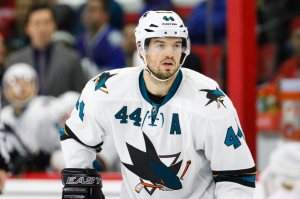 While the issue with the forwards is personnel usage, the problem with the defense is, unfortunately, just personnel. Marc-Edouard Vlasic is the only reliable skater in San Jose's defensive group as the other three defensemen in the top four– Justin Braun, Brendan Dillon, and Brent Burns– have each had their own issues this year. Braun has struggled on the blue line lately despite having an incredible season paired with Vlasic in the 2013-2014 campaign. He will also be out with an injury for the next few weeks. Dillon has been good at times but has made some questionable decisions and has been streaky throughout his short time in teal. And finally, Burns is not a defenseman.
If the Sharks can acquire another steady blueliner that can play in the top four, then they can accomplish two tasks at once. First, they can bring more skill and consistency to the top two pairings thus making it difficult for opponents' top lines to create scoring opportunities. As of now, Vlasic is the only man on San Jose's roster that is capable of effectively shutting down the best the NHL has to offer. Having another solid defensive defenseman that can anchor the second pairing could do wonders for the Sharks' play in their own zone.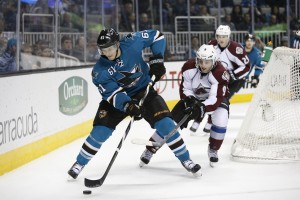 What this also does is allow McLellan to move another defenseman down the depth chart. Imagine a third pairing that features a former top-four man, such as Dillon or Braun, that can move the puck well and potentially help out a bottom six forward group that may be struggling depending on who is in the lineup. With a trade at the March second deadline, San Jose could have three solid defensemen each commanding their own pairing. No longer will fans have to suffer through the dreaded defense group of Hannan and Irwin. At the very least, the Sharks will have at least one stable defenseman on the ice at all times, allowing less experienced skaters like Mirco Mueller and Matt Tennyson to improve their skill and gain confidence when they're in the lineup. This is in addition to the improved offensive zone time and higher corsi numbers that would also come as a result.
Should San Jose make the necessary adjustments after the All Star Game festivities, they should have little issue making the playoffs for the 11th consecutive season. Even after giving up a 3-0 series lead in the last playoffs, this team can still be a threat to win Lord Stanley's Cup. Their window has not yet closed.