With no National Hockey League games scheduled last night, the news today centres on  rumours of player exchanges between several teams, with the slumping Toronto Maple Leafs front and centre.  Also, a Swedish player is about to make his NHL debut.
Leafs turned down Pappin deals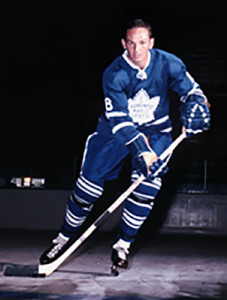 Globe and Mail writer D. Kenneth McKee reports that Toronto has turned down at least two trade offers for young right winger Jim Pappin in recent days.  Both the Bruins and Black Hawks apparently made solid offers which were rejected by Maple Leaf general manager Punch Imlach.
Bruins dangle Ab McDonald
The Bruins' offer was left wing Ab McDonald straight up for Pappin.  Talk of that switch has been floating around for weeks, but both sides had denied it was a consideration.  The deal made little sense for the Leafs, who aren't looking for another veteran who could be near the end of the road.  McDonald's production since being traded to Boston from Chicago last summer has been extremely disappointing, and with the troubles he has been having with groin injuries, which have a tendency to hang on longer than they should, Imlach isn't going to surrender a good, young player.
Hawks using Doug Robinson as bait
The Chicago offer was much more intriguing.  They are using young left winger Doug Robinson as bait.  Robinson is 24, a product of the St. Catharines TeePees who  had two very good American Hockey League seasons at Buffalo before making the varsity squad this year.  He has only scored two goals this season and has been a bit of a disappointment for the Hawks, but is still regarded as a top prospect.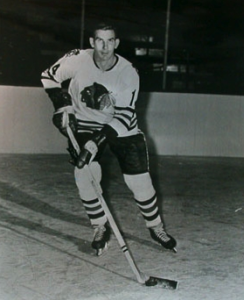 Imlach feels that Pappin, at 25, is farther along in his development and more of a sure thing.  So, he turned down the even-up offer of Robinson for Pappin and asked for young forward John Brenneman to be included.  Chicago general manager Tommy Ivan was not eager to let two young players go, and the talks have stalled at this point.
Leafs covet Hadfield
New York writers are reporting that the player Imlach most wants in a deal is Ranger left winger Vic Hadfield.  Hadfield is the type of rough-and-tumble forward with a scoring touch that would fit well in Toronto.  The Rangers would like to shore up their right side and are said to really like Toronto's veteran right winger Ron Stewart.  Stewart would give them a very solid third right winger who can also help out on defence as needed.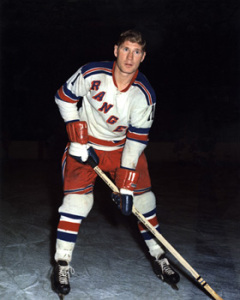 The problem for the Rangers is that Hadfield is only 24, while Stewart is 32.
Red Wings Jeffrey a target
Another rumour out of New York had the Rangers working on prying left wing Larry Jeffrey away from the Red Wings.  Talk was that New York had offered several minor league players, along with defenceman Don Johns off the big-league roster.  The Red Wings weren't biting on that.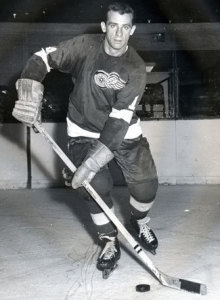 Word was that the Rangers, upon acquiring Jeffrey, would in turn swap him on to Toronto, possibly for Stewart, but those plans went awry when New York couldn't satisfy Detroit's demands.
Ballard: We're not desperate
Leafs' vice-president Harold Ballard said, "We don't yet have to deal in desperation.  Considering what we need, what's available and we'd have to give, I'd be more in favour of promoting a youngster in our own organization, like Brit Selby of Marlboros or Andrew Champagne of Tulsa.  There is no pressure on Punch Imlach to trade."
Rangers call up Ulf Sterner
Ulf Sterner, 23, will become the first European born and trained player to play in the National Hockey League when he suits up for the New York Rangers against the Boston Bruins on Wednesday night.  The Rangers recalled Sterner from Baltimore today of the American Hockey League today.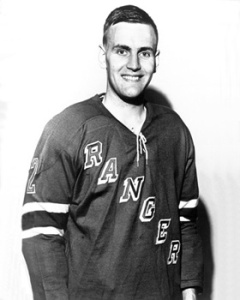 Sterner is described by Ranger general manager Emile Francis as "one of the finest passers in professional hockey."   Francis believes the youngster is ready to take the next step to the NHL.   He has been playing well with  Baltimore, where he has scored 10 goals and 12 assists in 28 games.
Ranger coach Red Sullivan says that Sterner will be used at both centre and on the left wing.
Sterner has discarded two pieces of protective equipment that he brought with him from Sweden.
"I brought a helmet and a tooth protector with me, but I haven't been using them.  The helmet is too warm, and the tooth protector – well I think maybe the people would look at it and say Swede go home."
Howe scores three – for Red Wing oldtimers
Gordie Howe was re-united with his former "Production Line" mates last night for an exhibition game that pitted the Red Wings oldtimers against the present-day Detroit squad.
Howe was lent to the oldsters for the game and delighted a crowd of over 12,000 by scoring three goals to give the oldtimers a 6-6 tie with the Red Wings.  He lined up on the right side, with Ted Lindsay on the left wing and Sid Abel at centre to remind fans of the Red Wings' Cup-winning glory days.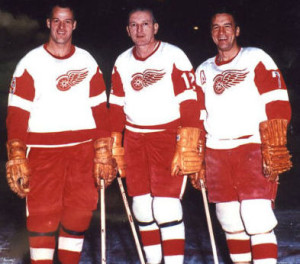 George Gee, Jimmy Peters Sr. and Bill Jennings also scored for the oldtimers.  Floyd Smith had two for the Red Wings, with Ron Murphy, Pit Martin, Eddie Joyal and Norm Ullman netting singles.
Smythe talks expansion
Stafford Smythe, president of the Toronto Maple Leafs, was talking with the Toronto Star's Milt Dunnell about the problem of excess players on the Maple Leaf roster when he was asked about expansion of the NHL.
Smythe was remarking that with too many NHL quality players, some should be sold off or sent to the American Hockey League.  Dunnell wonders why, with all these extra big league players around, the league just doesn't add more teams and expand to the west coast?
One of the knocks against expansion espoused by NHL president Clarence Campbell and others is that there are not enough big league players available to fill out the rosters of new teams.
"I've thought of that too," Smythe said.  "Personally, I'm of the opinion that qualified persons to operate NHL hockey clubs are the greatest lack, right now.  Money is available if the proper administrative personnel could be found.
"If they (West coast cities) made an application and put up a realistic price, I'd be in a receptive mood.  My guess is, they will not.  Contrary to what anybody says, that's all that kept Cleveland out of the NHL – failure to come up with the right kind of money."
Smythe declined to define what "the right kind of money" would amount to.