Slumping Braun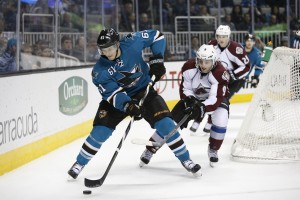 San Jose Sharks defenseman Justin Braun is known primarily for being a shut down defenseman. The 27-year-old seventh round draft choice from 2007 is more specifically known to Sharks fans as a quality two-way defender. Despite not seeing much power-play time this season, most of his time in San Jose has seen him on the second unit power-play unit with his knack for getting point shots through traffic. While not being Dan Boyle in his prime nor owning a howitzer slap shot like Brent Burns, Braun is still plenty active in jumping up in the play and creating offense. In fact, seven of his 14 points have come in his last 17 games. He's been getting on the score-sheet lately but his overall play in his first 24 games was significantly better.
Through the first 24 games of the season, Braun's Corsi-for percentage was around 51.5, only slightly higher than his current overall 50.5 mark, but Braun posted a much better rating through that point. Braun was a plus-eight through the first 24. However in the 17 games since he has turned in a minus-two rating. Despite playing alongside Marc-Edouard Vlasic most of the season, Braun is currently paired with Brenden Dillon as Sharks head coach Todd McLellan has shuffled his pairs for the last two games. Vlasic is now with Burns. The Sharks have won both games with the new pairs but Braun was noticeably caught sleeping defensively on a big goal against Minnesota. Nursing a one goal third period lead, Braun was guilty of staring at the puck and allowing the eventual goal scorer Jason Zucker to sneak in behind him unmarked for an easy tap in on a centering pass.
Back in December Braun made a similar gaff in a game against the Bruins that lead to Boston jumping out to an early 2-0 lead. Fortunately for the Sharks they won both those games but each could have very easily gone the other way. Boston rarely gives up 2-0 nothing leads and the Minnesota game went to overtime. Over the last few weeks, Braun seems just a tad off. It appears as if the American born defenseman is thinking a tiny bit too much and trying to force the issue.
While Braun's dip in effectiveness is noticeable, it is only a mild concern at this point. Perhaps McLellan will look to putting him back on the second power-play unit to get his confidence going. While Braun has been getting on the score-sheet lately, a couple of power-play points could do wonders for general confidence. Overall though, regardless of power-play time, Braun will eventually clean up the mistakes on the back-end and be his normal self again. Even defensively stout blue-liners have rough stretches of games defensively, it happens to everybody. They all go through slumps. Sooner or later though, and I'd bet on the former, Braun will return to his usual defensive dominance.
Andrew has been credentialed to cover the Sharks since 2010 and the 49ers since 2012. He graduated with his BA in Broadcast Electronic Communication Arts in 2013 from San Francisco State University.