The NHL's first star of the week, TJ Oshie, has been on quite the tear over his last 5 games, amassing 10 points (5G, 5A, plus-5) during that time, but it's not just Oshie who's stepped up recently (even though he did call a huge game for the club a day before the game in  Arizona). The entire Blues team has been clicking again after a slight lull in play over the past several games that saw the team gain 1 win, 5 losses, and 1 OT loss in a 7 game period from December 18th to January 2nd. Since then, the team has outscored their competition 13-2 and saw David Backes gain his 2nd career 4-goal game, showing that their communication is up, and their focus is back.
Is his new cereal the source behind TJ Oshie's up swing? Find out tonight on @KSDKSports at 5. #stlblues pic.twitter.com/hnzbIrVRks

— Rene Knott (@reneknottsports) January 8, 2015
TJ Oshie & the Blues Should Continue Their Winning Ways at Home
TJ Oshie and the Blues team can put that little stretch of questionable play in their rear-view now so that they can focus on the tasks ahead. This 7-game home stand is sure to test their grit and 'gumption' (as Darren Pang would say), with such opponents as past rivals Detroit and Toronto paying visits before current division rivals Colorado and Nashville come back to the Gateway to the West. This stretch should give the Blues some traction in the league, and should help them climb back to atop the Central Division by its conclusion as they have one of the best home records in the league (13-4-1).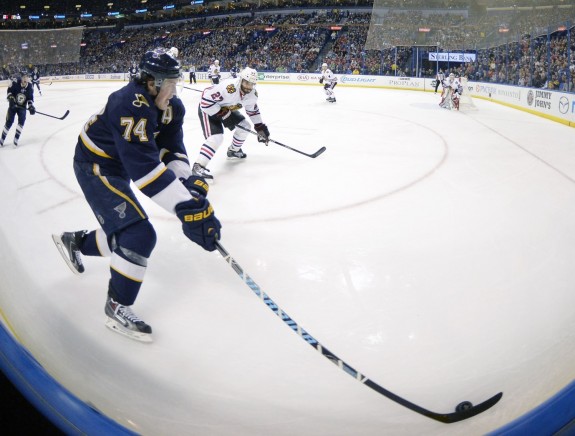 The team is facing San Jose tonight, which is a club still searching for its true identity after this summer's changing of the guards, when former captain Joe Thornton lost his 'C'. The Notes team exposed their lack of communication in San Jose last Saturday and will look to continue that trend tonight. It may be a bit tougher to put up 7 goals on the talented Sharks team tonight, but surely the Blues will keep the Scottrade Center electric tonight. After the intense battle with San Jose the team gets a little 'home town love' as the struggling Carolina Hurricanes and Edmonton Oilers will be the next 2 visitors.
These 2 teams have only combined for 55 points total (CAR has 28P: 12-24-4, and EDM has 27P: 9-23-9), and both sit last in their respective divisions. As most sports fans know, this doesn't mean an automatic 'W' but with the way the Blues are clicking, and how the problems have continued to mount for these sub-par clubs, one can only expect the Blues to steamroll 4 points away from the two clubs. Edmonton has given the Blues a little trouble in the single game they've faced-off so far this season, but look for the Blues to seek revenge for the Overtime win over the Oilers at the end of November. This team wants to show the league, and the world, how serious they truly are and will look to make a statement against these bottom tier teams.   
GAMEDAY! Here's to a repeat performance against the Sharks. Ride 'em @OSH74 @StLouisBlues #stlblues pic.twitter.com/lrleot9gzl — Hitch's Hat (@HitchsHat) January 8, 2015
Old and New Rivals End Blues' Home Stand
After 2 games against these types of opponents may make things interesting for the game against Detroit, but given the rivalry that existed between these two teams for so many years, the Notes club shouldn't have trouble regaining their composure and speed against a Red Wings team that seems to be in limbo this season. They are having a great year overall (53P, 3rd in the Eastern Conference), but with aging and ailing superstars like Henrik Zetterberg, Pavel Datsyuk, and Johan Franzen getting close to hanging them up, and with young guns like Gustav Nyquist not quite ready to take over full control yet it should spell out victory for the cohesive Blues unit.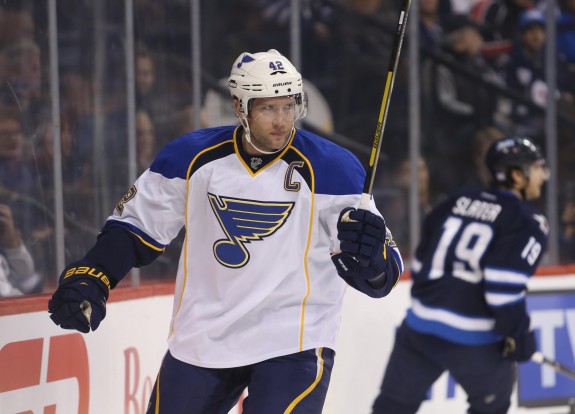 The next contest against the Maple Leafs will be a true test, as they should be coming out of their current 3-game slump and will want to make a statement themselves against the tough Western Conference power that is the St. Louis team. Look for this game to be chippy, and back and forth, but unless Jonathan Bernier plays and remembers some of the Blues' tendencies from his time with LA, the good guys should come out on top in this one. The team then shifts its focus to an up-and-down Avalanche team whom should keep the game close, but not close enough to get a win from the Blues squad, and finally, 10 days after the boys in Blue(s) battle division foe Colorado (All-Star break), a division showdown that could have 1st place implications will take place against the powerful Predators from Nashville.
This game will see more of what these teams have shown so far this season, a fast-paced, wide open affair that sees goals traded back and forth until the final buzzer sounds. This will be the Blues' true test over this 7-game home stand, and is also the last time these two teams meet this season, which makes getting 2 points even that much more important for both sides.
This is the Blues team that we've been missing. The last two games have been excellent. No surprise its when Jaden Schwartz returns.

— Randall Ritchey (@randallritchey) January 7, 2015
This Home Stand Could Dictate Blues' 2nd Half Success
This home streak should be chalk full of great hockey, and nonstop action, and as long as the Blues keep clicking, and communicating well they should see a record of 6-1 or 5-2 after it's all said and done. With Jaden Schwartz back in the line up the team looks to continue its recent dominance, and will also look to improve upon the recent special teams woes. Good thing the powerplay is a full 6.6% better with Schwartz playing, and the team also averages almost a full goal per game more with him in the game (2.42/game without him in, 3.12/game with him in).
The team seems to be beginning to gel near the half way point of this season, and every line is looking more and more cohesive, which is exciting news for St. Louis faithfuls. Look for this team to dominate the second half of this NHL season with more balanced team play (and scoring), and led by its veteran core of TJ Oshie, Alexander Steen, Norris hopeful Kevin Shattenkirk, Alex Pietrangelo, and of course the captain David Backes.
Like what you've just read? Follow me on Twitter: Follow @pep30