For the first time ever as a general manager, Doug Wilson made a splash in free agency this offseason. Newest Sharks Joel Ward and Paul Martin may end up declining by the time their contracts end, but they are both expected to be quality contributors for at least the next two seasons. The only other noteworthy free agents Wilson previously inked were signed to one-year deals: Manny Malhotra, Rob Blake and Jeremy Roenick.
While detractors will note Ward and Martin are both 34-years old, they are both coming off some of their strongest performances of their careers. Ward would have been better on a two-year deal and Martin on a three-year deal instead of three and four years respectively, but as they say, beggars can't be choosers. The Sharks acquired two important pieces in the two veterans. Their contracts are far better than some of Wilson's recent head-scratching contracts of the last five years.
 Re-signing Niclas Wallin for More Money
Niclas Wallin was an average defensive defenseman in 2009-10. He certainly wasn't anything amazing and his career was clearly running on fumes going into the 2010-11 season. Therefore, why Wilson elected to give Wallin, a player with eroding skills, a $775,000 pay raise from $1.725 million to $2.5 million is a mystery. Yes, one-year deals can sometimes see more annual salary than longer term deals, but rarely do declining and aging defensemen see significant pay raises.
This was a contract that befuddled many. Why not let Wallin walk, and use $2.5 million on a player with more upside? The Sharks were a terrific team in 2010 and 2011, making back-to-back trips to the conference finals. Howver, they were always a player or two short of their competition and Wallin was far from a difference maker. It is a deal that just made little sense to anyone outside of the Sharks organization.
UFA John Scott
This was a typical Wilson signing; an enforcer who offers no defensive value nor offensive value. A player straight out of the 1970s, a decade that Wilson seemed stuck in for quite a long time. Why bother signing Scott for the 2014-15 season when pure enforcers are a dying breed? Nobody knows. Sure the Kings have employed Kyle Clifford the last few years, but he at least has scored double-digit points in four out of five seasons in the league. Scott's "career year" of just four points this past season barely got him to double digits (10 points) for his entire seven-year career.
UFA Michal Handzus
Going into 2011-12, the Sharks were coming off a strong run to the conference finals with Joe Pavelski playing third-line center. Instead of keeping him there and rolling three deep lines, the Sharks decided to move him up to the Joe Thornton line and sign Michal Handzus to be third-line center. This was a colossal mistake.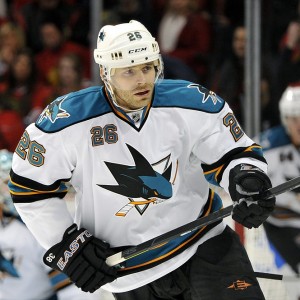 While Handzus was actually coming off an effective season with the Kings, a two-year deal for $2.5 million per year was a poor use of funds. Already in his mid-30s and no longer in his prime, the second year on the contract was the head scratcher. Signing him wasn't awful, but a one-year deal as a fourth-line center made more sense.
While the veteran center actually played decently at the start of the year, he never was a fit with the rest of San Jose's bottom-six. Outside a few good weeks with Jamie McGinn and Torrey Mitchell, Handzus simply didn't pan out. Just 24 points in 67 games in 2011-12 and then only two in 28 games in 2012-13 wasn't good enough.
Re-signing Mike Brown for 2 Years, $2.4 Million
For some bizarre reason, the Sharks gave up a fourth-round pick to acquire Mike Brown in the middle of the 2013-14 season. This in spite of the fact Brown brings no more value to a team than the average AHL tough guy. Sure, he got under the Kings' skin early in the playoffs, but like the rest of the team, he was nowhere to be found the last four games. Brown brings no discernible NHL offensive ability nor defensive ability. He occasionally looks good in the eyes of casual fans because he skates fast and delivers big hits on the forecheck. There is only one problem with that, though. Brown's forechecking ability proves useless when he can't do anything smart with the puck once he gains control except turn it back over. There are so many better players out there playing for at or around the same cap hit. Eric Fehr made just $1.5 million last year and scored 19 goals for Washington. Brown's cap hit is $1.2 million and he doesn't even have 19 goals for his entire career.
For a Sharks reference, there was a fellow small guy who used to fight and forecheck for Team Teal but one who actually had some skill attached. That would be none other than Scott Nichol. Nichol never signed for more than one year at a time with the Sharks and never for a million or more in salary. How in the world Nichol, a player with elite faceoff skills, some decent offense and defensive abilities, got less money than Brown is something that will bother me until the end of time. Brown can't hold a candle to the talent that Nichol had, yet he is paid more than Nichol was just a few years prior.
UFA Adam Burish at 4 Years, $7.4 Million
When most teams are making calls to the top free agents on July 1, Wilson signed fourth-liner Adam Burish on July 1, 2012. Coming off an inflated career-high 19 points with Dallas, Burish was, at his absolute best, a good fourth-line player. Nobody, not a soul in their right minds, signs a fourth-line only player to a four-year deal.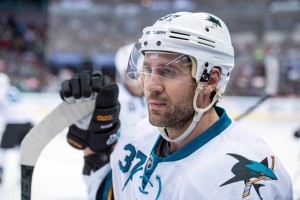 Burish's nearly $2 million per-year salary is the type of money that required 20 points of offense minimum over 82 games. Even if his role was more of a defensive-minded player, that type of money requires a much more consistent offensive game, something Burish never possessed. This contract was doomed from the start. Burish proved to be average at best on the penalty kill and didn't even fight very often, something his track record suggested he would do from time to time. So not only did he not score, but his "intangibles" didn't show up either.
In his first year with the Sharks, Burish chipped in a putrid three points in 46 games. Not even a six-point 82-game pace, when the minimum his contract suggested was 20 points. This was simply an awful return on the Sharks' investment. It was a poor return that many saw coming; it was only too predictable. In Burish's two full seasons with the Blackhawks, he failed to reach 10 points both years and in Dallas his points were inflated by playing with Jamie Benn.
A more appropriate deal for Burish would have been one-year, $1 million. Perhaps, at most, two-years for $1 million per season. Four years and nearly $2 million per year was an extreme overpayment. This stands as one of the worst free-agent contracts in the NHL the past 10-15 years.