Taking control of the San Jose Sharks hasn't been the easiest first job for their relatively new general manager Mike Grier. After half of a calendar year in the role, he has already been forced to make a few difficult decisions. His first order of business was trading away fan favorite Brent Burns during the summer.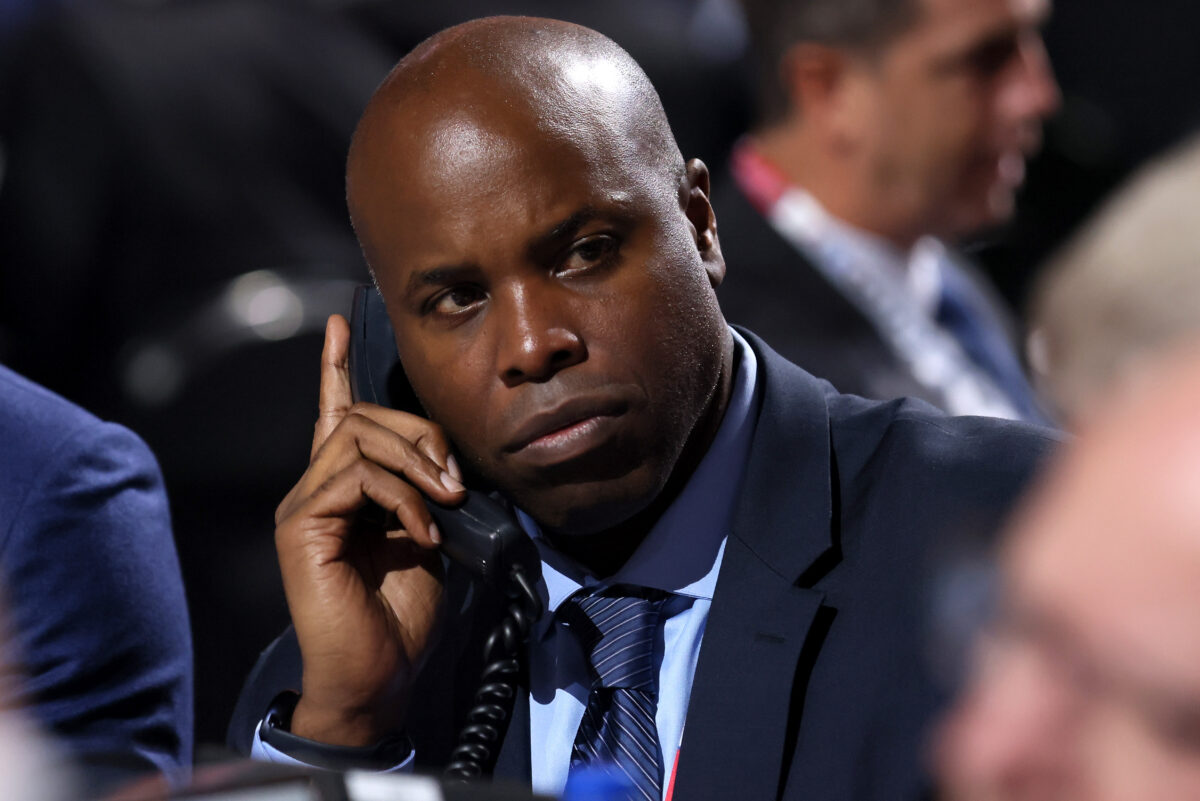 Since then, there has been constant trade speculation around the organization and Grier has essentially had a trial by fire immediately after taking the reins. He's handled it gracefully and has been able to make the most out of a very tough situation. He walked into an organization that had essentially no salary cap space with aging veterans that have underperformed in recent seasons. He brought in a new coach, David Quinn, made a few personnel changes, and has continued to make moves to benefit the organization both on and off the ice. 
Making Moves
Grier had to deal with quite a few rumors about the status of Timo Meier; however, on Sunday he finally made the highly anticipated move to trade the Swiss forward to the New Jersey Devils for a massive return that will benefit the Sharks' future. He likely has a lot more work to do in the coming days as well. Erik Karlsson, for example, has been linked to multiple teams and it's possible that one makes an inquiry on a forward like Logan Couture or even Tomas Hertl. If he can get a similar return for any of those players, it will speed up the rebuild process and allow there to be competitive hockey in the Bay Area sooner rather than later. The Sharks have always attempted to avoid rebuilding but it appears that Grier is deciding to take the road less traveled and build the team the right way, rather than trying to remain competitive when the current core appears to not have it in them.
Replenishing the Prospect Pool
It's always difficult to move in the direction of a rebuild in a market that has never really done so. The Sharks have always tried to be a competitive organization, and while winning the draft lottery and getting Connor Bedard may push them back into a retool rather than a full-on rebuild, the most likely scenario is that they add a different high-end prospect who will help them become competitive within three to five years. There's no doubt that moving in this direction is the best way for the team to compete for the Stanley Cup in the long-term future, even though it will result in a few more difficult seasons for them.
Related: Grading Devils' Blockbuster Trade for Timo Meier
---
Latest News & Highlights
---
With prospects like William Eklund and Thomas Bordeleau already in the organization as forwards, adding a big defensive prospect in Shakir Mukhamadullin is very beneficial to their fairly weak prospect pool. Nikita Okhotyuk is not quite at the same level as Mukhamadullin but he's certainly a solid blue line prospect as well. Adding a young roster player like Fabian Zetterlund helps the team in both the present and future. Most importantly, they got an extra pick in a very deep draft and can bring in a prospect who can turn into a future core piece of the franchise. The aforementioned Burns trade also helped the future of the organization, bringing in goaltending prospect Eetu Makiniemi who can potentially fight for the NHL starting job at some point in the future; however, it may be a few seasons before he reaches that level.
It's clear that Grier has decided which direction he wants to take the Sharks organization and it seems to be an accelerated rebuild. If he can do the same with some of the team's other valuable assets then they can go from an aging team to a young one fairly quickly. While he has a lot of work left to do, he's done a very impressive job so far in his tenure and is making the right moves for the long-term health of the franchise.
---
---