Dougie Hamilton won't remember today's goal."I usually blank out," Hamilton said after the game when asked about his thought process when trying to score. "I usually look for who's with me, not usually for a shot."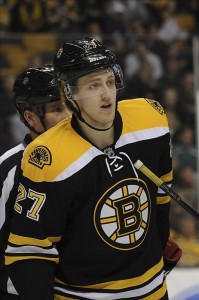 With a goal in each of his last two games, Hamilton is becoming exactly what the Bruins had envisioned when drafting the defenseman ninth overall in the 2011 NHL Entry Draft. Hamilton's second in as many games, also the Bruins' second goal of the night provided the Boston with some insurance on Saturday in their 4-0 win over the Edmonton Oilers.
After missing a stretch of ten games with a leg injury in December, and another four games with a concussion in January, Hamilton's two-way play has bolstered a Bruins blue-line that had been battling through injuries. He has six goals and seven assists for 12 points through 38 games, fourth among all Bruins defensemen.
"Just trying to have fun and jump in when I can," said Hamilton. "Sometimes they go in and sometimes they don't. I think it's all, like I said, luck. You're just trying to limit them defensively and then jump in when I can.
"When the opportunity is there, I try to take it."
Hamilton's goal was a display of strength, swooping down the corner in the Oilers zone to fire a shot on Ben Scrivens before collecting his rebound and scoring on the wraparound. It was similar to a play on Thursday against the Montreal Canadiens where once again Hamilton displayed stellar puck control and movement in the offensive zone. It speaks to the ability of his six-foot-five frame.
"I think I was trying to create a rebound today and it came right back to me," said Hamilton. "I knew the goalie was out of place and kind of down so I tried to wrap around.
Since returning from injury in last Saturday's matinee game against the Philadelphia Flyers, Hamilton has been on the Bruins' top defensive pair alongside captain Zdeno Chara. Hamilton has been able to hone his game a bit more under the tutelage of Chara, similar to how Seidenberg mentored Hamilton last season.
With Seidenberg out of the mix, Hamilton's role becomes even more important. If he's able to play top minutes on a nightly basis, while turning into a defenseman who can use his size to clear bodies out from in front of the net.
It helps that Hamilton has a nose for the net, too.
"I think we have obviously good skating defensemen that are all two-ways so it's pretty tough to defend against them," said Hamilton. "Other teams have to play against that. I think when we move the puck and when we move our feet, we're better as a team and get the puck out of our end a lot better."