The 2012 NHL Entry Draft is right around the corner, but it doesn't feel like a year has passed since Ryan Nugent-Hopkins was the darling of the 2011 draft day, getting selected as the first member of another deep and exciting draft class.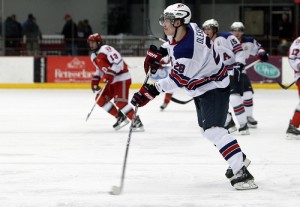 The draft has become a much-anticipated time for hockey fans in the internet age, as it's now easier than ever to follow the progression of hockey's future stars as they take the next big steps in their dream of playing in the NHL.
The science of prospect development, however, is far from an exact one: some players fail to live up to their draft status, while others skyrocket beyond expectations.
With that being said, here is a quick recap of the players drafted by the Dallas Stars in last year's entry draft, along with my personal grades for each selection, which are based on both the individual player's development over the year and how it's compared to other players that the Stars could have selected.
*Note: These grades are only an analysis of how good each pick looks as of right now. As mentioned earlier, a player's stock can rise or fall with each passing year.
D Jamie Oleksiak – 14th overall
-Notable following picks: Joel Armia (16th) and Nathan Beaulieu (17th)
When Oleksiak was drafted 14th overall it was primarily because of his size (6'7″), but his game  consists of so much more than just a big body. He skates incredibly well for his frame, has a powerful slapshot from the point, and possesses very strong hockey IQ, especially in his own zone. Had a great OHL debut last season, scoring 12 goals and finishing with a +31 in 59 games, although the highlight of his year was besting stiff competition and cracking the mighty Team Canada roster for the World Junior Championships. Oleksiak has the potential to become an elite NHL shutdown defenceman if he continues to develop properly, and could even become the next Zdeno Chara.
Compared to who else they could have selected at 14th, the Stars were looking very closely at Armia, and Beaulieu has been very impressive with the QMJHL powerhouse Saint John Sea Dogs, but there's very little to not like about the choice of Oleksiak.
Grade: A-
RW Brett Ritchie – 44th overall
-Notable following picks: Markus Granlund (45th) and Matthew Nieto (47th)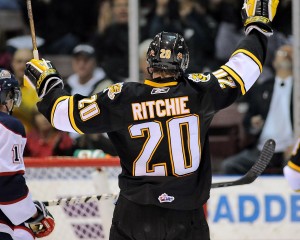 Ritchie has been one of Dallas' hardest picks to narrow down, which can be both a good and a bad thing: he's been inconsistent, yet versatile.  Big at 6'3″, he was thought primarily to be an offensive forward going into the season. He put up a disappointing 15 points in 23 games for the OHL's Sarnia Sting, but then scored 30 in 30 after being traded to the Niagara Ice Dogs. However, he countered offensive inconsistency with great defensive play, finishing the season at a +27. Won't likely ever find himself on the first line at the NHL level, but whether he settles into a 2nd or 3rd line player depends on which part of his game develops better, his offense or his defense. Could become a reliable power forward, great penalty killer, or none of the above.
The 2nd round last year was incredibly deep and balanced, as many of the picks following Ritchie show good potential but none are true home runs. Overall, it's still far too early to tell whether Ritchie was the best possible selection at 44th.
Grade: B
C Emil Molin – 105th overall
-Notable following picks: Michael St. Croix (106th) and Tobias Rieder (114th)
The Stars made an interesting reach by selecting Molin in the 4th round, considering he had received almost no mention in mock drafts or prospect reports before the draft. Small, quick and highly skilled, Molin dominated in Sweden's junior ranks the last two seasons before making the full time jump to Brynas of the Swedish Elite League ahead of schedule this year, scoring 5 points in 34 games with 4th line minutes. Has pure offensive talent, but might get held back in his development by his lack of physical strength and limited ice time.
Individually, Molin is an impressive prospect, but Dallas might regret selecting him before fellow small center St. Croix, who went right afterward. St. Croix had been widely projected as a 1st or 2nd rounder, and showed why this season, scoring 105 points in 72 WHL games and then 19 points in 2o playoff games as the Edmonton Oil Kings won the WHL Championship. Because of the stellar play of St. Croix, I've dropped this selection from a B- to a C+
Grade: C+
D Troy Vance – 135th overall
-Notable following picks: Darren Dietz (138th) and Max Friberg (143rd)
The best way to describe Vance is "Oleksiak Light." He plays the exact same style as Oleksiak, but is smaller (6'5″), not as capable offensively, not as good of a skater, and has worse overall hockey IQ. Put up a respectable +17 in 57 games for the QMJHL's Victoriaville Tigers, but only scored 24 points on a team where he was surrounded by offensive talent. Could develop steadily into a #6 or #7 defenceman at the NHL level, but probably not more than that.
Although drafting becomes more of a lucky crapshoot the later you get into the final rounds, I will say that Dallas didn't get the best player available at 135th. Dietz made a big jump in performance last year, but nothing compared to Friberg, who could be the biggest steal of the entire draft. Friberg led the World Juniors this year with a whopping 9 goals in just 6 games as the Swedes won gold.
Grade: C+
RW Matej Stransky – 165th overall
-Notable following picks: Chase Balisy (170th overall) and Richard Nedomlel (175th)
If Friberg isn't the biggest steal of the 2011 later rounds, then Stransky certainly deserves that honour. Dallas made a seemingly innocent looking 6th round pick with Stransky, who was coming off a year where he only scored 26 points in 71 games in his first season playing in North America. But after getting more adjusted to playing here he followed up his rookie campaign with a bang, scoring an impressive 39 goals and 81 points in 70 games for the WHL's Saskatoon Blades. Big and skilled, in terms of both shooting and passing, Stransky is showing all the signs that he can become a very capable power forward at the NHL level. Had such a strong 2011-2012 season that it was on par with most players drafted in the 2nd round.
Overall, no players drafted after Stransky in 2011 came close to making a bigger leap in terms of their development, meaning that the Stars right now look like they drafted the best player available at 165th.
Grade: A+
D Jyrki Jokipakka – 195th overall
-Notable following picks: Matthew Peca (201st) and Ondrej Palat (208th)
By the time the 7th round rolls around it becomes much harder to find players that will ever become NHLers, but the Stars did a very good job with the selection of Jokipakka. Overage, at 19, in his draft year, he was already one of the best defenceman on his Ilves team in the SM-Liiga, and even played for Finland at the 2011 World Juniors. Primarily a defensive defenceman beforehand, he added an offensive dimension to his game in 2011-2012, using his powerful slapshot to score 9 goals. Combining his NHL-worthy size (6'3″), an evolving offensive game, and advanced maturity for his age, Jokipakka is a great selection for a 7th rounder, and will certainly be worth keeping an eye on over the next few years. Definitely has enough tools in the box to develop into an NHL player.
Other players drafted after Jokipakka had good years as well, but nothing really worth weighing in on.
Grade: A-