In the quest to do something different, we at The Hockey Writers delivered. Last night featured the perfect opportunity to test out some goalie rankings. Thanks to DraftStreet also for giving us this ability to experiment and try something different.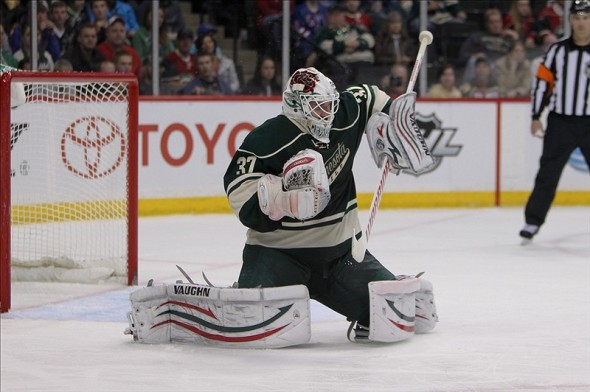 When we had thoughts of starting these rankings, I had no idea of the support within the daily fantasy hockey community. At first the attempt will be to gauge events on what we like to call, short slate nights. Simply those are nights where are five games or less on the schedule which makes it supposedly easier to rank a position. However, sometimes Tuesday nights happen where it seems all the underdogs win or almost win which throws daily fantasy a serious knuckle puck.
[Also: Make Money With Your Fantasy Knowledge – Try a Single Day Draft Tonight]
The usual goal is to always to win some money but for Thursday, we wanted to show the readers what a typical ranking may look like. First, here were the starting goalies for Wednesday night.
11/13 #FantasyHockey Gs: Bernier Backstrom Emery MAF Lehtonen Dubnyk (short slate night).

— Tony (@TheTonyM) November 13, 2013
Again with only three games, choosing a goalie at least is a bit easier, or so anyone thought. Minnesota letting Josh Harding rest (he'll be fine) does make things a little more interesting. The "Battle Of Pennsylvania" has become fun again because it looks like Philadelphia is waking up a bit while Pittsburgh has played .500 hockey in its last ten games. Anyway, here are those rankings.
DraftStreet Goalie Rankings (11/13):
Jonathan Bernier — Toronto
Kari Lehtonen — Dallas
Marc-Andre Fleury — Pittsburgh
Nicklas Backstrom — Minnesota
Ray Emery — Philadelphia
Devan Dubnyk — Edmonton
I can hear it now. Why on Earth is Jonathan Bernier number one? Bernier has a rather exemplary career record against the Wild. Also consider that Minnesota almost is due a loss. Add in that Josh Harding is not playing tonight and you can see why this is a possibility. The numbers just seem to suggest that Toronto is a good play on a night like this. Maybe they are and maybe they are not. One thing is clear, Minnesota's goalie will be a bit rusty but also pumped to make an impression. That could work out poorly potentially.
The Fantasy Microscope:
Marc-Andre Fleury — Pittsburgh Penguins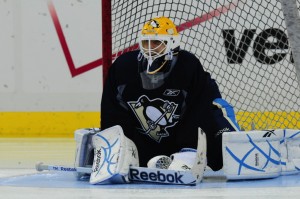 There is that feeling of shame every time Fleury plays the Philadelphia Flyers but his first time out was solid this year. Remember, the Pittsburgh goalie has problems in April not in November generally. November is actually a rather good month for him. The first meeting between Philadelphia and Pittsburgh produced a 1 GA, 24 save performance by Fleury in a 4-1 win. This meeting means a bit more as the Flyers are starting to show signs of life while the Penguins are feeling a bit vulnerable. This is the type of game Fleury has to come up big in and conventional logic seems to think he can.
Pittsburgh is still a more complete team from 1-23 than Philadelphia and has an advantage in the nets tonight. This has the makings of being pretty close so I would not be shocked if Fleury stops 25-30 shots in a 4-2 Pittsburgh victory.
==========================================
As always you can follow me on Twitter @ChrisWasselTHW and thanks for reading. Good luck in your daily leagues.