Die-hard fan or not, you sometimes find yourself uttering phrases that are associated with "homers," or as they are known in St. Louis, "Bluesers."
These Bluesers can be intelligent hockey fans. They can see the game the way it is meant to be seen.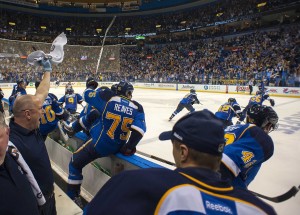 But more often than not, they are the ones yelling "shoot" at the top of their lungs when the Blues are carrying the puck in the zone on the power play. They are also the ones that are quick to call for a trade the minute the Blues lose one game, even after a lengthy winning streak. Ironically, they were the ones who kept saying, "just give Erik Johnson one more season. He'll work it out."
So in order to address some common concerns, I assembled a team of misfit writers, lead by yours truly.
This team includes fellow THW writer Mike Poepping (MP), who says that you can catch him "standing directly in front of the TV during St. Louis Blues games." Mike wrote for the Tampa Bay Lightning while living in Florida, but his life has shifted back to St. Louis and he can now write about the team he loves.
Twitter: @pep30
The other writer is a credentialed member of the CHL media for the St. Charles Chill, writing for Arch City Sports. Randall Ritchey (RR) has been featured on Blues websites such as the Blue Note Zone and St. Louis Game Time. He can now add The Hockey Writers to his long resumé.
Twitter: @Chill_Report
Then there's me (JP). The Blues lead writer for TheHockeyWriters.com, former member of Blues media and former NHL correspondent for a St. Louis radio station. Oh yea, the little factoid that I've been a Blues fan since Madonna was rocking the Billboard charts is important, too.
Twitter: @jponder94
Without further ado, I present to you five concerns that many fans have with the team and our views on each subject.
1. The Blues should acquire Ryan Miller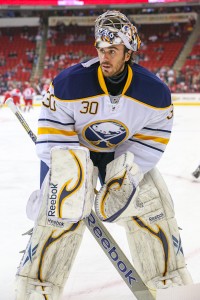 Result: Unanimous – Oppose
MP Disagree.  While I may have agreed with this statement at the end of last season, a lot has happened since then.  If we would've made this move at the end of the 2012-13 season, we could've unloaded Jaroslav Halak to one team, and Brian Elliott to another to free up the necessary cap space.  Additionally, Miller would be a great leader for Jake Allen, the Blues' next franchise tender.  However, even then this move would've been a long shot to yield great success for the team.  Miller is simply too far away from his 2010 Silver Medal performance in Vancouver at this point, and though a fresh start would get him closer to where he was then, it now comes at a heavy loss to the Blues.  "Ells" started off poorly, but has shown his resiliency and Halak has held us in almost every game this season, giving the tandem glimpses of their 2011-2012 Jennings Trophy winning season and giving the Blues hope to make a deep playoff run.
RR Disagree. The Blues currently have three capable goaltenders in the system who can carry the load if called upon. Miller would be a solid addition to the Blues organization.  However, with his price tag, and the cost to acquire him, it's not worth the investment unless the Blues feel they can lock him up in a respectable deal.
JP Disagree. I do not understand where this is coming from. Heading into Thursday's game with the Colorado Avalanche, the Blues rank sixth in goals-against per game (2.25), while Halak is posting impressive numbers in GAA (2.25) and save percentage (.909). Miller has recorded a 2.61 GAA and a .915 save percentage. These are very respectable numbers for a goalie that plays on a last-place team, but the goaltending is just fine in St. Louis. The Blues already have a tough decision to make with Halak's and Brian Elliott's contracts up at the end of the year (along with Jake Allen's contract becoming a one-way deal next season). Why add a high-priced goalie in the mix?
2. Chris Stewart should be a healthy scratch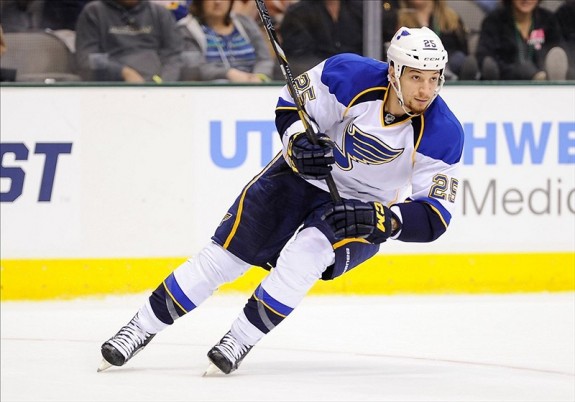 Result: 2 to 1 – Oppose
MP Agree, temporarily.  Chris Stewart's play this season has been less than desirable in terms of overall points, but he is still a quality role player on the roster.  Unfortunately for him, we need his point totals to be well above where they are now to ensure balanced scoring night in and night out.  Healthy scratching him for a few games could be the motivation he needs to regain his form from last season, and to play the determined game he is capable of – the game that saw him lead the Blues in points a season ago.
RR Disagree. Christ Stewart is a streaky offensive player, that's no secret. Right now he's isn't putting the puck in the net, but he's doing a lot more than sitting on his gloves. His offensive play is there, mostly in the form of his playmaking ability. He has set up countless plays with crisp, accurate passes. The puck just isn't getting by the opposition. His two-way play and physicality have both been very good.
JP Disagree, but only because I trust in Ken Hitchcock. I will be first to tell you that Stewart is a liability on offense as his streaky nature makes him absolutely disappear for long stretches. I do not think that Stewart's two goals and three assists this season are even close to deserving of the contract extension he signed this past summer (two years, $8.30 million). But Hitchcock has stated time and again that he is "not disappointed in his game at all." The Blues are winning games with a solid offensive game, so I say stay the course until the team hits a skid at some point this season.
3. Barret Jackman needs to go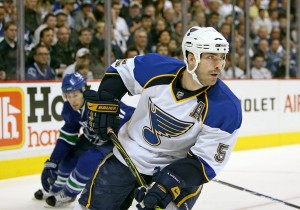 (suggested by djs9pd, Ferociousaurus and acordy12 of reddit.com/r/stlouisblues)
Result: Unanimous – Oppose
MP Disagree.  While Jax has had some issues with consistency over the past several seasons, he gets the job done and is awesome at motivating the team.  He has a way of getting the Blues to elevate their play and, though he makes some costly errors, usually you can count on him to be around the area of the ice he needs to be.  He is also a plus-2 this season, which shows that so far, he is ready to help the Blues win.  Fans must remember that he is an aging D-man which is why we brought in Jordan Leopold and Jay Bouwmeester to lighten his load.  So far that move is paying dividends.
RR Disagree. The hate Jackman get is laughable, and certainly undeserving. Most of the hate started during the "Kevin Dallman Era" when the Blues finished last overall in the NHL. Jackman was forced to play minutes he wasn't capable of playing. He was asked to be a No. 1 defender and was over-matched consistently. He is currently playing the perfect role for him: a No. 4 defensemen that complements Kevin Shattenkirk perfectly. He's going to retire a Blue.
JP Disagree, but only because I still trust in Hitchcock. Those that follow me know that I have been Jackman's biggest critic. Yes, his turnovers have greatly declined as his time on ice has decreased, but the missed passes and failed clearing attempts are still just too drastic for a team with Cup aspirations. Although his official giveaway numbers are not an atrocity (just one recorded this season according to NHL.com), Jackman is often a liability in his zone with the puck.
The positive (which is what Hitchcock sees) is that the veteran has played sound defense since his fellow teammates have passed him on the depth chart. Mostly used against second and third lines now, Jackman has not been forced off the puck as often as he was in the past (see video below).
He has been serviceable with fellow stay-at-home defender Roman Polak, and has allowed Kevin Shattenkirk the ability to step in the play when they are paired together. Again, the team is winning, so no change is needed at this juncture.
4. The Blues will never go deep in the playoffs without a marquee goal scorer
(suggested by jrizos of reddit.com/r/stlouisblues)
Result: Unanimous – In Favor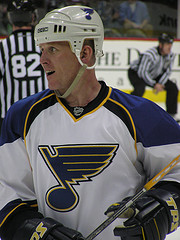 MP Agree.  The Blues have been just shy of breaking out of their postseason slumps for many different years in the past couple of decades, but since Brett Hull's departure, have never really had the scoring needed to make a Cup run.  A marquee goal scorer would balance the scoring in tight games (and in the playoffs) and would give the Blues the added oomph needed to win series.  However, this season has shown vets stepping up in big moments and more balanced scoring (and more scoring overall), which if continued could be the boost needed for that very same playoff run.
RR Agree. You need someone to be able to score in the postseason and if that means a top-flight goal scorer or a clutch playoff performer, all the better. However, I don't believe the Blues need to look outside the organization for that guy. With Alexander Steen and Vladimir Tarasenko in the lineup, the Blues have two players fully capable of being the big named goal scorer this team has been missing.
JP Agree. Although, the Blues' real problem as of late has been timely scoring. The Blues have plenty of guys who get hot at times and light the lamp often (Oshie, Stewart, Backes, Steen), but the high-pressure games have seen the tank hit empty. See Game 3 of the Blues' 2013 playoff first-round matchup with the Los Angeles Kings.
That isn't to say that teams can get it done without a perennial goal scorer. The 2007 Anaheim Ducks won the Stanley Cup because of a plethora of players contributing at the right time. Although, the safety net was regular season 48-goal scorer Teemu Selanne.
5. It's okay to wear St. Louis Cardinals apparel to games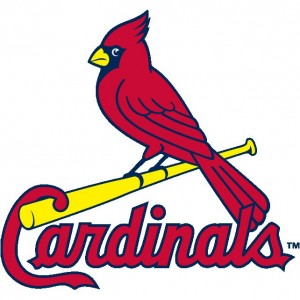 Result: 2 to 1 – Oppose
MP Disagree.  While St. Louis is a baseball town there are plenty of other venues more appropriate to wear your Cards attire than to Scottrade.  The Blues have always been a team that plays well at home because they feed off of the intensity from the crowd.  Wearing Blues gear to show your support is a definite way to aide that cause.  The Cardinals get enough love year round so why not show the Blues our love for their hard work as well?  I also disagree with wearing a same sports jersey to an event just because it is just that, the same sport.  If you really want to rock your favorite high school or NHL team jersey, root for them at their own games or when they're in town, don't wear it because you're going to a hockey game and you think it's appropriate…it's not.
RR Agree. Face facts, St. Louis is a baseball city, There is no question about it. With the price of sports apparel, it's no surprise that people would aim for Cardinals gear before Blues gear. Many people, myself included, are fans of both teams. So if someone decides to purchase Cards gear over Blues gear, but are still willing to spend the money to go to the Blues game, there should be no issues supporting St. Louis, regardless of the jersey they are wearing.
JP Disagree. You're at a hockey game. I find it distasteful to wear a hockey jersey of a team that isn't playing, so imagine my disgust for jerseys that aren't of the sport you're watching. The only time I am even slightly okay with it is during the NLCS or the World Series. When the Cardinals were going on their exciting run this past October, I accepted the fact that the Cardinals come first in St. Louis. Even then, it left a bad taste in my mouth.
———————-
Thanks to Mike and Randall for their help. Please let us know what you think of our responses by commenting below or by sending us a tweet.
I am a former NHL media member and reporter for the St. Louis Blues, working for various media outlets. Currently, I am an NHL News Writer and Editor for The Hockey Writers. I live in St. Louis and work as a freelance copywriter in numerous industries.