Nail Yakupov has certainly been a hot topic of conversation in recent days.
He had already been talked about early in the season as trade bait, his ice cold start to the year no doubt fueling those rumours.
The comments made his agent Igor Larionov this week has not put a damper on them, when he indicated that Yakupov would be open to a trade should he not see more ice time.
Igor Larionov says he's got a trip planned to Edmonton to discuss how Nail Yakupov is being used. Pretty unhappy.

— Craig Custance (@CraigCustance) November 11, 2013
Nail Yakupov has been a lightning rod of controversy before he was even an Edmonton Oiler. There was the great debate on draft day as to whether he should have been the first overall pick. He was certainly the top talent and worthy of that selection, however he wasn't necessarily filling a need the Oilers had.
The debate continues today, but has shifted to whether or not the Oilers should keep him or trade him. There are valid arguments on both sides.
TRADE HIM
The argument here is obvious in most regards. The Oilers strength clearly lies in their forward group and the number of offensively talented players they have. What they lack is the same depth and talent on defense and in goal.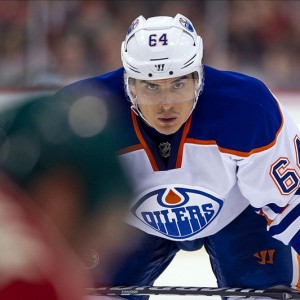 While Yakupov has struggled early on, he is a bonafide first overall talent, with the ability to be a dynamic offensive presence. Using him as the centerpiece of a package to bring in an asset in one of those areas would make a lot of sense. Taking from a position of strength to address a weakness is always sound strategy.
Should Yakupov be made available there would be about 29 other teams interested in making a deal. A former first overall pick who is still on an entry level contract would attract numerous offers.
KEEP HIM
Yakupov has not gotten off to the start he had envisioned in 2013-14, this much is fact. He has fallen out of the top six on the depth chart and has played many of the season in the bottom six. However, he has played just 66 NHL games, not even a full season.
He led the team with 17 goals in a lockout shortened season and still has the ability to be a top performer. It would be surprising to see Ales Hemsky in an Oiler uniform past this season, or even the trade deadline for that matter, and Yakupov is the prime candidate to take over his top six minutes.
Yakupov certainly has to earn his ice time and that spot, a team worst -14 rating hasn't helped his case this year, but he would be the logical fit there with Hemsky gone.
At just 20 years old, it is a huge risk to move a player of Yakupov's talent so early in his career. Especially since it will likely take more than just Yakupov to bring in the type of top flight talent the Oilers are seeking on their back end.
HAVE THE OILERS MISUSED HIM?
There has been a divide in terms of the reasons for Yakupov's struggles and how he should be used by coach Dallas Eakins. One camp says that he needs to earn his ice time as a young player. The fact he is a -14 and has looked completely lost defensively means he should not be rewarded with better ice time.
The other side is that everyone knew what they were getting when Nail Yakupov was drafted, and it wasn't a defensive specialist. He was drafted to score goals and he should be put in a position to do just that. Limiting his 5 on 5 time and exposure in his own end makes sense, but the one area where he can contribute and his defence isn't a concern should be the power play. His power play ice time ranks 8th on the team, still getting his time with the man advantage but the argument could be made he needs more time in that area.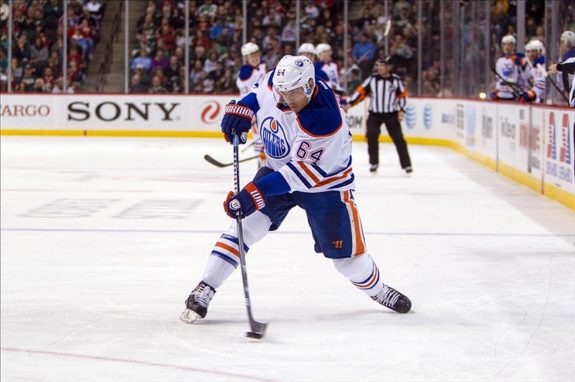 With all those clamouring for more ice time for Yakupov, it's important to note that he is averaging 15:20 of ice time per game, not 6 or 7 like many fourth liners. In comparison to other top young players like Jonathan Huberdeau (17:50), Brendan Gallagher (15:55),  Alex Galchenyuk (15:42) and Nathan MacKinnon (14:55), he's not far off.
MY TAKE
I was one who believed the Oilers should have taken Yakupov first overall, that they should've taken the best available talent. Years from now he will be compared to Ryan Murray still and if the Oilers should have taken the defenseman to fill their need. Hindsight is great and things change in a few years. In my mind the safer bet is always the talented forward. Murray may turn out to be a stud, but history has shown that defenseman are far harder to predict in terms of progression that forwards.
By the same token I also believe the Oilers should not actively shop Yakupov for trade. That is not to suggest if an offer they couldn't refuse came their way, that they shouldn't explore it, but dangling him on the market would do the team or the player no favours.
It's time to find out what they have in Yakupov before deciding whether he is worth keeping. He has yet to play a full 82 games in the league and many top prospects struggle early on, even first overall picks.
In Joe Thornton's first full season in Boston, he was a healthy scratch often and played fourth line minutes under Pat Burns the entire year. Steven Stamkos struggled early in his first full season under Barry Melrose, and many thought he should have been sent down. Both players figured it out and have been stars in the league since.
Yakupov did score 17 goals to lead the team last season and needs to be given more time to prove his worth in Edmonton. At this point the Oilers have nothing to lose and should give him more of an audition. If then the real Nail Yakupov turns out to be the player he is currently, then a shift in thinking may be necessary. Dallas Eakins was brought in for his ability to work with young players and that's what the Oilers need to allow him to do.
His stock is at an extreme low, it would be in the Oilers best interest to play him and give him an opportunity to bring it up. Depending what side of the fence you're on, trade him or keep him, improved play in an Oilers uniform benefits both.
_____________________________________________________________________________________
Follow Carl on twitter @maloney3383 and Google+ for more articles
Carl covers the Edmonton Oilers for THW as well as providing additional prospect coverage. Follow him on twitter @carlTHW, connect on Facebook or contact at carl.maloney@hotmail.com for questions, comments or if you're interested in him writing for you.