We all know that the NHL 82-game season is a marathon and not a sprint — there will be ups and downs and some things will happen that cannot easily be explained. Things like: how in the world does Cam Janssen have two goals in four games this season for the New Jersey Devils after only managing three goals in his previous 312 NHL games (with the Devils & St. Louis Blues). By the way, for those that don't know, in those 312 games he accumulated 752 penalty minutes, the majority of them coming from fighting majors.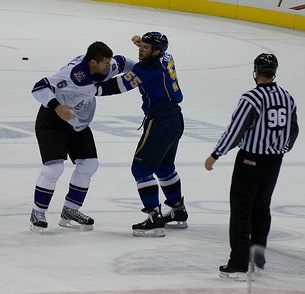 After scoring his second goal in his third game of the season his coach Pete DeBoer was asked if he was surprised with Janssen's 'scoring prowess'. "That he's on pace for 57 goals? I don't think surprised is the word," said New Jersey's coach with a grin. "But it's great; it's great for him, it's been a great shot of energy for our group. It couldn't happen to a better guy."
THE SPARKPLUG
If you've ever met or seen an interview with the 29-year-old Janssen, one of the first things you notice is his personality. He's very talkative, very enthusiastic and he likes to joke around, keep the mood light. Those are some of the reasons that his teammates love him so much; that and the fact that he is willing to get his face punched in, or punch someone's face in when someone takes a run at one of his teammates. So on the rare occasions that he does score, his teammates get pretty excited. "I know they get pretty jacked up (when I score a goal), I don't know if it's as much as I got jacked up," the St. Louis native said after a recent game. "I don't know if that's even possible. But I know they get excited and it's just a great feeling; winning the game makes it that much better; contributing to a win is a great feeling."
Apparently he's also had an impact on his teammate/linemate Ryan Carter who had no points before Janssen was recalled from the AHL and now has four points (2g-2a) over the last four games. Both of his goals were assisted by Carter and that fact wasn't lost by Janssen, "Yeah, he's okay," Janssen said with a chuckle when asked about Carter setting him up twice in three games.
At the 2:30 mark Cam Janssen scores his first goal of the season against the Flyers:
"Like I said, both goals (I scored) he did all the work. The first one, it might not seem like that big of a deal but getting pressured on the wall like that and having a good chip like that, it's tough to do; trust me on that, it is tough to do. For him to lay it in there perfectly for me to go on the forecheck was great."
"And then tonight (against Nashville), for obvious reasons, taking the puck, driving the net like that, actually he looked me off — I was opening up for a one-timer, but he kind of looked and saw it was me and was like 'Yeah, I don't think so.' But he took it to the net and I guess I just cleaned up his garbage."
Two goals in three games! At the 2:00 mark Cam Janssen scores again against the Predators:
Before Janssen was called up from the minors the Devils had been shutout in back-to-back games on consecutive nights. When the news came out of his recall many fans took to social media to voice their displeasure that a team who needed goal-scoring was bringing in a scrapper. Those fans have quieted down now and have even started joking about Janssen having more goals than other NHL players.
HAPPY TO BE HERE, HAPPIER TO HELP
Janssen himself is a bit surprised at the fact he has more goals than PiMs so far as he told the Hockey Writers following his team's 5-0 win over the Predators. "The penalties are inevitable; they're going to come. Going in on a forecheck, you hit somebody wrong or whatever, a penalty is going to come, the fighting majors are going to come; they come in waves," he said. "You just have to be smart with it, you have to know not to take a penalty at a crucial time and put your team down. They're going to come, you just have to be careful."
DeBoer doesn't think that Janssen is doing anything differently than he has in the past, except the fact that he scored two goals. "I don't think so," the coach replied when asked if his game has changed. "He's doing his thing: going to the net, finishing his hits, I think he's playing his game."
One thing that definitely hasn't changed since the last time we spoke with Janssen during the 2011-12 NHL season is his personality and energy for the game of hockey. When asked if he is having fun, he looked up, smiled broadly and replied, "Yeah I'm having a lot of fun, being up here is just a blast, especially when you are winning and contributing — it just amplifies everything. But the next game, if you have a bad game, you get downscaled. You have to keep playing good, keep playing hard, not every game's going to be great, so you just have to keep working and make it as good as possible in the situation you are given."
THE ODD COUPLE
He's even made a new friend, in what might be the unlikeliest of duos, or the new odd couple — in the Devils locker room Janssen's stall is right next to Jaromir Jagr; he has 686 career NHL goals, or 681 more than Janssen does. "We're cellmates; he actually went up to the coach and said he wanted to sit by me, so I said maybe, okay, I guess I will sit next to Jagr. I've got to protect him; you know he's a small guy," he said while laughing.
"It's awesome having him and Marty (Brodeur) in the same room, its just unbelievable. Just to be a part of it is so much fun, I'm having a great time and we are winning games. We have to keep winning games and keep battling — you're going to lose game like we did in Toronto but we played good there, we just have to keep playing good. If we lose games and we are playing well and doing the right things, working hard – it makes it that much easier to take."
The bigger they are, the harder they fall; Cam Janssen hits Zdeno Chara….and knocks him down:
Janssen has definitely been working hard, and the impact he has had on the Devils has been noticeable to say the least. Since his recall they haven't lost in regulation (3-0-1), only losing to the Maple Leafs in a shootout and they beat two division rivals on the road (at Philadelphia, at New York Rangers). It may be unclear if he will stay with the team when some injured players get back (Ryane Clowe, Patrik Elias), but if he keeps playing the way he has been it will make for a tough decision for coach DeBoer and his staff.
Dan Rice can be reached via Twitter: @DRdiabloTHW or via Email: drdiablo321@yahoo.com
Dan Rice is in his 9th year of reporting for THW & has covered NJ Devils home games for 15+ years at various websites. He began his journey working for legendary broadcaster/writer Stan Fischler from 2002-04 & completed an internship at the ECHL; he also has been writing features for the NWHL (nwhl.zone) website since 2016.