On a typically nice sunny Sunday afternoon in California, young hockey players got to meet some NHL stars in Los Angeles during the 2013 L.A. Kings Rink Tour.
Four players and one member of the coaching or broadcaster staff took part in the event Nov 10 at six local arenas, giving youngsters a chance to meet the players, have an item signed and then hit the ice to practice with the stars.
I attended the clinic in Pasadena with my seven year-old son. Broadcaster and former King Jim Fox and current players Colin Fraser, Willie Mitchell, Robyn Regehr and Justin Williams brought smiles to 40 kids learning to play the sport.
The young players got to meet the Kings first and have a shirt or stick autographed by each of them. Then it was time to hit the ice and skate with the NHL stars. Each player showed the youngsters how to make a pass or skate with the puck. It was hard to tell who had more fun, the kids or the Kings.
I had a chance to ask the players what advice they would offer young boys and girls learning to play hockey.
"It's important for the kids to enjoy themselves," said Regehr. "Really commit yourself 100% and you'll do well."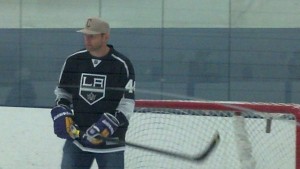 The big defenseman said when a young player gives his best effort and has fun, he develops his skills and a passion for the game. "Go for it because you never know how you might succeed," said Regehr.
Working hard and having fun was mentioned by all of the players. "The main thing is to have fun and work hard," said Williams. Mitchell echoed those words, adding that enjoying playing the game is the key to getting better. "That's why we got into hockey, a fun game to play," he said.
Mitchell added that fun and creativity go hand in hand. "If you enjoy it, pursue it more, be creative and you'll get better," he said.
Fox said there is no substitute to never giving up as a young player learns the basics of the game. It takes a while to improve but it is worth it. "For these kids, it's important to work hard and listen to their coaches," he said. "The rest will take care of itself."
The L.A. Kings Rink Tour was a great opportunity for the youngsters to meet and practice with some of their favorite players. "We certainly appreciate the support of the fans and especially meeting the kids face to face," said Fox.
Everybody had a great time thanks to the time taken by the players to participate. The young players sported huge grins and learned a thing or two from their local heroes.