Once again, the Buffalo Sabres have turned well meaning into the wrong move.
It's no secret by now that the team has relieved general manager Darcy Regier and head coach Ron Rolston of their duties. In the door? New President of Hockey Operations Pat Lafontaine and interim head coach (and blast from the past) Ted Nolan.
Many felt the firing of both Regier and Rolston was necessary given the absolutely woeful state of the Sabres this season. If a team has just one regulation victory in 17 games, heads usually roll.
That said, the Sabres only got half of it right.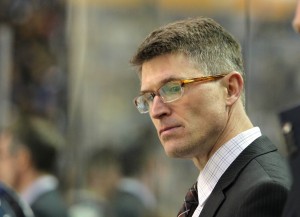 Firing Rolston was the necessary move here. He juggles lines too often, is getting porous team defense and moves his talented youngsters onto the fourth line to toil with the likes of John Scott, Patrick Kaleta and Cody McCormick. It's been clear for some time that Rolston isn't the man for the job. Someone less robotic, more emotional and more of a disciplinarian is needed for a younger team. Someone who will get the most out of this young group and develop them to be the best they can.
The firing of Regier, however, was a mistake. Most people will argue against that and if Regier has one fault, it was sticking with the core group of the last five years far too long when it was evident they weren't winning. That and the Ville Leino contract, but to be fair to Regier, it's not his fault Leino turned into the Glass Man (aka Tim Connolly) the second the ink dried.
If you look back at Regier's history with the Sabres, it basically comes down to two sections: bad ownership situation and the Pegula era. In the early years, bad ownership situations left him in tight spots with stars like Michael Peca and Dominik Hasek. Things were lean heading into the lockout as the team rebuilt and then nearly made the Stanley Cup Finals coming out of it. He had a young, strong team built through the draft with guys like Thomas Vanek, Ryan Miller, Jason Pominville, Derek Roy, Brian Campbell, etc. But again, the ownership situation doomed him. The team played the role of favorites and won the President's Trophy in 2006-07, but Regier couldn't make a move to bolster the team for the playoff run. He was forced to watch Danny Briere and Chris Drury walk away (though that was ultimately the right move given their asking prices) and stick with the core. The rest is history.
People question his drafting but if you look at his history from 2003 on (just going with the last decade for arguments sake), he did okay for himself. He drafted a ton of NHL contributors (over 4,000 NHL games played by his picks) with little to no stars. But given who he took in the first and second rounds each year and who was picked around those spots, he didn't really have a better pick that could've been made. The fact is that he drafted solid NHLers routinely and packed his lineup with homegrown guys. Like you're supposed to.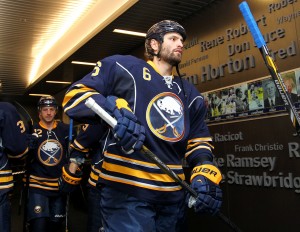 And that brings us to his penchant for trading. Regier, simply put, was very good at making deals to better his team. He turned Jordan Leopold, Robyn Regehr and Pominville into a 1st round pick (Nikita Zadorov), a 2013 2nd round pick (Justin Bailey), three 2014 second round picks, a fifth round pick, goaltender Matt Hackett and upper-echelon prospect Johan Larsson (who is currently in the Sabres every day lineup). That's an incredible haul. That's not to mention the 1st and 2nd round picks he got for Vanek from the New York Islanders as well as a viable trade piece in winger Matt Moulson (who has looked strong since coming over). That's a bucket load of assets for pieces that were ultimately not working for the Sabres or a threat to leave town after their contracts are up. And that's not even mentioning the fact that he got a 1st round pick for Paul Gaustad a couple of years ago. The guy is magic in terms of trading.
Perhaps the worst part of the Regier firing is the fact that Ted Nolan, who Sabres fans will remember for his run with the team from 1995 to 1997 before being unceremoniously dumped, is the interim head coach and could be let go if the new general manager decides Nolan isn't his guy. What's the point of that? Why leave the door open for more turnover when this young team needs a guiding voice in its corner?
Admittedly, when it comes to Lafontaine, I don't know a ton about the guy in terms of his front office acumen. He's one of my favorite Sabres ever, so I like the move simply because of that, but I hope he's the man for the job and not just some nostalgic hire.
Once again, the Sabres make a move for the sake of making it. If the new general manager means yet another new head coach, will it have been worth it to shake up this young core this much? Maybe instead of calling for the heads of the GM or coach, Sabres fans should start calling for the head of Ted Black.
You want change? Start at the very top for a change.
Ryan is a lead writer for The Hockey Writers as well as editor for Mile High Sticking and co-owner of The Farm Club. Follow him on Twitter to discuss all things puck, Bills football, or his hatred of all things Philly.
A long-time (and long-suffering) Buffalo sports fan. Sometimes optimistic, always weary. I write other stuff for a lot of other people.