Going into Tuesday's game against the Jets, the Detroit Red Wings were looking to end a rough three game losing streak. It seemed almost perfect that they meet Winnipeg – a group that has also had an inconsistent start, both offensively and defensively, to the 2013-2014 season.

But with inconsistency, comes streaky play. For the Jets, it was in the form of two consecutive wins and some loose offensive play. After Tuesday's game, the Jets extended their streak to three, while the Wings will have to get back to video room and figure out what they can do to end their four game losing streak.
Here at The Hockey Writers, I've taken a step into the video room as well. Looking at some footage of the game, here's what the Wings can take away from Tuesday night.
Video Room: Defensive Breakdowns Leave Holes in Howard
It was most noticeable on the Jets second goal when Zach Bogosian crept in from the point and put the puck past Jimmy Howard. The Wings' defence seems lost.
It started with Kyle Quincey losing his stick behind the net. The puck came back along the sideboards and as it did, the Wings' defenceman went back to get his stick instead of taking to the front of the net. Olli Jokinen noticed Bogosian coming in, threw him a perfect pass and Bogosian was able to out wait Jimmy Howard to put the puck in the open net.
Not only was Quincey not covering the front of the net, but when he got back into the play he left too much space for Bogosian to work and ultimately deke out the Wings' goaltender.
Kane loses Quincey's stick Jokinen to Bogosian and who was out of position?

— George Malik (@georgemalik) November 13, 2013
But it's not Howard who should be blamed. In fact, the Wings' veteran goalie has given his team a chance to win game after game. But with defensive break downs, Howard can only fill the gaps for so long before opposing teams find the kinks in his armour.
What the Wings need to work on is finding a way to protect their goalie. They need to close the holes defensively – at least more often then they have – so that Howard isn't left out to dry as often. Howard can only make so many game saving stops in one sixty-minute stretch.
Video Room: Find the Balance Offensively
Let's step back into the video room and see where Detroit's goals came from against the Jets. I think you'll find a similarity between the two that in undeniable.
In fact, there's multiple similarities. For one, both goals came on the powerplay. Everyone knows the Red Wings have a lethal powerplay. Henrik Zetterberg, Johan Franzen, Daniel Alfredsson, Pavel Datsyuk, and Niklas Kronwall make up the first unit for the red and white. So it's almost expected that they put a couple home every once and while.
But how about the other similarity? Well, if you didn't notice, both goals were scored by Datsyuk. It's a trend that has been continuous to start the season. Datsyuk and Zetterberg seem to be the only two to score on a consistent basis for the team. That's why there's been talk that the team should consider breaking the top line up. But would that benefit the team or just shut down the most consistent production line they have?
The Wings are hoping that the second line of Darren Helm with Franzen and Alfredsson will find some chemistry. But until then, they can't rely on the top line to do all the scoring. What they need is for anyone in red and white to find some way of producing offensively.
You can't blame losing 8 of 11 on no Nyquist, no Helm, a bad play by Quincey, blah blah blah..Over time, the *team* simply *has* to produce.

— George Malik (@georgemalik) November 13, 2013
Even though there are still aspects of their game the team needs to work on, coach Mike Babcock says they are headed in the right direction.
[ALSO SEE: Red Wings: What's Wrong in Hockeytown?]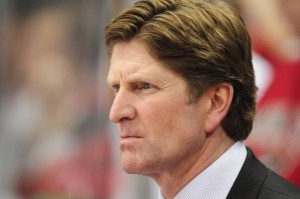 "Sometimes you win games when you're playing really well that you should probably lose," said Babcock in an article by Bill Roose. "I thought this was a game we could have won easy tonight. To me, that's going in the right direction. We've just got to keep positive about what's going on and keep plugging."
And that's exactly what they have to do. They have to figure out what they can change or do better to shut down teams defensively and open up their game offensively to create some balanced scoring. The Wings will take on the Washington Capitals at Joe Louis Arena on Friday with the hopes of changing their fortunes. Until then, the video room is where the players will look for answers on what's gone right over the past four games and what hasn't.
Questions? Comments? Leave them below or contact Andrew on Twitter @AndrewGForbes