Not that long ago, mired in a five-game losing streak, the Carolina Hurricanes could do nothing right. Now, after game four of a five-game homestand, the 'Canes have done virtually nothing wrong.
Tuesday's 2-1 win over the Colorado Avalanche was a statement to the rest of the NHL that the Hurricanes' losing streak is behind them, and that they are no longer an easy out. After securing points in four straight games — 3-0-1, all at PNC Arena — they're again closer to the top of the Metropolitan division than the bottom.
Just as with their losing streak, the keys to the 'Canes turnaround have been varied.
Total Team Defense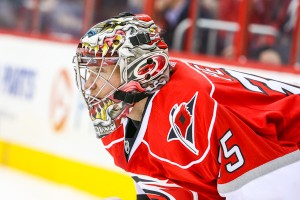 From the goal out, the Hurricanes have been playing superb in all three zones. Odd-man rushes, so common during their losing streak, have been a rarity. And when they do occur, as they did a few times against the Avalanche, Justin Peters has been up to the challenge. Of course, he's always quick to credit others.
"The 'D' are helping me a lot," he said. "We talked before the game that we wanted to protect the 'house', and we did that. We had the 'D' cleaning up rebounds. The forwards were right back in the 'house' helping out too."
When unable to clear a rebound, defenders have been getting their bodies in the way of follow-up attempts. Shots against are down 3.5 per game from the losing streak while blocks are up 4.5.
It's also been a matter of not allowing zone-entries in the first place. The key to that has been limiting chances in transition and closing the gap, especially against speedy teams like the Avalanche.
"We tried to slow them down on their half of the ice by staying real close to them, not letting them get much speed," said Ron Hainsey. "What they're doing over there isn't a joke. They're playing direct, fast. 'In your face' as fast as they can. It's a really good young team. We were up to the challenge."
It's been a common theme during the homestand — the Hurricanes have been facing some stiff competition. Team scoring leaders Vincent Lecavalier, Zach Parise, John Tavares and Matt Duchene have all come to PNC Arena, and have all left empty handed with a combined zero points.
Balance Up Front
Kirk Muller's desire to roll four lines has never been more obvious than it was in their latest win. Every forward played at least 10:00 of even-strength time, and only Eric Staal and Alex Semin eclipsed 17:00, both just barely. It's been the kind of balance that the team was incapable of having earlier in the season, given their personnel.
"I think we're a better team when we are able to use all 12 forwards," Muller said.
The biggest addition has been Manny Malhotra, who has played over 14:45 in each of his last four games. Compare that to the previous fourth line, comprised of Brett Sutter and Kevin Westgarth, both of whom would call it a heavy workload if they surpassed half that.
Though he was primarily brought in to win faceoffs, Muller trusts Malhotra in almost any situation. He's been on the ice in four-on-four overtime situations, recording a game-winner against the Philadelphia Flyers, and he was the one who set in motion the events that ended up tying that one in the first place. But, against the Avalanche, it was his defensive wins that Muller praised.
"It's so huge, to win faceoffs like that," he said. "At the end where we can come up with the draws, it takes away a lot of their momentum. It's so huge. It's like a football team running the ball and killing the clock."
Though he's only averaged 49 seconds per game shorthanded on the year, lately, Eric Staal has rarely touched the ice while on the penalty kill. With Malhotra, there's little need to "waste" his minutes. Instead, he can focus on the attacking zone, and finally start scoring at a clip similar to last year. Until he does, other lines will have to continue to pick up the slack. This time, it was Patrick Dwyer getting his first goal of the year.
Huge win for the #Canes Another full team effort and the small-medium-large line came up big!

— Chantel McCabe (@chantel_mccabe) November 13, 2013
Mental Toughness
With less than four minutes remaining in November 5's nationally televised contest against the Flyers, facing one-goal deficit, Carolina looked destined for their sixth straight loss. Yet again they had given up the first goal, and collapse was seemingly inevitable.
But whatever was said during the timeout must have mattered, and the 'Canes turned a corner. They tied it, then took the win in overtime. It may have been against one of the worst teams in the NHL, but it represented a change in mindset for Carolina. Muller's "fragile" team didn't give up.
Twice during the homestand, the Hurricanes would rally. They again yielded the first goal in Saturday's matchup with the Minnesota Wild, but tied it less than 90 seconds later. And when Minnesota themselves evened the score late in the second, the flood gates didn't open. Against Colorado, the 'Canes never relinquished their lead, despite a third period onslaught.
"I don't think it's coincidental that we were on a little bit of a losing streak, then we bring in a character guy like Manny and Radek comes back from his injury," said Muller. "The way they play, the way they've acted in the room with their composure. They bring in a real contribution. I think what they're doing is making everyone accountable."
Most importantly, the 'Canes are playing with confidence. They're not "respecting" their opponents, instead, believing that they can compete with anyone. For most of the game, they had the Avalanche — undefeated on the road — on their heels.
"I feel every day we become more confident in each other because we trust each other, because we're playing the right way," said Peters. "When we play the right way and have confidence in each other, that's when we get rewarded. The proof's in the pudding."
Andrew Luistro graduated from Appalachian State University. An avid sports fan, he began beat writing for the Sunbelt Hockey Journal, part of The Hockey Writers Network, with a focus on the Carolina Hurricanes. Andrew also actively follows the Boston Red Sox and Carolina Panthers, among other teams. Follow him on Twitter @ndrewL7