No matter what team you root for or which sport is your favorite, if you are anything like me you are always wondering who is next.  Who is going to be the next star of your favorite team (or team you cover), or who is going to make the biggest impact for years to come, or something as simple as who the prospects are on the team of your choice?  I will be looking at the prospects for the New York Rangers.
In the first of three parts I will take a look at the forwards.  Some on the list you may know or have heard of or have watched and others not so much.  That is the beauty of our sport.  There are players scattered all over the world gaining experience in hopes to fulfill their dreams of playing in the NHL and being the next "Great one".
1.  Chris Kreider (LW, New York Rangers)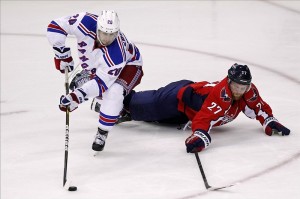 – With 34 regular season NHL games under his belt, Kreider is quickly becoming a player to be reckoned with.  With the combination of speed and the ability to get to the net, Kreider is finding his place on the Rangers roster and can very well never see another minor league game again.  So far this season in 11 games with the big club, he has registered 10 points (2g – 8a).  Most remember Kreider's NHL debut in the 2011-12 playoffs when he scored five goals in 18 games.  Struggling to find his way last year in New York, Kreider has taken advantage this season after being called up due to injuries.  Kreider has All-Star potential but needs to remain consistent if he wants to achieve that.
2.  Danny Kristo (RW, Hartford Wolfpack)
) – Kristo was originally drafted by the Montreal Canadiens in 2008, but was traded to the Rangers in July.  This season Kristo is playing in his first full professional season in Hartford of the American Hockey League.  So far he has registered 14 points (8g – 6a) in 14 games.  Kristo's game fits nicely with Rangers coach Alain Vigneault style.  He is fast and uses it to his advantage.
3.  J.T. Miller (RW, New York Rangers)
– Miller was another player that benefitted from another's misfortune being called up to the Rangers due to injuries.  Playing mostly on the line with Derick Brassard and Benoit Pouliot, Miller is getting plenty of looks.  While not appearing on the score sheet everynight , J.T. is doing a great job hustling and creating chances for the time he is out on the ice.  Just like the others listed so far, Miller has a ton of speed and works his tail off every shift.  Future looks bright.
4.  Jesper Fast (RW, Hartford Wolfpack)
– Jesper started this season in the NHL with the Rangers.  Sent down to Hartford once Carl Hagelin returned to New York, Fast was doing well until an ankle injury sidelined him.  Now that the Rangers are almost completely healthy it is hard to envision Fast returning to the Rangers this season.  At the ripe old age of 21, Jesper has plenty of time to grow into a quality NHLer.
5.  Oscar Lindberg (C, Hartford Wolfpack)
– The second Swedish player to make the top five, Lindberg is playing his first professional season in North America after playing four years in the Swedish Elite League.  Lindberg is enjoying some success so far with the Hartford Wolfpack, registering 9 points (3g – 6a) in 14 games.  Lindberg was acquired in 2011 by the Rangers from the Phoenix Coyotes.
6.  Pavel Buchnevich (LW, Cherepovets Severstal)
– Playing in the KHL, Buchnevich was the 3rd round pick for the Rangers in the 2013 Draft.  A pick they acquired in the Rick Nash trade.  A common theme amongst players on this list, Buchnevich is fast.  He is a skilled stick handler like most Russians are and is playing well in the KHL.  In 28 games with Cherepovets Severtal, Buchnevich has 9 points (4g – 5a) in 23 games.  Not entirely sure what the Rangers plans are with Buchnevich but he will be exciting to watch if/when he makes his North American debut.
Other prospects of note are Cristoval Nieves who is currently playing for the University of Michigan.  Nieves is in his sophomore year with the Wolverines and so far this season he has 4 points in 8 games.  Many believe that Nieves could become a top six player.  Another prospect of note is Marek Hrivik.  Hrivik is playing in his third AHL season with the Hartford Wolfpack.  Marek went undrafted and signed on with the Rangers in 2012.  This season he has 8 points in 13 games with Hartford.  Michael St. Croix is next on the list.  He is now playing in the AHL after starting the year with the Greeneville Road Warriors of the ECHL.  St. Croix has yet to register a point in 7 games but reports have him more as a playmaker and less as a scorer.
There will never be a time when everyone can agree with top 10 lists, but here is a list of forwards within the Rangers organization that are worth keeping an eye on.  The next part we will focus on the Rangers defensemen.
Follow me on Twitter @jginderthw or you can e-mail me jginderthw@gmail.com
John Is a contributor with The Hockey Writers covering the Buffalo Sabres. He is also a Senior Writer and Editor at MetsMerizedOnline.