It wasn't a rough opening month for the Detroit Red Wings. The team opened the season with a 7-4-1-1 record with Henrik Zetterberg and Pavel Datsyuk leading the way – as expected. They defeated some tough teams like the Boston Bruins, Vancouver Canucks, along with handing the Avalanche their first loss of the season mid-month.
[ALSO SEE: A Rivalry Renewed as Red Wings Beat Avalanche]
However, November's been a different story thus far. Now there's no need to worry just yet as the team remains third in the Atlantic Division – behind Toronto and Tampa Bay. But their game has slowly dwindled to the point of a five-game home losing streak and two straight in overtime. They've opened the month 2-1-2 and the production seems to be coming from only their star players. So what do they have to do to right the ship?
Forget About Franzen
There's been a hole in the Red Wings lineup since the beginning of November – a hole where Johan Franzen should be playing. But he's not. The Mule has been out of the Wings' lineup since Nov. 1 with an illness that has landed the big veteran on the team's injured reserve.
The Detroit Red Wings have placed Johan Franzen on injured reserve. http://t.co/sJFekcodof

— theScore (@theScore) November 8, 2013
Franzen's put up five points in the 13 games he's played this year. But he's been a bigger part of the Wings' offensive game by opening up holes for his line mates with his physical play and forechecking.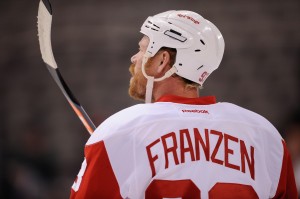 However, the team needs to find a way of working the puck around in offensive zone without him. There's no question that guys like Zetterberg and Datsyuk are a threat every time they touch the puck, but it's balanced scoring that's evaded the team early in the season. It's not a question of filling the void left by Franzen, but stepping up in his absence – finding a way of doing the same things with different players.
It isn't clear how long the Mule will be out of the lineup, but with the uncertainty of his absence it's important that head coach Mike Babcock finds a replacement for his big physical forward. It's a hole the team has to fill before November becomes a month to forget.
Find Help for Alfie
Another hole the Wings have to fill is that of a line mate for veteran Daniel Alfredsson. The Swede currently ranks third on the team in points with 13 (3g-10a) over the first 18 games, but has yet to find consistent chemistry with his assigned mates.
Babcock has played Alfredsson on the powerplay with Zetterberg and Datsyuk where he's been nothing less than impressive, but it's his five-on-five play that hasn't lived up to his days in Ottawa when he led the way for the Senators.
"We need someone to play with him," said Babcock in an article by Helene St. James. "We've got to get him some help. He's a good player. We've got to get him some skating and a net presence and some execution. We need to help him out."
Both Stephen Weiss and Danny Cleary have been the most recent to suit up alongside Alfredsson – but it's been a disappointing line so far with Weiss and Cleary only recording three points through the first month of the season.
With Stephen Weiss, Johan Franzen hurting, Detroit Red Wings searching for second-line center http://t.co/m7ynfJ44mg via @freep

— Helene St. James (@HeleneStJames) November 8, 2013
Maybe it's time the Wings' experiment with some youth alongside the seasoned Alfredsson. The recently recalled Tomas Tatar has had an influence on the team since coming back to the big club, but it might be a net presence like Franzen that will turn the tables for what should be an impressive second line.
Ignore the Critics in Hockeytown
It's not the most devastating of media markets, but like any, the Detroit media and fans can come down hard and fast on a team that is struggling. The key for Babcock and his team of veterans is to remain relaxed.
Most of the players on the team have been through this type of criticism at some point during their career. Alfredsson, Zetterberg, Datsyuk, even Jimmy Howard have been around the league long enough to know that every streak comes to an end – good or bad – and when you turn it around, people have a way of forgetting the bad.
So amidst this little slump – three straight losses and five straight at Joe Louis Arena – how is a team fighting the injury bug supposed to put it all behind them? Well Coach Babcock has some advice for his team.
"I told the players: 'Let's breathe,'" he explained in the article by St. James. "Let's keep getting better because we are getting better. But we can't shoot ourselves in the foot."
Check out our partners at TiqIQ for the best deals on Detroit Red Wings tickets for all 2013-14 games.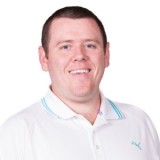 Andrew is in his 8th year reporting for The Hockey Writers covering the Toronto Maple Leafs. He began his broadcasting with CBC's Hockey Night in Canada team as well as being part of their coverage of the 2014 Winter Olympic Games in Sochi. He's the former play-by-play voice of the London Jr. Knights for Rogers TV and currently hosts the Sticks in the 6ix podcast. You can follow him on Twitter at @AndrewGForbes.