They're two teams with a storied past – former Western Conference rivals – who continue to find ways of delivering disappointment to the opposing dressing room when they meet. This past Thursday wasn't any different. This time, the Detroit Red Wings came out on top – but it came at a cost.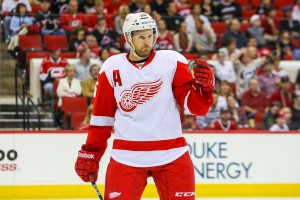 Wings Win Comes at a Cost
It's no secret that the Avalanche were looking to remain undefeated heading into thursday's game against the aging Wings. A win would've tied the franchise record set back in 1985-86 by the, then, Quebec Nordiques.
But it didn't start well – at all – for the young Avalanche team. In fact, it didn't start well for either team. It was just over two minutes into the game that the Wings and Avalanche renewed their rivalry when Avs' forward Cody McLeod hammered Wings' defenseman Niklas Kronwall from behind into the corner boards.
New Puck Daddy: Niklas Kronwall checked from behind by Cody McLeod, leaves game on stretcher (Video) http://t.co/Rh5gZ2f2Hg

— Greg Wyshynski (@wyshynski) October 18, 2013
Kronwall was stretchered to the Wings' dressing room while McLeod was handed a five-minute major for boarding and a game misconduct. Although there wasn't a record number of penalty minutes handed down in this game – it was the post-game comments by Avs' coach Patrick Roy that solidified the assumption – this cross-conference rivalry has been renewed.
"To be honest with you, I didn't look at it because I didn't want to look at it," said Roy in an article by the Canadian Press. "I didn't want to make a comment on it. From the bench, I thought Kronwall turned his back at the last minute."
Roy went on to question whether the hit was even a dirty hit, adding that Brendan Shanahan, the NHL's Director of Player Safety, has a decision to make. This hit, however, is just another incident in a long list of fiery moments between the two clubs.
In fact, it was only 15 years ago that Roy was involved in another of these incidents – a fist-flying fight with former Wings tender Chris Osgood.
The Making Of This Rivalry
We've all heard of hockey's infamous bench-clearing brawls. You know, those fights where gloves, sticks, and helmets are tossed all over the ice and it takes just as long to clean up and sort out penalties as it does to play a single period. Well, good rivalries aren't built just on those alone. Good rivalries are developed over time – based on multiple incidents involving the same teams.
Even though the Red Wings made the move to the Eastern Conference this season, there remains a distinct hatred among the two teams that showed up again Thursday night. But what other events have led to this classic rivalry?
Roy versus Red Wing Goalies
As mentioned, the Roy-Osgood fight is one event that is mentioned time and time again.  The fight – which took place April 1, 1998 – is one that is largely viewed as the aftermath to two previous incidents. This aftermath at Joe Louis Arena, however, included a combined 228 penalty minutes with the Wings taking home a 2-0 victory and the Stanley Cup that year.
But Osgood wasn't the first Wings goalie to take on the oft-opinionated Avs bench boss. Just a year prior to the Osgood-Roy fight, on March 26, Roy took on Mike Vernon after a fight-filled opening frame between the two clubs. A complete line brawl – including Darren McCarty, Igor Larionov, and Brendan Shanahan – the fight only infused an already hatred-filled matchup with more anger and frustration.
In addition to these brawls, the two teams have met six times in the postseason since 1996. They've split the series evenly 3-3, while Detroit's taken home three Stanley Cups to Colorado's two during that time.
But this isn't where the rivalry started. In fact, when talking about these infamous throw downs, fans often forget the initial incident that sparked this heated opposition. Think back to Claude Lemieux and Kris Draper.
The Rivalry Begins: Lemieux's Hit
It was game six of the 1996 Western Conference Finals. The Avalanche led the series 3-2 and were ahead in the game 1-0. Draper poked the puck into the Avs' zone before getting blindsided – steamrolled.
Lemieux's hit left Draper with a broken nose, a broken jaw, a broken cheek and orbital bone, and a concussion. Lemieux was handed a short two-game suspension. The Avalanche went on to win the 1996 Stanley Cup.
The Wings-Avalanche rivalry could be considered one of the best and most fierce in the entire league along with the Leafs and Canadiens. It's been a well documented rivalry – one with many bloody moments as Rick Sadowski of NHL.com explains in his article. One blindside hit turned into two iconic hockey brawls – and one intense matchup between two teams.
It's a matchup that intensified with McLeod's hit on Kronwall this past Thursday. It's a matchup that has defined rivalry in sports. It's a rivalry that will continue to exist – even with the Wings move to the East. It seems only fitting that the Wings ended the Avs' perfect start to the 2013-2014 season.
Thoughts or comments? Leave them here or let me know on Twitter @AndrewGForbes