We all know it takes a special breed of person to play hockey, especially those that play defense and those that play goaltender. The goalies at least get some oversized pads to give them some protection from the pucks that are fired at them. Defensemen like New Jersey Devils captain Bryce Salvador don't have any more padding or equipment than any other skater on the ice, yet they still sacrifice their bodies by blocking shots, absorbing hits along the boards (as well as delivering a few) and they have to try to prevent the other team's most talented players from scoring goals too.
In the Devils first win of the season (a 4-0 shutout of the New York Rangers) Salvador collided with Taylor Pyatt a few feet from the boards late in the first period and he fell awkwardly against the wall. He stayed down for a few minutes and then was helped up by the team trainer and his teammates before going back to the locker room. "That's hockey as Volchie (teammate Anton Volchenkov) would say," Salvador said with a chuckle after the game when asked if it was painful. "If you're not sore, you're not playing."
The violent nature of the impact against the boards coupled with his body language made it seem like there would be no way he would continue playing in the game. But he returned early in the second period and had the primary assist on the Devils fourth and final goal of the night later in the second period. It could have been a shoulder injury, a head or neck injury, a back injury, but afterwards he told reporters it was his left hip that was hurting the most.
Watch as Bryce Salvador lays out to deny a scoring chance from one of the NHL's elite scorers:
When coach Peter DeBoer was asked during his post-game press conference if he was surprised to see Salvador return after such a scary play, his answer was simple. "I wasn't surprised knowing him," said New Jersey's head coach, "he's a warrior." In today's day and age terms like 'warrior' and 'beast' and the like are thrown around far too often, but in Salvador's case it seemed quite appropriate on that night.
His teammates were happy to see him come back in the game after such a scary fall, and some of them even expected it. "He's the heart and soul of this team, it's going to take a lot more than that to keep him out of a game," said Travis Zajac. "It was exciting to see him back, obviously he plays a lot of key minutes in key situations and he was a big part to us getting that shutout tonight."
Adam Henrique echoed Zajac's comments when asked about Salvador's amazing return. "He just went into the boards awkward; you never want to see somebody leave the game like that. But it was great when he came back, he played a great game — he leads the way for us here, on and off the ice. When you see a leader like that come back," said Henrique, "it brings a lot of energy and he's a big part of this team."
During the Devils run to the Finals in 2012 Bryce Salvador played a huge role, with goals like this:
Dainius Zubrus, who is good friends with Salvador, didn't seem surprised at all that he was able to get back into the game. "He's our captain, I know Sal; if he can play…stitch him up, tape him up, whatever needs to be done, he'll be back out on the ice playing. I'm not surprised (he came back)."
He also mentioned his admiration for players like Salvador. "Him and Volchie are kind of similar players; where I don't think they are ever 100% healthy. They take pucks, they block shots, they do all those kind of things and they have to ice themselves after every game."
Here's an inside look into how players like Bryce Salvador train off the ice before the season:
Some captains yell, scream, throw things and do whatever they can to get their teams fired up; different captains lead in different ways and usually no two captains are the same. Salvador isn't really one of those guys, but the 37-year-old veteran of 12 NHL seasons (split between New Jersey & the St. Louis Blues) has the respect from his teammates for sure. "He can be loud, but he does a bit of both," said Henrique. "I think he leads by example out on the ice, but when it's needed he speaks up and guys listen to what he has to say."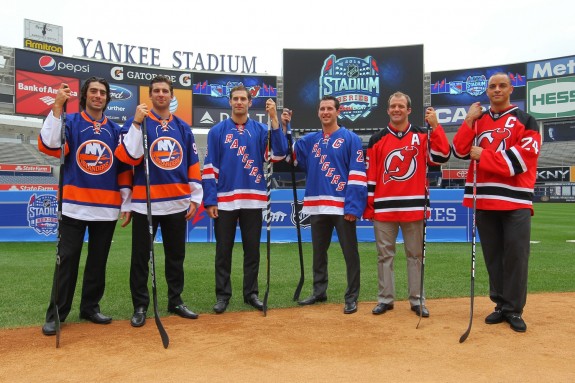 Despite missing some time during the game against the Rangers, Salvador saw 20:01 of ice-time, which was third most on the team, with two shots on goal and two takeaways to go with his assist. He sat out practice the next morning (wouldn't you?) and coach DeBoer said he think he will be okay to play in the team's next game in Columbus. It was all just another day in the life of an NHL defenseman.
Dan Rice can be reached via Twitter: @DRdiabloTHW or via Email: drdiablo321@yahoo.com
Dan Rice is in his 9th year of reporting for THW & has covered NJ Devils home games for 15+ years at various websites. He began his journey working for legendary broadcaster/writer Stan Fischler from 2002-04 & completed an internship at the ECHL; he also has been writing features for the NWHL (nwhl.zone) website since 2016.